Hairdresser gives Market Street community a makeover
By Max Miller – nmiller@unca.edu – Opinion Editor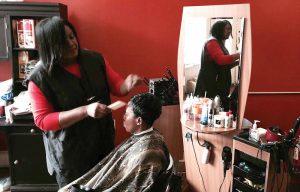 On a normal day at Stefanie's Design Studio, a woman entered with a child no older than 3. He toddled across the hardwood floor toward Stefanie Williams, greeting her with joy before moving on to say hello to the other stylists.
Williams asked his mother if she came in to get her hair done, and she replied, "No. We were just in the area and suddenly he started shouting, 'Let's go to Stefanie's!'"
From the time Williams' salon opened in 2005, her business fostered a sense of community among her employees and clientele.
"I guess my favorite thing about running the salon is coming in contact with a lot of people," Williams said. "I like meeting different people and trying to make them look gorgeous. You'll see a person come in with one mood, but when they get out of that chair, it changes their whole attitude. That's what I really like about it."
People seem to love Williams in return, or at least Roberta Lloyd does. Lloyd went to Asheville High School with Williams, who has done her hair since 1997, when Williams worked as an employee at New Images near the Grove Arcade.
"If Stefanie left, I would be devastated," Lloyd said. "That's why I say if I hit the lotto, she's going to be traveling with me. I'm taking her away. I would really miss her, because she really cares for your hair. Like, my hair wasn't growing as fast as I wanted it to, and she said, 'I want you to stop getting as many perms.' When I stopped getting as many perms, it actually grew, and now it's the length I've been trying to get."
Hubert Wynn also attended Asheville High with Williams, and serves the community surrounding her salon as a barber.
"Being here seven years now, I've gotten to know a lot of Stefanie and the other stylists' clients by name, so it does feel like a small community," Wynn said. "You see the same people every week or every two weeks for seven years and start meeting their families. A lot of her clients come in and refer their husbands, boyfriends, sons and nephews to me."
But the sense of community extends past the perms, extensions and curls. The holiday wreaths and candles still adorning the mantle of the fireplace in the shop's waiting area stand as a reminder of the communal dinners Williams throws in the studio around Thanksgiving and Christmas. Clients and employees alike come to share each other's company over a massive feast catered by Williams.
Every fall, Williams also sponsors a back-to-school event where underprivileged children can get their hair cut and styled free of charge, and clients donate backpacks, pencils and other school supplies.
"I just had a thought one day about the kids who are less fortunate," Williams said. "And I asked myself, 'How can we give back?'"
The salon, which operates out of one of the business spaces leased by the YMI Cultural Center at 39C Market St., recalls a time when the neighborhood was booming with African-American businesses, creating an insular community which has all but vanished in recent years.
"It was meant for her to be here to keep the community going, and to keep the integrity of African-American businesses in this location as a young entrepreneur," said Kimberly Mooney, who has worked at Stefanie's Design Studio since 2008. "I really believe her shop was ordained to be here for such a time as these."
Williams says opening her own salon was a dream she had since she was in high school, where she took three years of cosmetology classes, allowing her to circumvent beauty school and get her state cosmetology license soon after graduating.
"Some people do have to go to beauty school after they got through, but this was my passion. I knew what I wanted to do once I got in high school, so I stuck it out and did what I needed to do," Williams said. "You know how they give you the senior books in school? That was one of the things that I said — that I was going to have my own salon. Everything I put in that senior book came to pass. I put the amount of money I was going to make and that I was going to have my salon."
But the dream did not become reality immediately. After high school, Williams worked for three years at New Images and three years at Pierre's, two local salons, before taking a job at Bishop's Salon under Ann Hardman, her pastor and a woman she said she considers a mentor.
"She spoke this into existence," Williams said. "It's something I always wanted to do, so she spoke it and set me up here, so I thank God for that. She's a really great influence in my life."
When Hardman closed Bishop's three years after Williams began working there to move to Georgia, she gave Williams several salon chairs, dryer chairs and other equipment which allowed her to open Stefanie's Design Studio.
At the time, the YMI rented its business spaces at rates below fair market value because of state grants intended to help enterprising African-American entrepreneurs get a start in the business world. The space at 39C Market St. used to be a salon in the '70s, so all the necessary plumbing and lighting was already in place. With a team of four other stylists, Williams opened her salon on March 29, 2005, and developed it into a thriving business.
Williams said word-of-mouth has been an important factor in expanding her clientele because of the scarcity of foot traffic in the area. She said she hopes the YMI can soon become the center for the African-American community it was in previous decades.
"I just really wish that the people that are in the YMI had more vision for the YMI. I think it needs to be renovated like this area. It needs to be revived," Williams said. "It's supposed to be a multicultural center, but there's no traffic. It's just me and the opera house. I just think they need more going on. Maybe they could develop the museum — stuff that goes with the YMI."
Williams and her employees expressed optimism about Mountain Housing Opportunities constructing and refurbishing new retail and housing spaces across the street.
"I'm glad they're doing something to these vacant businesses, because they've been vacant since I moved in, and there's no use in good buildings going to waste," Williams said. "I'm glad somebody had vision enough to develop. I thank God for the vision. Because it is a part of downtown, it should look like a part of downtown."
Increased interest in the Market Street neighborhood aligns with Williams' substantial plans for the future of Stefanie's Design Studio.
"The next step would be to have multiple salons. I figure if Regis can do it and Great Clips can do it, I can, too," Williams said. "Eventually I want to open up my own beauty school in the area."
She also has more plans for community outreach programs, including an idea for a rehabilitation program for women released from prison. She wants to help these women develop essential life skills such as financial management and tactics for job interviews.
"I want to have a home for them and do their hair for them to get them ready for the interview — just jazzing them up," Williams said. "It's just a thought I had. We have a prisoner's rehab at church, and I'm always thinking of how I can give back, how I can make an impact in my community."
She also wants to expand her business to non-surgical hair replacement, including custom-fitted wigs and hair extensions for cancer patients and people suffering from alopecia.
"Hopefully, in the future, Stefanie's will grow," Mooney said. "Being a leader is hard, because you need to make sacrifices and you have to go the extra mile. I've worked in a marketplace, and when you've got a good leader that cares, and not just about themselves, but about the wellbeing of others, to me, that's priceless. If there's anybody pursuing this type of career and looking for a good place to work, I would say try Stefanie's, because it's been an honor."
Despite the lofty visions she has for the future, Williams exudes both confidence and pragmatism when it comes to achieving her goals.
"It takes footwork. It takes action behind your words. It takes getting other people that have that knowledge to show you what to do and just follow after their pattern," Williams said. "I feel tired sometimes or burnt out a little, but never bored, because it's my passion. I just really like doing hair."