Harry Potter Alliance combines pop culture and activism
Karrigan Monk
Assistant Arts and Features Editor
kmonk@unca.edu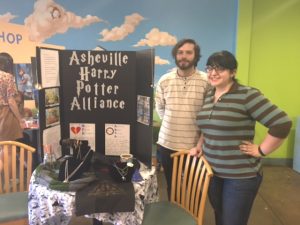 Millions of people around the world have fallen in love with the story of The Boy Who Lived since Harry Potter and the Philosopher's Stone was first published in Britain 20 years ago.
Since then, the book series has grown into one of the most successful movie franchises of all time with a prequel series in the works.
Two years before the book series ended in 2007, Andrew Slack joined forces with the DeGeorge brothers of the band Harry and the Potters and Seth Soulstein to create the nonprofit organization the Harry Potter Alliance with the goal of using pop culture to engage in leadership and social activism.
Over their 12-year span, the organization garnered nearly 100,000 likes on Facebook and 225 chapters in 35 countries around the world.
Asheville has its own chapter led by chapter organizer Whitley Albury.
"As far as the Asheville community, I love how we do try to do the right thing about 80 percent of the time," Albury said. "With the wizard activist community, I love how we all work together. There's friendly competition to raise money or books but we're an international family."
Since 2009, HPA has held an annual book drive called Accio Books, named after a spell in the Harry Potter books.
The chapter director for the HPA, Janae Phillips, said the organization  raised over 300,000 books since the campaign first started. These books go to communities and organizations to help promote literacy and the money raised goes to help build libraries around the world.
Phillips said they are also working on a project called Neville Fights Back.
"It's basically a call to action center," Philips said. "Over the last few months there have been so many issues coming up we kind of set this up as a resistance platform so you can go to Neville Fights Back on our website and we'll put out different calls for action items depending on things that are coming up."
Although Harry Potter provides the main source of inspiration for the organization, other series are cited as well.
"Obviously we draw a lot from the Harry Potter books because that was the series that kind of defined our generation," Albury said. "But we can tie a lot of other issues back to pop culture, the biggest one being "The Hunger Games," where you have main characters dealing with poverty, PTSD, limb loss and that's just the tip of the iceberg. We tie issues back to pop culture because, to me, it's easier to be an activist when there's an example everyone knows about and recognizes."
This connection to pop culture runs through the lives of many members.
Whitley said she was in third grade the first time she read a Harry Potter book and was hooked from that moment on. The night "The Goblet of Fire" was released, she said she ran through the rain reading it and the first pages are still stiff from the rain today. She said Harry Potter stays with you.
Jeff Roper, Asheville HPA's treasurer, said he first read Harry Potter in middle school. He was attending a wizard rock show when he met the previous chapter organizer and started going to meetings from there.
"What I like about the community is how forward thinking most of Asheville is, and I feel like with some help from organizations like us and other organizations we have partnerships with, I really feel like we can get together to make a difference in our community," Roper said.
Since their conception, the Asheville HPA has participated in a homeless campaign to raise funds and awareness, held a benefit concert, raised funds for local bands and participated in the yearly Accio Books, which ends May 16.
"This organization proves there's so much good left in this world. It's really easy to lose your faith in humanity, especially now, but this proves the cynical side of me wrong," Albury said. "I've lived just outside Asheville my whole life and seeing that people want to try to make it a better place for everyone, not just the privileged, is probably the best."