Interim Chancellor Joe Urgo gets personal
Maggie Haddock
News Editor
mhaddock@unca.edu 
The east wing of Phillips Hall undergoes many metamorphoses this semester as the small, administrative offices buzz with meetings, phone calls and even laughter as Joe Urgo steps into the role of interim chancellor. He leads in tandem with Karin Peterson, who now serves as provost, Urgo's previous position.
"He sees the provost and chancellor as partners," Peterson said. "That is how he and Mary Grant worked, that is how he and I are working. It means there are two people checking if our decisions make sense so that we're not making decisions or having conversations in isolation."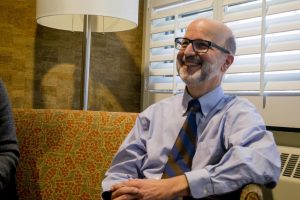 After Mary Grant announced her resignation from her position as chancellor last September, Urgo was appointed to the position amid the ongoing chancellor search. Urgo's work follows in the path of Mary Grant, but with a personal touch and a desire to lead, making the chancellorship his own.
"When you're in an interim position, you don't want to make any major changes in direction because the full-time chancellor on his or her way starting in July," Urgo said. "At the same time, you don't want slide backwards or get off the rails, because we have a pretty strong strategic plan that charts the course for us in the foreseeable future."
The transitional period within a university, much like the one UNC Asheville currently faces, is not easy. But this is not new territory for Urgo. Stepping into the role of interim provost in 2014 under the chancellorship of Anne Ponder, Urgo quickly became acquainted with the ways of the university.
"I came to really appreciate the mission of the school, I really fell in love with the mission. I think we do things right here that a lot of schools are struggling to do. We do it really, really well," Urgo said.
Even as interim provost, Urgo's concern and involvement with the university on all levels stood out to Peterson during a learning circle for program and department chairs.
"I was struck immediately by Joe's interest in understanding what the work of program chairs and directors looked like, what our needs were, and also his willingness to come in and offer support in a transitional time."
Amid the transition, Peterson said she trusts the university's ability to move forward with the new administration and in Urgo's ability to move fluidly with initiatives while caring for the core values of the university, which exhibits itself in his balanced leadership.
"Both Joe and I understand UNC Asheville to be a very resilient place. We sustain ourselves through different leadership transitions," Peterson said. "I think what that says is that he is situated as an informed leader through this transition time and he's very sensitive to our context."
Urgo characterizes his chancellorship with regular office hours at Argo Tea, titled Cuppa Joe with Joe. These office hours allow student, faculty and staff to speak with Urgo, an opportunity that otherwise may be inaccessible to some.
"I think it's a really big deal to have to call the chancellor's office, make an appointment, come to Phillips (Hall) and have to sit down and say what's on your mind," Urgo said. "No appointments have to be made. I'm at the same place, same time at Argo, every week I will be there."
Peterson noted Urgo's ability and desire to connect with those around him by cultivating deep, interpersonal relationships.
"I think the fact that he has this Cuppa Joe with Joe event is an example of the way he would like to interact with people. There's some accessibility there, there is some lightness to it and some humor," Peterson said.
Sofia Moreira, a sophomore psychology student, attended Urgo's open office hours to discuss the importance of representation of marginalized groups on campus.
"I would like to see an effort to reach out and promote more minority groups. We have a lot of student organizations and some are focused on celebrating cultural differences," Moreira said. "I think that emphasis coming from someone like the chancellor would bring attention and make more students aware of the existing student organizations and possibly promote new ones."
Moreira noted Urgo's interpersonal skills and felt his open office hours showed more of his character as an actively listening leader.
"For me personally, it feels like we have someone who is the head of our school who actively makes time out of his probably very busy day to sit down and talk with students," Moreira said. "To me, that shows personal investment, which means a lot."
Urgo wears many hats outside of interim chancellor. After hours, he stays occupied with his Jack Russell Terrier nicknamed Lemon.
"Her (full) name is Lemon Drop Martini, which is such a cool name. We met her and found out her name and said, 'How do you say no to a Lemon Drop Martini?'" Urgo said with a chuckle.
Before settling into administrative work, Urgo served as an English professor for 20 years. His academic background gives him an advantage in understanding the work of the university, Peterson said.
"He has a deep understanding of what happens in the classroom. He comes from the perspective of a teacher first and foremost and he knows, therefore, what students need and what faculty need," Peterson said. "It is reflected in the notion that administration needs to be close enough to the classroom to understand what that world is, and close enough to the development of students and how students develop over a period of an undergraduate career to make decisions that foster that experience."
When he settles into his office in Phillips Hall for the day — with Lemon at home and his old hat of English professor and scholar tucked away — Urgo embraces his new job and the work intertwined with the title.
"I love this school so much and I think there's so much potential to continue realizing and keep on pushing on toward things," Urgo said. "All of us are always energized by the students that come through here every year and the projects that the students bring. Sometimes you feel spoiled to work in that environment."