New streaming services lead to excitement and economic uneasiness amongst UNCA students
Josh McCormack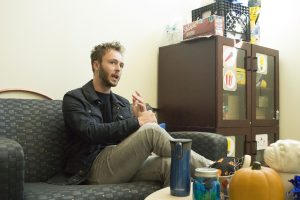 Arts & Features
jmccorma@unca.edu
As the amount of online streaming services increases, so does the enthusiasm and wariness of UNC Asheville students who are taking note of this growing competitive market.
With the release of new subscription outlets like Disney+ and Apple TV+ students like Quin Terry, senior, express excitement for quality of content that will soon be unleashed.
"The Disney titles coming to their streaming service is particularly exciting to me," Terry said. "The new Star Wars show, The Mandalorian, as well as their entire backlog of titles throughout the years is really enticing to me."
Grace Halpern, a senior new media student, also finds the content from these new services to be too intriguing to ignore.
"I think Disney+ in particular is going to take up so much of my time," Halpern said.
With Disney+ and Apple TV+ now up to bat against other, similar services like Netflix and Hulu, some are worried that this competitive market will lead to the same issues that have plagued cable television.
"I'm warily looking forward to some of the new shows, but I don't want to get to the point where I have so many streaming services and it starts to add up and cost what cable used to cost," said Anne Slatton, a mass communication senior lecturer at UNCA who specializes in film and video production.
Slatton went on to defend the quality of the content coming from these on-demand services.
"I certainly think the bubble is going to burst if we keep making so many streaming channels with endless options," Slatton said. "But it's difficult to get entirely upset because it's led to some really great programming and created a new golden age of television. Some of the best content, be it a film or a tv series, is coming out of either Amazon, Netflix or Hulu."
According to students, another point of contention with this new era of streaming is in how some services are changing the way in which they release episodic programs to their customers. Disney+ plans to release episodes of their new shows weekly, leaving less opportunity for immediate binge-watching. Netflix has tried this model in recent months with certain programming and intends to continue with this model according to a Business Insider article published on Sept. 6.
"I'm a binge-watcher at heart and it's just harder for me to stay invested in shows that are given to me piece by piece on a weekly basis," Halpern said.
Senior lecturer Slatton also expressed her annoyance with this model of releasing.
"I'm not a fan of that," Slatton said. "To me it just seems like a money making scheme. And I'm not even much of a binge-watcher, but I do like having the opportunity to watch two episodes of something at a time. I think our culture's a little bit spoiled at this point with everything coming out all at once and I don't think it's a good idea to just go backward."
Terry holds a different point of view, saying that the delayed release schedule provides a sense of enthusiasm and anticipation.
"I think if you leave people with a good cliffhanger episode and give them a week until the following episode, it fills people with a sense of excitement that you just wouldn't get with binge-watching," Terry said. "I feel that a lot of the shows that worked in the past is because they were released weekly and kept everyone on the same track. And I think it will lead to more memorable television experiences in the way Disney is releasing their shows."
One of the biggest conversations among UNCA students surrounding the release of Disney+ and other new streaming services is the financial impact that comes with multiple subscription fees.
"Luckily I share a lot of my accounts through my family which puts less economic
responsibility on my shoulders," Halpern said.  "But to be perfectly honest, I wouldn't want to pay for all of it. But the problem comes from picking and choosing what service I would want because I think all of these services have content I enjoy and it's only going to get better and better."
Terry shares these sentiments, saying it's almost a shame that there is so much quality content.
"The fact that there's just a lot of good stuff makes it harder for a lot of my friends to choose what streaming service they want to put their money into," Terry said. "We're at a point where subscribing to two or three of these outlets is already a lot and Disney+ and Apple TV+ aren't even out yet."