Outdoor activity linked to improvements in emotional health
John Mallow
Assistant social media editor
jmallow@unca.edu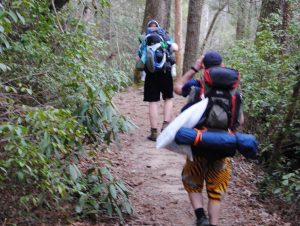 UNC Asheville students experiencing stress, anxiety or depression have a remedy available in abundance, according to experts–nature.
"There's something about natural stimuli, the natural light, the expansiveness of the sky, seeing trees, that the mind needs and craves," said Mark Harvey, psychology professor at UNCA. "It helps to reduce anxiety and mental fatigue."
Edward O. Wilson, a biologist, put forth his biophilia hypothesis in 1984 addressing the innate relationship humans share with other living systems, which Harvey said is a relatively new area of science that shows promise.
"It has helped stimulate an enormous amount of research, including some really interesting stuff on our relationship with our pets," Harvey said. "I think it falls under that general area of our relationship with nature."
Alex Hanamean, sophomore biochemistry student and UNCA Outdoor Programs trip leader, said engaging in outdoor activities allows him to leave behind the bustle of everyday life.
"It's great because I sometimes use it to just get away from everything. I'll definitely use it to just get away, just going hiking a little here and there," Hanamean said. "It's nice to kind of get away from civilization, the distractions of social media, the pressures of school and everything else."
Hanamean, whose mother was born in Germany, said a love for the outdoors runs in the family.
"My mom is also very outdoorsy herself. We've gone camping a bunch of times," Hanamean said. "Through her, I went snowboarding and skiing. Generally, just being outside a lot. It's a very European thing to do."
His father, retired Air Force Maj. James Hanamean, is no stranger to the wilderness either, Hanamean said.
"My dad was military, Air Force, and so he worked survival school," Hanamean said. "He taught people how to survive in different environments, and he worked escape and evasion."
Emily Shaw, a junior history student, is also an Outdoor Programs leader. Like Hanamean, she said she turns to nature as a relief from the demands of being a college student.
"I like going outdoors, because it does help me de-stress," Shaw said. "College is really difficult, and you've got to find things that you enjoy to get through it. Hiking, for me, it means a lot to just remove yourself from a stressful space."
Shaw, a native of Baltimore, enjoyed outdoor activities growing up but said participating in the Wilderness Experience her freshman year at UNCA really ignited her love of the outdoors.
"Where I live it's 45 minutes to the ocean, 45 minutes to the mountains and then we have a bay," Shaw said. "So, I did a little bit of sailing, I did paddle boarding, but it mostly kicked in when I got here."
Richard Louv, author of Last Child in the Woods: Saving Our Children from Nature-Deficit Disorder, relates the increased time children spend indoors with negative health effects, which Harvey attributes partly to consumption of media.
"You have to be suspicious of how a lot of media works where there are such quick edits between scenes," Harvey said. "We crave that fast paced instant gratification and those things that come from a variety of different screen time, that reinforcement of constant stimulation."
An abnormal amount of time spent with various forms of media has had an adverse effect on the psychological well-being of the younger generation, Harvey said.
"It's totally possible that ADHD was just underdiagnosed and now we have better tools for seeing and then doing something about it," Harvey said. "It's also possible that cultural factors, especially the ubiquitous use of media, is fueling an epidemic of ADHD."
Overexposure to technology and media can shut off humans from one another, decreasing meaningful interactions, Hanamean said.
"I think they have done a bunch of psychological studies about being indoors a ton and being so enraptured with technology. It just kind of deadens you to the world," Hanamean said. "I think being outside in nature refreshes that spirit of, 'Hey, let's be people;' let's have these interpersonal connections and it gets you back to your roots."
Harvey said getting out in nature has various positive effects on cognition.
"Our minds get fatigued from extended concentration, and spending some time outside helps us reset our minds, so to speak," Harvey said, "relaxes us, helps us restore our attention so we can concentrate more."
Outdoor programs offer students, even with no prior experience, the opportunity to get in touch with nature through various trips and activities, Shaw said.
"We do various different trips. We have leaders that are certified rock climbers and we've taken students out climbing," Shaw said. "We do whitewater kayaking which is really, really fun, and it's all meant for people who have never done it before."
Shaw said she noticed the positive effect on self-esteem students experience when they step out of their comfort zone to accomplish something they normally would not attempt.
"With our trips, I think, it helps a lot of students feel good about themselves, especially if they've never done it before, because they can be like, 'Whoa, I did that; that is awesome,'" Shaw said. "It's all about what you want to do, what makes you happy and how you can share that happiness with other people."
Hanamean said existential reflection, like contemplating one's place in the world, is just not possible without a conducive environment like nature.
"It's interesting to think of these thoughts, because again, I think actually we do tend to think of that more in nature, because when we're so focused on our day-to-day lives we get so focused on homework, school, work, technology," Hanamean said. "All the small things grab our attention, and we never have time to pull back and look at the big picture."