Senior Send-off: A streamline finish for Alejandra Sanchez Garcia
Emily Spies
Sports Editor
espies@unca.edu
Alejandra "Ale" Sanchez Garcia lives 2000 miles from her hometown of Mexico City, Mexico. But as a senior international studies student, Sanchez is able to reflect on her four years at UNC Asheville with warm regards for her teammates and coaches.
"It was easy being so far away from my home because of my team; they are amazing people," Sanchez said.
Having just graduated from high school, Sanchez received a phone call from UNCA Head Swimming Coach Elizabeth Lykins inviting Sanchez to join the new women's swim program. With just two weeks before the start of the semester, Sanchez said she deliberated for a week before taking a chance and claiming her spot on the team.
Sanchez said she has grown as a swimmer and as a person in her time at UNCA.
"In high school it was all about me as an individual, very competitive to a bad extent," Sanchez said. "But here it's so different — it's all about the team. I love that. I think I have more fun watching my teammates do well than me doing well."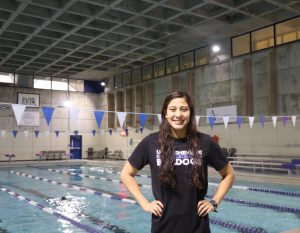 Her enthusiasm and heart have not gone unnoticed by her teammates and coaches. Assistant Coach Daniel Dozier of the swim team said Sanchez has helped guide her teammates with integrity and maturity as one of three team captains.
"She just has a wonderful way of handling situations. She's been team captain this year and has been nothing but the best leader that this team could have," Dozier said.
Compassion comes naturally to Sanchez as seen not only through her role as a leader, but also within her course of study. After graduation, Sanchez said she hopes to dedicate her time to serving underprivileged and struggling communities by providing them with tools to help build better lives.
"I want to work for a nonprofit in human development; that's my passion in life. My dream is to work in an embassy and travel around, work in different countries and help people," Sanchez said.
Having the good fortune of positive influences in her life, Sanchez said she aspires to be like her role model, her father, in putting others first, working hard and never giving up.
Members of the athletics department also strive to play their part as mentors to student athletes. Head Coach Lykins said it is important to the athletic staff at UNCA to not only help the student athletes develop within their sport but to also teach students the skills needed to succeed in the future such as dedication and working well as a team. Lykins said Sanchez has the tools to continue to prosper after graduation.
"She is good with people and willing to do whatever it takes to succeed, and I hope she is able to apply her passion to a position helping others," Lykins said.
Sanchez said she went through some rough patches as a student athlete, but has learned to continue to push herself. She said being the best student athlete she can be is all about discipline and self-care, and will likely continue swimming as part of that self-care after graduation.
"I think I'm probably going to take some time off, but I know myself and need to exercise. I love swimming, so I might not compete anymore, but just get in the pool," Sanchez said.
As the regular season wraps up, the UNCA swim team will say goodbye to eight seniors, including Sanchez. Lykins said Sanchez proved to be an extraordinary asset to the women's swim team through dedication and hard work.
"Not only is Ale an excellent athlete and contributor in the water, but what she brings to the team cannot be measured on a pace clock. Her commitment to achieve success, support her teammates and lead as a captain has exceeded all of my expectations," Lykins said.
Sanchez will graduate this May. She said she cannot believe her time at UNCA passed so quickly, but she is thankful for the opportunities presented to her: "I feel really thankful to my coach, my parents and God."