SGA raises questions about diversity and inclusion improvement on campus
Maggie Haddock
Assistant news editor
mhaddock@unca.edu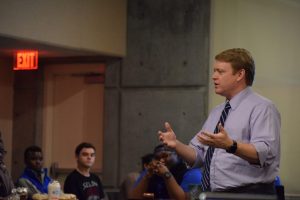 The Student Government Association senate meeting on March 29 welcomed discussion on matters such as diversity and inclusion with Steve McKellips, senior director of admissions and financial aid, who largely impacts prospective students and their decision to attend UNC Asheville.
"Every campus in America has the word 'diversity' somewhere in their strategic plan," McKellips said. "I have never seen another campus do what I think is the most amazing piece of this campus's decision as related to diversity. This campus said, 'Diversity and inclusion,' which is far more significant than the word 'diversity.'"
Diversity has become controversial and does not have as much meaning as it used to, McKellips said.
"To a large degree, the meaning of the term has essentially fallen away into a political debate," McKellips said. "To be able to articulate diversity and inclusion together as a topic is probably the coolest thing I've seen in high education in strategic planning because diversity and inclusion is really what the point is. It isn't about just diversity for diversity's sake."
UNCA in particular has made an effort to be inclusive in the admissions process, as the outreach for students of color continues to increase, McKellips said.
"This is a campus that has simply not shied away from doing what it needs to do to generate diversity on campus. For example, recently in this past week, I spent a day and a half with Cherokee students," McKellips said. "I had sitting in front of me what was about 160 Cherokee students, all of whom want to go to college, versus regular high school visits, where there may or may not be any students of color who are even in the room."
Some universities use QuestBridge, a program which finds prospective students of color, for institutions especially along the East Coast, McKellips said.
"There is an organization called QuestBridge, and what QuestBridge does is it is an organization that takes higher education persons of color and provides access to those students to universities all over the country —  Harvard, Yale, Williams —  all of those school are essentially in QuestBridge in order to bring the highest achieving academic students of color into environments that are traditionally not very versed," McKellips said.
Most private liberal arts universities along the East Coast lack diversity, McKellips said, because the pool of students who attend are not typically students of color or first-generation students.
"They use QuestBridge to find a way to deliver interested students of color because one of the challenges in those populations is there isn't the universal everybody-goes-to-college perspective," McKellips said. "There are populations that would be successful, but they just do not organically find their way into the pool at Williams or at Harvard."
Organizations such as QuestBridge might be explored in the future to bring more diversity to UNCA, McKellips said.
"QuestBridge is a place and our institution would fit that mold very well. I haven't talked to QuestBridge. I don't know if we're a match for them, per se, but those are the kinds of things that are out there that we could potentially explore," McKellips said.
He noted the stability of the campus and how his position with the university, which he has held for about a month, will not greatly impact the current state of the campus.
"I'm pretty impressed with the campus in general. I'm pretty impressed with the infrastructure. I'm pretty impressed with the overall structure of the university," McKellips said. "I say all that because sometimes when there's a new person, people expect suddenly dramatic change, like all of a sudden, we're going to do the following and all of a sudden we're going to have 15,000 students. The truth of the matter is nothing is really broken."
McKellips also noted the dynamic structure of the university and the stability coming from the institution as a whole, particularly the liberal arts aspect of UNCA.
"As I went through the interview process, one of the things that really stood out to me was this institution as a liberal arts institution is its backbone. It is its strength. It is its places. It's a lot of things. It's also not open to discussion. It is who we are. It is what we're going to continue to be."
McKellips's monologue shifted to a dialogue as he asked members of SGA to give their definition of a liberal arts education, segueing into the question by giving previous encounters with UNCA students.
"I walked around and I introduced myself to a couple of very random students — random to me —  and I asked them, 'What does a liberal arts education mean?' And I got a textbook answer," McKellips said. "The problem is, I don't think it's the answer."
Senior Senator Anja Mayr noted her perspective of a liberal arts education as told through her own academic experiences.
"To me that means being able to talk about every single one of my classes in all of my other classes, which, as a senior here now, has been one of the most amazing things to do, just to be able to connect the dots in everything and just be able to see a bigger picture," Mayr said.
Tatiana Miller, chief of staff, noted her experience with a liberal arts education allowed for the opportunity to combine different aspects of her education into one use.
"It's being a well-rounded student but also being able to define your education on your own terms," Miller said. "I'm able to dip into different arenas of my life. I don't just have to be STEM-minded. I don't just have to be humanities-minded. I don't just have to care about social justice. I can bring all of those pieces together."
McKellips not only gave insight to his plans for UNCA, but also left advice for all students who may not be embracing college to its fullest extent.
"If you don't like it here, don't be here, because misery begets misery and if you don't want to be here, I totally get it. How can I help you find that place that's awesome? Because I will help you find it," McKellips said. "I don't mean get out. I mean I want everybody to love it. College is hard enough. If you don't love it, how can you possibly expect to get the most out of it?"