Shanna Blake has a big heart and communicates this through her art
By Phillip Wyatt, Arts and Features staff writer
11/18/15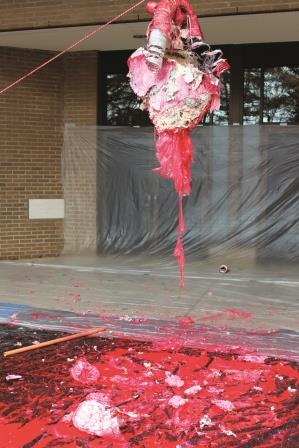 When people view art, a visceral experience materializes an interpretation of the artist's work, evoking myriad thoughts and emotions.
Shanna Blake, fine arts student with a concentration in sculpture, said she desires to separate the ego associated with artists and their work by advocating for community participation within the arts.
Blake spent over 40 hours creating an anatomical heart piñata, using materials such as chicken wire, insulation foam, paper mache, cardboard tubing, paint, glue and duct tape. The piñata and its contents weighed over 50 pounds.
"I'm really exploring the heart shape and symbol and what kind of metaphors go with it," Blake said. "It seems like a tendency for the heart to be wounded in a sense, being broken. It kind of gives the heart deeper insight people can really resonate with if its been injured rather than attacked."
The site-specific piece titled "Hacer de Tripas Corazon," a common Spanish phrase meaning "to make heart from guts," was suspended outside of Owen Hall Nov. 7. Attendees were given roughly 15 minutes to observe the piece before taking turns thrashing the piñata with a wooden bat while blindfolded.
Blake constructed the provided blindfold, adorned with a pair of eyes on the front.
"This added a bit more whimsy to the overall effect of this piece but it also comes with its own metaphor," Blake said. "Many times people think their eyes are open and they are seeing the truth when in all actuality they have been blinded to it."
After an hour of swings the piñata was punctured, spilling blood and guts onto the ground below.
Blake diluted washable red paint to create blood and stuffed sausage casings with spaghetti noodles to simulate guts.
Kyle Monaghan, mechanical engineering student at Asheville-Buncombe Technical Community College, was not expecting an interaction with a bloody heart.
"In some sense it was kind of gory, almost graphic," Monaghan said. "You have this heart you're destroying and you see blood and fake organ parts falling out. People were very excited about that rather than grossed out."
Monaghan had never attended an installation art exhibit as participatory as Blake's, giving people the opportunity to interact with the art, he said.
"It really made me think of it as an art show rather than just producing art because it was just that one moment we got to appreciate it," Monaghan said. "The art was created just for that moment, which really made it kind of special."
Blake's favorite artist, Frida Kahlo, served as the main inspiration for this art piece, she said.
"She does a lot of anatomical hearts herself," Blake said. "I love her allegorical sense of humor."
The decision to host the installation outside of Owen Hall was intentional, she said.
"It serves as a reminder that art is a foundation here, not only on campus, but in Asheville," Blake said. "It's a reminder that people do get a lot out of art and the site is incorporated in the piece."
Blake's art piece was created as an assignment for a contemporary sculpture methods course taught by Jackson Martin, assistant professor of art.
"I think very highly of her work. At this point in her career as a student, it's due mainly because of her work ethic," Martin said. "Talent's great, don't get me wrong, but drive and ambition is better."
For decades, a movement within the art community has materialized where artists are generating works of art specifically for a particular site, Martin said.
"They are literally creating a work that's fused with an area," he said. "Whether that's inside or outside, it has to live in that area or otherwise it ceases to exist. It's activated by the site."
Martin instructed his students to walk around campus and choose a site they responded to and then create a work of art for that area. Students were required to write a project proposal, create an artist rendering and approach administrators for approval and safety.
Issues concerning the contents of the piñata and potential staining of Owen Hall's façade were expressed, Martin said. Plastic tarps covered the ground and walls around the structure and a water hose was on hand for potential splashing.
"She did a good job in preparation, using materials that were washable and nontoxic," Martin said. "If you weren't there for the event or saw images, you would be none the wiser."
"Shanna's craftsmanship is great," Martin said. "As a result, the structure of the heart really held up, longer maybe than it should. I was afraid the structure would completely collapse within the first couple of minutes or it was going to hang on to the bitter end, and it was the latter."
Blake said she would love to create a new interactive art project involving the community in future, she said.
"I'm in my moment right now," Blake said. "I'm just really going at it full-force."