STEM enrollment soars at UNCA as humanities and arts decline
Brooke Randle
News staff writer
brandle@unca.edu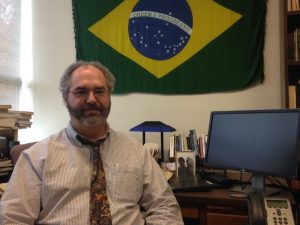 While chemistry and engineering departments continue to grow at UNC Asheville, some humanities and fine arts departments endure another year of marked decline in enrollment.
UNCA figures report some of the departments experiencing double digit declines from 2011 to 2015 include art, music, philosophy and religious studies.
Rodger Payne, professor and chair of religious studies at UNCA, said the drop may result from a nationwide focus on hard science and math education.
"I think that we are seeing in our society and culture much more emphasis placed on STEM degrees," Payne said last fall.
A 2011 report from the U.S. Department of Commerce states science, technology, engineering and math occupations, known collectively as STEM, anticipate growth at a rate which will nearly double that of all non-STEM related fields by the year 2018. The report also found employees working in STEM fields earn on average 26 percent more than non-STEM workers.
Payne said the decline in humanities and fine arts majors springs from a desire for higher wages and job security, incentives which STEM fields are more likely to provide.
"I think certainly the economy is one thing. I think jobs are difficult and the better you can be prepared for some specific jobs, good for you," Payne said.
Many students find themselves more concerned with finding work and paying off student loans than pursuing a field in which income and job availability remain less clear, Payne said.
"I think another problem is tuition. We keep seeing tuition rise. We keep seeing it as a larger percent of a family's income and that's creating all kinds of pressures," Payne said. "Why go to college to learn all these kinds of skills like communication when I know I can learn how to brew beer and get a job at the end?"
Payne stated while STEM studies remain important, they should not act as a substitution for humanities and arts. Students need both humanities and STEM disciplines to develop the critical thinking skills employers desire.
"I certainly don't have any issues with the idea that Americans need to be more scientifically literate, that they need to be more mathematically literate but what bothers us, of course, is that sometimes these things are seen as replacements for some of the more humanities and social science kind of things," Payne said.
Duane Davis, professor of philosophy at UNC Asheville, said demonstrating the value of degrees such as philosophy to lawmakers proves challenging.
"Struggling with a public lack of understanding of the value of philosophy isn't new. It's what got Socrates killed," Davis said in November.
Davis said he fears legislators will cut humanities and fine arts programs from state-funded schools unless they can prove how such degrees directly benefit local economies.
"The thing that's disturbing to me is the thing that our governor said a few years ago in a press conference," Davis said. "He infamously said that if someone wanted to major in something like women's studies or gender studies at a private school that might be OK, but that he couldn't justify the use of public funds to subsidize an education where someone wouldn't be getting anything of value coming from it."
Davis said lawmakers need to look beyond the bottom line when weighing the impact of humanities and fine arts degrees.
"That's the thing. We have to ask what the value is of our education," Davis said. "One thing that separates, I hope, a university education from a trade school, from a community college, and especially one thing that separates a school that has dedicated itself to a liberal arts mission, is that we're not providing training, we're providing education."
One of the sharpest enrollment drops came from the UNCA music department with a 45 percent decline between 2011 to 2015, according to the UNCA figures. Chair and Associate Professor of Music, Melodia Galloway said budget cuts in public education at the middle school and high school levels lead to lower interest in pursuing music at the college level.
"Music and arts are the departments unfortunately where the first cuts that are often made, especially to public school levels and those are our feeder schools," Galloway said last in the fall of last year.
Galloway stated one of the pressures students face when choosing a major includes concerned parents who question the practicality of fine arts degrees.
"I get those questions a lot, from students who are interested in majoring in music or who are majors," Galloway said. "Especially the statement, 'My parents want to know what kind of job I will be qualified for after I graduate' and it's a legitimate question."
The addition of an arts administration degree might be one way in which the fine arts departments at UNC Asheville may quell parental doubts, Galloway said. The proposed degree would incorporate other skills, such as business management and accounting, to supplement fine arts educations.
"So the beauty of it would be, say if you were a B.A. in music but you minored in arts administration. You've got some management classes, you've got some accounting or law and ethics classes. Those are classes I wish I had had starting out as a singer," Galloway said. The program, which Galloway intends to make available in fall 2017, aims to provide music and arts students with a more well-rounded education, which may lead to more job opportunities.
"If you've got a minor in arts management, then you have a much more practical degree," Galloway said.
Despite the statistics, Galloway said she feels optimistic most students make educational decisions based on their interests.
"I think following your passion is the right thing," Galloway said. "It may not look like the most practical decision but especially for those of us who have the privilege to attend full-time at a university, especially a liberal arts university, you've got this precious bubble of time in which to explore lots of things."