Stick that in your pipe and don't smoke it
Nora Donovan
News Writer
ndonovan@unca.edu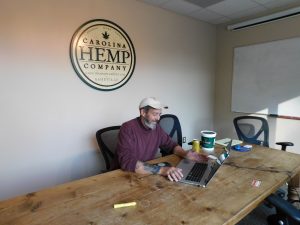 Smokable hemp has produced more growing pains than good vibes, according to North Carolina lawmakers. 
Following up from our Sept. 22 article, which originally reported a predicted ban on smokable hemp in December 2020, N.C. state legislature has made significant revisions to put the ban in place as early as June 1.
The ban,  a part of Senate Bill 315, has been called to action due to the difficulty of  differentiating between hemp and marijuana. which  is new to law enforcement agencies across the country, according to Christina Hallingse, public information offficer for the Asheville Police Department.
"SB 315 has been pushed forward by law enforcement organizations in that a smokable hemp ban is their priority above finding a solution," said Brian Bullman, founder of Carolina Hemp Company. "There are also parts in SB 315 for the hemp industry association, the law enforcement organizations and the department of agriculture to find a solution. That is a problem in that one of the three parties does not really have an interest in finding a solution because it causes them more grief than anything, because they can not continue using the scent of terpenes from marijuana as a validation to the search and seize, which is what they do."
According to the Asheville Police Department, as of now the method they use to differentiate between hemp and marijuana is done through the state crime lab.
"The lab can test each substance to determine the level of THC present. However, receiving results from these tests can take 6-8 months," Hallingse said."On a case-by-case basis officers can use different methods or techniques to attempt to identify the difference in these substances. The Asheville Police Department also has officers who have received extensive training to become drug recognition experts. This training provides the officer with the ability to recognize impairment and identify the substance causing the impairment."
Bullman founded Carolina Hemp Company in 2014. They currently have a hemp general store on Haywood Road, and are planning on franchising across the southeast. However, if SB 315 passed, business could be affected.
"Our customers prefer to smoke hemp. There is a significant impact on the consumer end. There is a legitimate demand for the product," Bullman said. "On our end, working backward from distribution and retail, it is going to be a huge impact on the way we get to service our customers. We actually give a damn about what products our customers are exposed to."
Hemp has been a controversial topic in North Carolina, with its legalization facing many challenges. It was not until 2014 that certain research institutions and state departments of agriculture could grow industrial hemp as part of an agricultural pilot program if allowed under state laws where the institution or state department of agriculture is located, according to the North Carolina Department of Agriculture.
"It helps my body, I do not have to take certain medications like pain pills and other things. As far as sleeping aids and such things, I do not have to take any of them," said Joe Kimmel, sales representative for Carolina Hemp Company. "The doctors tried to have me on those pills and I do not have to take any of them today because of cannabinoids."
While SB 315 will keep cannabinoids and other derivatives of the hemp plant legal, smokable hemp remains a favorite.
"Personally, smokable hemp flower is one of the easiest, fastest ways of getting it into your system. In my eyes, when somebody is trying to take the most effective way of getting something in your system away from you, it is not right. It is illegal. It is going to affect a lot of people, not just me personally," Kimmel said.
Colorado and Washington were the first states to legalize cannabis in 2012, with 11 states following suit. The legalization has already led to more jobs and less imprisonment rates for minor offenses, according to U.S. News. 
Because smokable hemp looks like something else and smells like something else, Bullman said the biggest misconception about hemp has been that it's a gateway to a gateway drug.
"This is a misconception I would like to iron out. By definition, both legal and botanical it is not psychoactive cannabis. This is just an herb," Bullman said. "It's food."