Students on the run in support of education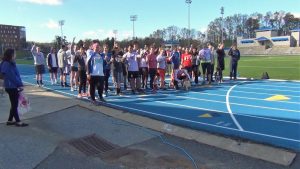 UNC Asheville students and local residents enjoyed sunny skies, a 5K run and supported a great cause during She's the First's third annual Cupcake Classic 5K and Carnival on Saturday morning.
Meredith McLain, a junior political science student and president of UNCA's chapter of She's the First, explained the goal of the organization.
"We're a national non-profit, and we are just a local campus chapter of that non-profit. It's the same mission, but we're just the campus chapter," McLain said. "All the money we raise goes toward paying for girls' education in low-income countries. So we're paying their tuition for secondary school mostly."
McLain expanded further on her involvement with She's the First and said how she became president of the university's chapter.
"We were founded five years ago here. This year is my first year, along with Marcy Pedzwater, as being president and co-president," McLain said. "I just got involved last year with it through a general interest meeting and kind of went from there. Now I'm planning a 5K, or planned a 5K."
The proceeds raised from entries in the 5K, McLain said, will be applied toward providing necessities students will need as they move forward with their education.
"We raise money through our cupcake sales, as well as for this event, your registration; you donate $10, run the 5K and get a T-shirt," McLain said. "We pay for their books, their supplies, their uniforms, all sorts of things."
Other organizations were represented at the event, including UNCA students involved with Autism Speaks, an autism spectrum disorder advocacy and awareness group.
"We're with Autism Speaks, which is a national philanthropy that works with people who have autism spectrum disorder. I'm one of our philanthropy chairs, so I work very closely with them," Sarah Hesselink, sophomore political science student, said.
Hesselink, who works to raise awareness of autism along with other members of UNCA sorority Alpha Xi Delta, said there is a camaraderie and helpful spirit among organizations like Autism Speaks and She's the First.
"We're in Alpha volunteering at this event and helping it run smoothly, and in return, they let us table for our philanthropy. They also come to our events and help us out, so we work very closely with them."
Devin Clancy and Rhonda Becker, who served ice cream at the event on behalf of The Hop Ice Cream Café, said education is important for all,and The Hop is more than enthusiastic when it comes to supporting a noble cause.
"It's great that this cause is raising money for education, because I actually just recently had a conversation with my friend who was talking about the amount of perspective that it brings you," Becker, a Chicago native, said. "I brought up confidence because it gives you a sense of confidence in who you are and how you feel about the world and the people you see around you."
Clancy said education in today's world is out of reach for too many people and ice cream is a great way to bring people together and raise money at the same time.
"The boundary in education, something that can help you for the rest of your life, those stakes are so high right now. What can we do to give back? Give back some money from ice cream. That's what we're here for; it's for this cause."
Becker also said The Hop's owners, UNCA alumni Ashley and Greg Garrison, make it a priority to give back to the city they love, especially when it comes to working with their alma mater.
"Greg owns The Hop, and he's always been super involved with the community and making sure he can do whatever he can to help, and we love being a part of that," Becker said.
Selling ice cream may seem like a simple idea, but Clancy, originally from New Orleans, said there is much more to it than that.
"What ice cream does, bringing people together, that's what education does. It's not so much about sitting in a classroom absorbing information, it's the relationships you build in the classroom," Clancy said.
Lots of UNCA students came out to support She's the First and participate in the 5K run. Robert Worthington, freshman nuclear engineering student and member of fraternity Alpha Sigma Phi, came out with other members to enjoy some exercise and fellowship.
"My fraternity, which is running in it, we heard about it through She's the First. They contacted us in a group PM. I'm just running it for a good cause, to see how good of shape I'm in, which I'm not in as good of shape as I thought."
Alex Bortey, a fellow Alpha Sigma Phi member and freshman engineering student, said he enjoyed the run and having other Alphas with him helped to push himself.
"It was pretty nice, very calming, relaxing. I thought it was really well done," Bortey said. "Just the fact that you do this with a group, it makes it a lot more motivating."
Not only were UNCA students showing their support for She's the First, but members of the wider Asheville community came out to enjoy the weather and the occasion.
"Somebody posted it on a running Facebook group and it looked like it was for a good cause, not too expensive, just a good, fast run on a great day," said Zack Brown, fourth-grade teacher at Ira B. Jones Elementary. "It was great — a couple of hills each time around, but not too bad as far as Asheville goes. It was pretty well run and a good turn-out. I'll definitely do it again next year."