Super Smash Bros. club is a smash hit
Marian Foster
Arts & Features Writer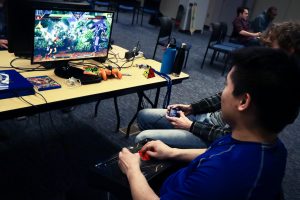 mfoster3@unca.edu
Approaching its one-year anniversary, UNC Asheville's Super Smash Bros. club strives to be an inclusive space for students interested in the videogame.
"I have been playing Smash Bros. for a while now," Brennen Shaughnessey said. "I met up with a few friends to play and we started talking about booting up a club. Within a week, the Super Smash Brothers club existed and we had our first meeting."
Shaughnessy, the club's current president, said the Super Smash Bros. club is a community for its members. He said they want to hang out with people they can relate to and play Smash Bros. with.
"I like Smash Bros. and I wanted an opportunity to play with peers," Liam Poteat, a first-year student said. "It's a fighting game in which you are given a greater degree of control of the characters than most fighting games and it features a cast of largely Nintendo characters."
Poteat began playing Smash Bros. in 2016 and has played Super Smash Bros. Ultimate since its release in 2018. 
Club members primarily play Super Smash Bros. Ultimate on the Nintendo Switch. Members are provided with game controllers if they do not bring their own. 
UNCA alumnus Kevin Stallings vividly recalled the club's inception. As co-founder and former club president, he continues his involvement in club activities.
"It was at West Ridge study lounge on the third floor," Stallings said. "A few of us founding members had a get together and someone said we should start a Smash club. I thought, 'Oh they're talking about something crazy.'"
Stallings thought his friends were joking but after they expressed genuine interest, he officially started the club.
"We basically just wanted an area where we could all have a break from school, relax, talk and have a good time," Joseph Gaiten said, who also co-founded the organization.
The club meets in Highsmith 225 every Monday at 6:30 p.m. and tournaments begin at 7:30 p.m.. The tournament is one versus one, the best of three sets with a losers bracket. Players have to lose twice before they are removed from the competition.
"We play normal competitive rules with a slightly extended stage list which just means we don't play on all of the stages but we play on more than most competitive tournaments," Shaughnessey said. 
The Super Smash Bros. club tournaments differ from other competitive tournaments in in that there are no entry fees or payouts.
"I think what we've done with this club is really inspirational to other clubs and esports organizations just starting out on college campuses," Stallings said. "We want to promote a competitive but friendly environment at the same time."
The club is open to members of all skill levels. There are some novice players, many casual players and a few highly skilled players who are actively involved in the club. 
Freshman Matthew Augsburger did not know much about Super Smash Bros. before joining the club. He joined after watching his roommate play and said he hasn't missed a tournament since. 
"If there were different people than who's here, I wouldn't stay with it for so long," Augsburger said. "Everyone is so nice and open to everything. I can't even think of a tournament I've been to where my opponent who's beaten me hasn't given me advice." 
Augsburger said he loves playing the game and he appreciated how welcoming the group was to a newcomer.
"My first time coming here, everyone was so nice and they thought the name that I chose was great," Augsburger said. "We had fun. I didn't know anyone but I felt like I could open up and talk to them."
Third year student Sam Rhinehart also credited his peers for his membership in the club.
"The club members are all very interesting," Rhinehart said. "They're pretty unique people so they're fun to hangout with."
The Super Smash Bros. club celebrates its one year anniversary at Highsmith Grotto Feb. 29. They're hosting a celebration at 2 p.m. which will include a large tournament. The first place winner will receive a $30 Nintendo Switch gift card. 
"A lot of other universities have the same type of club but have paid entries, and we deviate from that approach," Stallings said. "We want to include people who don't want to fork up $5 for a tournament they don't think they are ready for. By taking away the entry fee, we reduce the stress level of our tournaments and incorporate new members."