Sweets and treats: Asheville community welcomes Duck Donuts
Virginia Taylor
Contributor
vtaylor@unca.edu
Whether you prefer your donuts with chocolate icing, or vanilla with sprinkles is more your style, a new donut chain opening in Asheville allows customers to personalize donuts to their liking. At Duck Donuts, the possibilities are endless.
"What makes Duck Donuts so unique is that you can customize your own donuts, you can go crazy," said Becky McGee, one of the owners of the Asheville Duck Donuts. "Where one person might say, 'Pumpkin icing and gummy worms? Ew!' someone else might say, 'That's delish!'"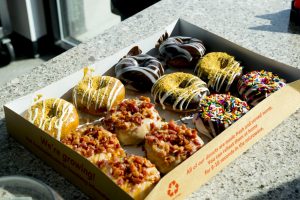 The first Duck Donuts opened its doors in 2006 in Duck, North Carolina. Founded and run by Russ DiGilio and his family, Duck Donuts has been a family owned and operated business since the very beginning.
"We love that it is a family business concept," McGee said. "We pride ourselves on the fact that this is a family-owned location."
McGee, along with her husband Terry, opened the Asheville location together this past summer.
Upon retiring to Asheville, the McGees knew they wanted to bring their business to the community.
"My first experience with Duck Donuts was when my sister made a Facebook post about having just eaten at a Duck Donuts in Greenville, South Carolina,"  McGee said. "She said they were the closest donuts that came to tasting like our grandmother's."
McGee said her grandmother, a German immigrant, came through Ellis Island and then opened a bakery with her sister.
"She was a wonderful cook, making donuts homemade on the stove," McGee said . "I was a little skeptical, so I went to the Cary location and ordered. When I tried it I was like 'Oh my goodness.' They were very close to my grandmothers. I brought my husband and the rest is history."
Since opening the Asheville location in the summer of 2017, the community has come from far and wide to create their own donuts.
Residents of Burnsville Tina Bryant and her daughter Bailey took the day off work and school to come to the Asheville Duck Donuts.
"It's a perfect hookie day experience," Tina said.
Alongside the location's bestseller, 'Bacon in the Sun,' a maple bacon donut, the Bryants tried a cinnamon sugar donut, a sprinkle donut and Halloween-themed donuts.
While Duck Donuts is known for letting customers personalize their own donuts, the shop also offers coffee, sundaes and breakfast sandwiches. "We have really good regulars already. I wasn't expecting us to have regulars by this point but we've got several people who I see daily," said Danielle Smith, team lead at Duck Donuts.
Duck Donuts hopes to benefit the community in a variety of ways.
"It's very important to us to not only provide yummy, delicious donuts, but also to give back to the community of Asheville," McGee said. "Duck Donuts has a campaign, the Quack Gives Back, and every month we take pride in giving back to our local community."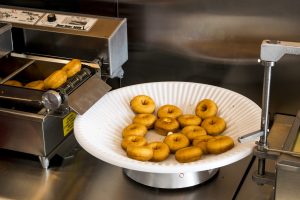 Since its opening this summer, Duck Donuts has used Quack Gives Back to donate to several elementary schools in the area as well as partner with the Hendersonville police station for their annual motorcycle ride. In September, they donated close to $1,200 to Mission Hospital for children's cancer through the organization Gabe's Chemo Duck.
"I want this to be a community thing; I want this to be something that the community enjoys and we get to give back," Smith said .
The business aims to be a welcoming and friendly place for both customers and workers.
"It's very important to Terry and I to hire a team to work with, not a staff to work for us,"  McGee said. "We roll up our sleeves and we're right there alongside our team members."
Smith added the team itself has been her favorite part about working at Duck Donuts.
The Asheville location has quickly gained interest within the community and hopes to become a go-to spot for families.
"We want this to be a family oriented business where people can come have fun, whether it's with their children on a Saturday, after a game, or on their birthday," McGee said.
Overall, Duck Donuts hopes to become a family-favorite for the community.
"We get a lot of kids coming with their parents before school, teachers coming in to get donuts for their kids and people coming to get donuts for the office," said Smith. "I love that it's becoming a family staple."