UNCA hosts 16th science olympiad for local students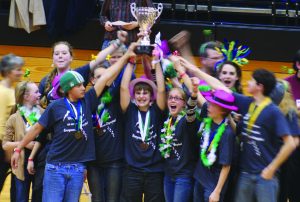 Photo by Karen Landert
By Daniel Hall – dhall1@unca.edu – Staff Writer | March 4, 2015 |
Pressurized soda bottles launched eggs over the Quad this Saturday as UNC Asheville hosted its 16th regional Science Olympiad for middle and high school students of Western North Carolina.
The eggs then parachuted back to the ground, hopefully, as the objective was to keep them intact during their flight and landing. It was one event out of 46 in which participants competed, testing not only their skills in science and math, but in teamwork, creativity and communication.
One event had participants use air pressure to shoot a projectile at a target. Another presented participants with an investigative scenario, asking that they solve a crime by running tests using the information provided to them. In yet another, teams were simply given some duct tape, a bit of paper and a paper clip, and asked to build a crane which could support a golf ball for five seconds.
The competition's chief organizers were Judy Beck, physics professor at UNCA, and Cathy Whitlock, mathematics professor at UNCA.
Beck said it is a great opportunity for the students, regardless of whether they win. They get to apply their science and math skills in a creative manner, across a broad range of topics. And, beyond that, it is just fun.
"It's so much fun," Beck said. "It's great fun. The coaches get excited, the students get really excited. The award ceremony usually has louder cheering than I've ever heard at a basketball game."
While the main purpose of a university is to serve its students, Beck said it is also important to be involved in the community, particularly in educational pursuits, and the Science Olympiad serves a valuable role in that outreach.
Whitlock said the Science Olympiad provides a competitive arena that tests and rewards academic rather than physical skills, generating a level of excitement for achievements in math and science that is usually reserved for sporting events. And with the strict curriculum in public schools, the competition gives students the opportunity to take part in fun, hands-on activities they might not otherwise have had access to.
"From my perspective," Whitlock said, "this is a festival of applied mathematics and science."
There were Rube Goldberg devices, rubber-powered monoplanes, bottle rockets flying high over the Quad, bridges of wood and glue, and miniature vehicles of wood and rubber (for yet more eggs). The action took place all over campus, from Carmichael Hall to the Quad, to the Student Recreation Center.
"It's always a blast to come here and do this," said Sam Rhinehart, sophomore at Polk County High School. "You get to meet great people, you get to have fun doing the events. And the events are always based around just having fun and knowing what to do."
Polk County High School just barely missed out on competing in the state tournament in 2014, coming in third place in the regional competition when only the top two schools in the high school division were invited to proceed. This year, however, the top four schools from both divisions will be going on to the state tournament in Raleigh. Sam said he hopes Polk County High School will make the cut.
Twenty-eight schools participated, 15 in the high school division and 13 in the middle school division.
The events were judged by their respective event leaders – who were recruited from the community and UNCA faculty, along with a few students – and medals were awarded accordingly. There were five trophies for the overall winners in each division, along with a spirit trophy for the team that demonstrated the best teamwork, spirit and attitude.
These were distributed at the closing ceremony in the Justice Center Gymnasium. The court was crammed with kids, arranged in color-coded sections for different schools, with spectators lining the balconies and bleachers. The gymnasium erupted into applause each time medals were awarded, and with 46 total events and multiple medals for each, it was a lot of clapping. At the end, the overall winners were announced – the teams that would proceed to the state tournament in Raleigh.
Asheville High School's varsity team won first place in the high school division. Evergreen's varsity team won first place in the middle school division. Those two schools, along with three others from each division, including Polk County High School, will proceed to the state tournament, hosted at North Carolina State University, April 24 and 25.
Asheville High School won the regional qualifier at UNCA in 2014 as well, going on to compete at the state tournament, where they won medals in a number of events. Amanda Schoonover, coach for the Asheville High School teams, attributed their success to the quality of the school's science program and AP classes, and dedication from the students.
Eli Cartier, senior at Asheville High School, said it is a lot of work. For the bridge-building event, his team spent hours building different bridges, testing them and capturing slow-motion video of the bridges breaking. They used their data to assess structural weak points and improve the design.
"It's just an opportunity to actually do what we want in science," Cartier said. "We don't have to just do what the curriculum wants us to do, and we don't have to just do the projects in science class. I mean, a lot of us have fun just building things on our own, but the Science Olympiad gives us a set goal to build for, and that makes it a lot more fun and a lot harder."