Leslie Rodriguez
Contributor
lrodrig2@unca
UNC Asheville's students and staff complain about the struggle to find convenient parking on campus.
"If I pay $150 to get a parking pass, why can't I park where I want? Sometimes I think it might not have been worth it to get my car on campus," said Heather Smith, a first-year driver at UNCA.
UNCA officials charged Smith for a parking violation outside of Founders Drive on Monday for illegally parking in an area for trash pickup.
"I thought I had found a spot, but it was right in front of the dumpster, but I thought, 'Someone else did it so why can't I?' so I pulled in, went to class and didn't think about it until later when I got a ticket on my car," Smith said.
According to UNCA officials, two-thirds of undergraduate students live off campus, which requires them to travel for classes. Students with cars on campus complain there is not enough space to meet the amount of students parking.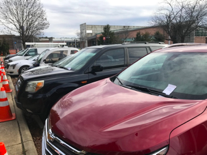 "There's just not enough parking. If so many students are paying to have a parking pass and we can't even park outside, you would think that they would take the funds from the parking passes to make more parking, or at least paint the driveway," Smith said.
Campus police hear complaints on the lack of parking while a large parking lot located on Campus Drive often sits empty with shuttle services ready to pick up students that park farther away from campus. Eric Boyce, assistant vice chancellor for public safety, said the issue is a lack of convenience, not a lack of parking.
"Students would benefit from establishing a practice or routine where if they anticipate that lots are going to be full during the day they plan to go to a different lot and ride the shuttle up. It brings you to the bulldog, Governors Hall, Brown Hall or Zeis Hall. You can just as easily — in less time than it would take you to ride around and find a spot — go to one of the empty lots, jump on the shuttle and get on the core of campus," Boyce said.
UNCA uses money from parking pass purchases to improve security in parking lots already in use on campus. UNCA officials say work to provide more parking starts with a new parking lot being constructed on Edgewood Road which will provide more convenience to students.
Staff are also forced to deal with the overflow of parking. Stephanie O'Brien, a first-year lecturer for the mass communication department, said parking lots almost always remain full.
"I kept thinking there would be a time when I would find a flow of empty spaces, like when certain class periods end and that just hasn't happened. There just always seem to be full spaces," O'Brein said. "I've just stopped driving around wasting time, wasting gas looking. I've found that one space that's open in that one lot and that's where I go and that's where I walk from. I've just sort of had to give into it."
Boyce said UNCA aims to provide as many services and available parking to on campus and commuter students as possible. Although convenience may be what students and staff have in mind, campus police urge everyone to better time manage, take advantage of shuttle services and to park in any of the available parking lots.
"We are responsible for making sure students are aware of where they can park and we can do some additional information sharing to make sure students are aware," Boyce said.