All-woman mariachi group visits UNCA
Roman Ugleus 
Sports Writer
[email protected]
UNC Asheville hosts renowned and award-winning mariachi group Flor de Toloache this week. The group will provide workshops and classes, as well as perform a concert on Wednesday night.
In 2015, Flor de Toloache was nominated for a Latin Grammy in the category of Best Ranchero/ Mariachi Album for their debut album, self titled "Flor de Toloache." Two years later, the group won their first Grammy, again in the category Best Ranchero/ Mariachi Album, at the Latin Grammy Awards with their album titled "Las Caras Lindas." Although their win was special for them, it was even more so as they became the first all women mariachi band to win in their respective category. According to their website, they are New York City's only all women mariachi group.
Cori Anderon, the associate director of the Key Center at UNCA, plans cultural events and community engagement and helped organize Flor de Toloache's visit to campus.
"I have a network of people who program other spaces in Asheville and festivals, and I belong to a presenters consortium across the state and there are people who organize events at universities and colleges and also theaters and other venues. One of those members recommended Flor de Toloache for anyone who was looking for Latinx programming," Anderson said. 
The Key Center helps to provide students, faculty, staff and community partners with community engaged learning through activities like cultural events, according to their website. So, Flor de Toloache's visit will support community learning throughout our campus and Asheville as a whole.
"This event is part of the cultural event series, which has been around for 37 years on campus. The mission of the series is to bring in culturally diverse and educational programming that helps support the curriculum on campus and also deepen students, faculty and staff experience with diverse communities locally, nationally and internationally. So, Flor de Toloache was chosen by the cultural events committee and myself. I think what appealed to everyone was that it's a celebration of Latinx cultural tradition but sort of with a spin on it around the gender norms of the real machismo gender norms that are kind of subverted. Their music is incredible and they're great live performers based on everything that I've seen and heard so far," Anderson said.
On Tuesday, Sept. 17 the first event will begin, starting at noon in the Laurel Forum in Karpen Hall. On Wednesday, Sept. 18 at 2 p.m. the second event will take place and will be located in the Highsmith Student Union in the Mountain Suites.
"Tuesday at noon in Laurel forum will be geared more towards college level students. On Tuesday they will spend a little more time on immigration rights and those songs that they've written specifically that talk about their thoughts and the work that they've done around that issue. They'll also give some history on mariachi, why they decided to do mariachi music as women and the sort of a little about their story. Also, they're going to be performing a song and then talking, performing a song and then talking and then there will be a Q&A at the end. Wednesday they'll talk more about the cultural traditions of mariachi and probably more general information for the potentially younger audience. The Wednesday master class we know we're having some high school students from Erwin High who are part of the Vamos Program attending. Both are open to everybody and they're free," Anderson said. 
Greta Trautmann, associate professor of Spanish, said the visit of an all female mariachi group will be notable in terms of the gender aspect of it.
"I think it's important for students or community members who are interested in not only mariachi as far as the musical genre but interested in things like gender studies. I think that the inversion of roles in mariachi is fundamental in this instance," Trautmann said. "They are four strong women singing a traditionally very male and often sexist genre, it's significant," Trautmann said.
According to Trautmann, this event will help the local Latinx population in Asheville thanks to a tremendous effort from UNCA's Key Center.
"I would like to recognize Cori Anderson and the cultural events program, for getting this group here and for the really creative and dynamic ways that they've reached out to the UNCA community and to the broader Asheville community. One thing that is new is that it's a non-ticketed event, so anybody can come. It's open to the public, which I think makes it a much more welcoming thing for the broader Asheville community," Trautmann said.
Anderson and the Key Center constantly connect groups on campus and in the community, and this event is no different.
"There's an overall initiative right now through the Key Center to bridge the campus with the local Latinx community. This event is related to that effort because we're having "Nuestro Centro" which is a local non-profit. They have a dance troupe called RAICES that's opening the show, and those are youth Latinx community members who are learning about their cultural traditions. So this event is a two day residency with a performance and two master classes, but it's a bigger overall year-round initiative with the community," Anderson said. 
Although the visit will be beneficial to the student and local Latinx population, Trautmann says the event will be a positive learning experience for anyone.
"I think as somebody who teaches both in the languages program and the humanities program that this is an event that is connected to not just Spanish only. If you're a student and instructor in Humanities 324 or 414 I think that this is something to connect to in terms of revolutions, gender studies, folk stories, transnational identities. I also think that it is providing UNCA as a very welcoming space for the broader Asheville community," Trautmann said. 
Adee Weller, a political science major at UNCA looks forward to Flor de Toloache's visit.
"I think it's really exciting. I've read a little about them online and watched a couple of videos with them and I think it's a really dynamic group and part of the reason that they do so well is because they work together so well. I think it's really inspirational that they have taken this masculine dominated career and turned it into something that they can really be successful in, and now they're doing a national tour so clearly a lot of people are willing to listen to them," Weller said.
According to Weller, who minors in Spanish, language can be instrumental in helping to learn about other cultures.  
 "English is not a gendered language and Spanish is, and there's a lot of ways in which the languages that we speak kind of form who we are and form our culture, I think it's the Sapir-Whorf hypothesis. But we're talking about a language that has very strictly defined binary genders and then you have something that kind of like challenges that, like a group of female musicians in a typically masculine dominated career. I think that's a really interesting way to look at that, and kind of give a better understanding on how things like gender but also things like careers and expectations for who people are playing out in Spanish, not only in the language but also in the culture," Weller said.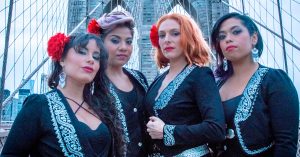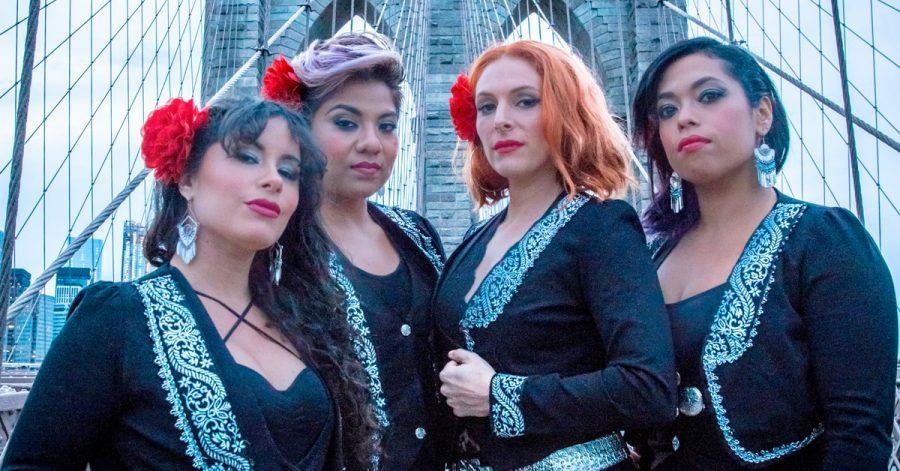 Flor de Toloache's last event will be a concert on Wednesday, Sept. 18 at 7 p.m. in Lipinsky Auditorium.