Drag yourself to the grocery store
Leslie Rodriguez 
News Writer
[email protected]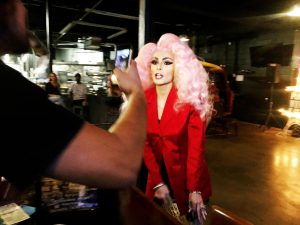 During the day, Hopey & Company located on 45 S. French Broad Ave. opens as a combined grocery store and bar, but when the sun goes down the family owned business transforms to a venue for Asheville drag queens perform and much more. 
Austin Morgan, a UNC Asheville senior who also goes by the name of Amiyah Rose, begins her drag career in January, performing in a different location. Morgan discovers Hopey & Company when a relative of hers working for the business approaches her not long after her first performance. Hopey & Company shows interest in the idea of hosting shows inside of their grocery store. Since her first performance it has become her regular Thursday night routine, Morgan said. 
"I never say no to a booking. There's no grocery store drag shows in town and nowhere else serves food. No one had let me do what I wanted to do so I decided to make this a regular thing, I was like let's do this," Morgan said. 
For Caleb Cisco, a queen by the name of Ginger Von Snap, the location of the venue shows one of the many interesting factors drawing guests in. 
"It's a really interesting way to showcase people who have never been a part of drag. You can tell them we're performing in a grocery store and they get excited and I really like that aspect of it," Cisco said. 
Visitors to Hopey & Company enjoy the business simply because of the quality grocery store, but adding the weekly performances gives a whole new reason for people to stop by. 
"I've always loved Hopey as a grocery store and when they put the bar in a year ago I thought it was really cool. When they put the drag shows in it gave me another reason to come to the bar," Daniel Lerner 
Lerner said he began attending the Thursday night shows three months ago to show Morgan support. The welcoming environment and close connections to everyone that appears during performance nights continues to draw him back.  
"I think it's not as crowded and you can really show your support. It's more like showing your loyalty to the people that are performing," Lerner said. 
Cisco's career start when they were 15, stumbling upon drag for the first time for a costume party. Now they entertain as host of Hopey & Company's Thursday night shows. 
"My job is to keep my children in check, host the shows and make sure that the showcases run really smooth," said Cisco. "I am just a person that is the face." 
Months after the first shows, Morgan said thanks to all of the hard work she and her fellow sisters put into broadcasting, performances become more popular as well as the style of both venue and performers. 
"Ever since it started it's just been really cool and another spot to have drag at. It's really come up in the past few months. A lot more people have definitely come out and it's definitely shown that this place has grown as a venue for drag performers," Lerner said. 
Garrett Goodwin, or Mx. Merlot, said from when they started performing to now, they and everyone around them show a lot of growth and improvement and together, the performers at Hopey & Company make a great team and represent a spectrum of drag styles. 
Morgan said thanks to Hopey & Company, she would not have the relationships she has not or  be able to express freely who she is and wants to be without restrictions. 
"Definitely without this drag family I don't know where I would be exactly. I would definitely be lost as a person," Morgan said. "I wouldn't be able to say I'm a trans person at all. I would still not really want to say that." 
Cisco is also a drag mother, helping the drag queens they consider to be children with any advice or needs in and outside of performing. Cisco said on of their biggest struggles was finding who they were inside and outside of drag but were able to discover who they are through drag. 
"I think drag is an awesome showcase to teach people to be individuals and to be themselves," Cisco said. 
Hopey & Company allows Morgan, Cisco, Goodwin and any other performers of the show to work in any style of drag that they choose rather than being forced to follow a certain look and show this idea to others as well, Goodwin said. 
"Drag is a whole lot more than a male and female persona and it's important that people know that. Drag is supposed to make you uncomfortable," Goodwin said.