Asheville youth demand change
Nora Donovan
News Writer
[email protected]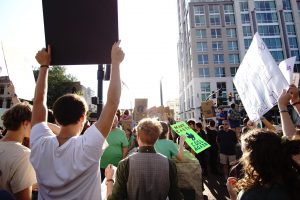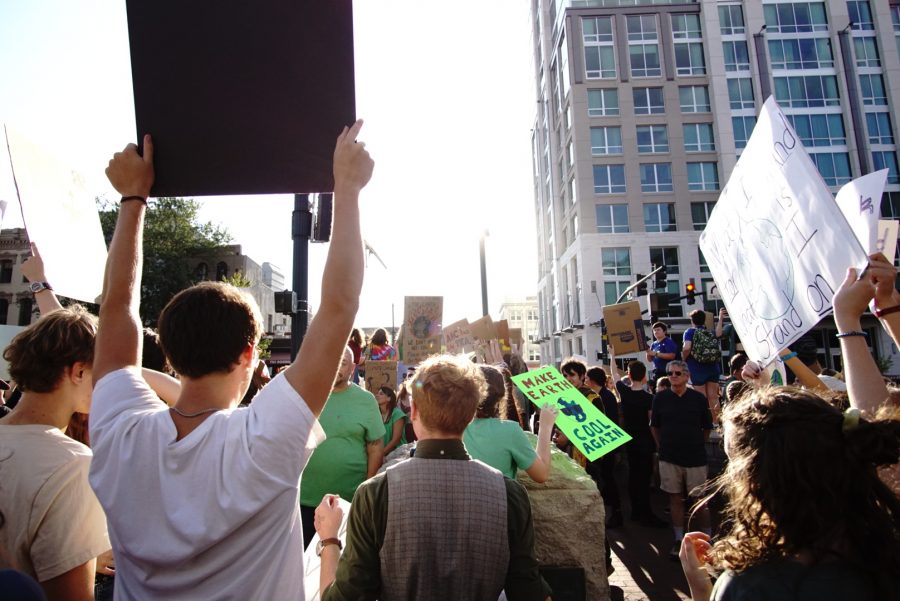 Sunrise Movement Asheville has a bone to pick with Asheville's government.
The youth led environmental group is standing up to Asheville City Council to take immediate action towards climate change. 
"It's a global movement," said Ashley McDermott, hub coordinator of the Asheville chapter. "It starts with local municipalities passing a climate emergency declaration which requires them to pass a resolution with a plan to address the urgency."
The Sunrise Movement originally started in 2018 with a small group of activists. 
Following the 2018 midterm elections, the organization started a 'sunrise semester' sit-in at Nancy Pelosi's office with Rep. Alexandria Occasio-Cortez among others to emphasize that the Green New Deal needs to be a day one priority.
"After that it really exploded across the country and all these new hubs formed with the intention of getting presidential candidates and candidates all the way down the ballot to run on a Green New Deal and stand up to the fossil fuel industry," McDermott said.
Asheville started their own branch in February. There are over 300 across the U.S.
"What's cool about sunrise is hubs are encouraged to focus on locally what makes sense for them. If you live in a district where you have a congressional representative or a U.S. senate representative or U.S. senator who you want to push harder on taking the no fossil fuel money pledge or the Green New Deal pledge, that's a focus," McDermott said. 
The GND aims to convert the old, gray economy into a new, sustainable economy that is environmentally sound, economically viable and socially responsible, according to the Green Party officials via their website. The GND seeks to get to net- zero greenhouse gas emissions and 100 percent renewable energy by 2030 along with an "Economic Bill of Rights," the right to single-payer healthcare, a guaranteed job at a living wage, affordable housing and free college education.
The city of Asheville does have a renewable energy plan, however it only applies to city buildings. 
"Which ultimately will only reduce our emissions by 1 percent," McDermott said.
Achieving the GND will be no easy feat.
"In North Carolina, we have a really terrible state legislature, for lack of better words," McDermott said. "And we are also up against Duke Energy, which is the biggest energy monopoly in the country, they control 90 percent of our energy."
To help get their message heard to City Council, Sunrise Movement, along with the Dogwood Alliance, Asheville GreenWorks, Community Roots and the North Carolina Poor People's Campaign staged a climate strike walk out and die in on Friday.
At 11 a.m. students and adults were encouraged to walk out of school, work or other engagements to strike for climate change.
"I just wanted to support the environment and also being part of a movement's just always nice," said Felix Marlin, a 16-year-old student at the School of Inquiry And Life Science. "I try to make my opinions known like with the internet. My dad's pretty big, he collects signatures and does phone calls occasionally."
Marlin estimated 150 kids from his high school attended the strike, while McDermott estimated there were about 400 people total.
The climate strike began at the Vance monument, where participants held up signs and chanted to instill a sense of urgency toward the climate change movement.
"I'm here because I live on this planet and I need it to live and I want to grow old and I want to see humans and other species thrive here," said Chloe Moore, who came from the Candler area.
After meeting at the monument, attendees proceeded through Downtown toward the plaza in front of City Hall for youth-led speeches.
Dean Wortas, a 17-year-old student at Asheville High School, kicked off the conversation.
"I searched all around me for a leader, to stand up for what is right, I didn't find one," said Wortas. "If I can't find one, I must become one myself."
Aside from the climate strike, the Sunrise Movement demonstrates in other ways their need for immediate change.
"I have been talking with other hub coordinators across North Carolina, like in Durham and Raleigh and Boone and Charlotte about what we can do with direct actions and showing up at these meetings to push back on the state and push harder against the Duke Energy monopoly," McDermott said.
The city of Asheville wants the Sunrise Movement's climate emergency declaration to go through the sustainability advisory committee.
"I showed them the website, the website has draft resolutions, talking points, it has a map of all the city and county governments across the country and the world that have passed it, it's really straightforward, and it's basically saying 'We're going to commit to this,'" McDermott said.
The ball is now in the city's court. 
"After that, we're going to come up with a plan on how to do that, which is not just solar panels on roofs," McDermott said.
Sunrise Movement Asheville's next meeting will be Oct. 6. Location TBD.