Alex Massey 
Arts & Features Writer
[email protected]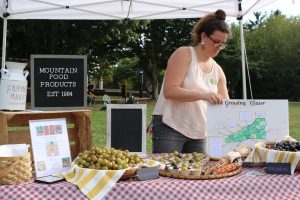 UNC Asheville hosted its fifth annual Farm to Table Dinner on the Quad as part of its Greenfest week of awareness.
The sold-out dinner on Sept. 23 featured music from both Asheville's Delta House Jazz band as well as UNCA's bluegrass ensemble in addition to a handful of speakers addressing topics of sustainability, respect for indigenous peoples and togetherness.
Despite the entertainment factor the event provided, it was a dining event that aimed to place an emphasis on serving and highlighting local foods, many of which were grown in UNCA's own community gardens.
The dinner's theme this year was "Home Sweet Home" and the organizers of the event aimed to challenge attendees on what it that actually means.   
"The 'Home Sweet Home' thing is also about cultivating love for the place where you live. And the planets in the logo are encouraging us to think broadly about the boundaries of home," Director of Sustainability Sonia Marcus said.
This was the topic that was on the minds of a lot of the speakers at the dinner. The question was constantly asked regarding what home actually means.
The dinner aimed to take down barriers by allowing for plenty of indigenous ingredients from Western North Carolina to be used in the dishes served.
Featuring a mushroom-chorizo dish, acorn stew with carolina gold rice and creeping charlie in place of oregano, among other things, the menu aimed to be accessible to those facing dietary restrictions while also being served family-style, all in an effort to bring the community together.  
One way the organizers and food staff accomplished this was through partnering with local businesses and organizations such as Acoruncopia, a project with the goal of allowing community members to get paid to harvest many of the tree nuts that can be easily found throughout WNC.
Acornucopia provided acorn flour and black walnuts to be used in some of the baked goods on the menu for the night.
In addition to Acornucopia, Mountain Food Products also had a booth set up to showcase some locally sourced grapes.
"There is a very active effort on campus to have a local diet," Mountain Food Products employee Ron Ainspan said.
According to Ainspan, Mountain Food Products regularly partners with UNCA dining's parent company, Chartwells, to provide ingredients used in places like Brown Hall.
 In addition to food suppliers, UNCA also invited Beloved Asheville to the event due to the organization's efforts to create a community of equity for indigenous people.
 Representative Amy Cantrell explained Beloved's role at the Farm to Table Dinner describing how one of her organization's goals is to reflect on and teach indigenous cultures in the interest of preserving those cultures through creating equity.
"Equity is what creates wealth, and wealth gets people out of poverty," Cantrell said.
Mike Crowe, an ethno-historian representing the Cherokee Nation, shared a story traditional to his people before the dinner reminding attendees of the people who were on the land before settlers came to the U.S.
Crow also led attendees in a friendship dance that snaked its way through the Quad. After the dance had ended, Crowe concluded that the participants did not know each other before, but do now.