UNCA volleyball player wins defensive recognition
Roman Uglehus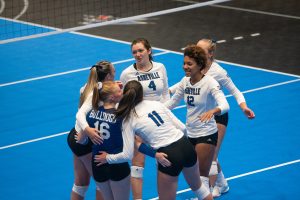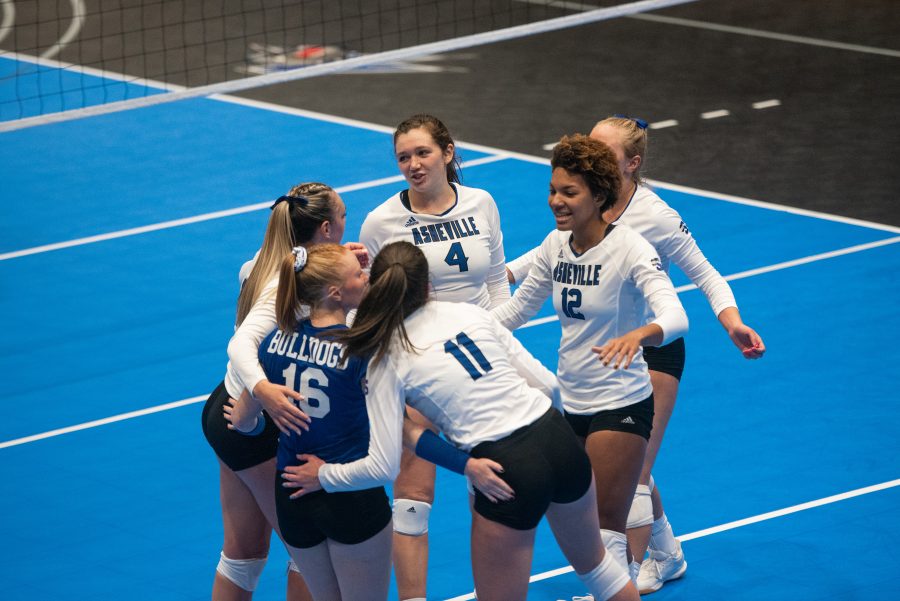 Sports Writer
[email protected]
UNC Asheville volleyball player Julia Borges was named Big South defensive player of the week. UNCA played South Carolina State, Southern Miss and Georgia Southern and Borges had 31 digs and 14 blocks as the volleyball team went 2-1 for the week. 
One of the highlights of Borges' performances during the week include a match winning block assist in the game against Southern Miss.
"Julia is our best blocker, our best defensive player right now, so we can always count on her. We trust her so much and she's also been a big part of our back row defense too which has helped us a lot, picking up tips and things. She's picking up a lot of stuff and the one game against Southern Miss she ended our game with one of the best blocks I've ever seen, literally squatted to the ground and went up and blocked it straight down, they couldn't even stop it," said senior volleyball player Ansley Brooks.
Borges plays right side, which is an attacking position, but this doesn't stop her from helping the team out in defense. So far this season, for the defensive end, Borges averages 10.3 digs per game and 3 blocks per game. 
"It's very unusual for an offensive player to get a defensive award," said UNCA's women's volleyball head coach Frederico Santos. "I think the fact that the skills she was involved with, which defense in the back row and in the front row blocking, the numbers that she got were very amazing for a player that's supposed to be offense of minded. So for her to be recognized for those obviously shows that she's very well-rounded. I think the defense of skills are also an asset for her." 
After a stellar week, Borges said she was pleased to pick up the award.
"I was really happy about it, it was the first time that happened to me since I got here. I was glad I got an award for it," Borges said. "I'm very happy because I'm being able to help my team in defense as well, which is something that I'm working really hard for it since it's not my biggest strength. I'm glad the work is paying off, I got recognized for it."
Borges is no stranger to personal accolades, last season she was named second team All Big South and first team All-State for volleyball. However, Borges still strives to be better.
"It was definitely a good feeling to be awarded but second-team is not the biggest you can get so hopefully first team this year. So that's definitely motivated me because I want to be better this season for sure," Borges said. 
Coach Santos said that Borges' personal awards from last season helped for her to assert her play in the Big South league.
"For her to assert herself as one of the top performers in this league, I think it was important for her to receive those awards and recognitions, it is always good for a player. That shows the body of work that you're performing out there, people are noticing, and especially within our league. The league is noting that she is one of the top players in this conference. So I think that her confidence is still rising. The team confidence as a whole is still rising because it's a team sport at the end of the day and everybody's contribution out there helps her to improve. It's early in the season but I feel she's doing a really good job," Santos said.
UNCA's volleyball team also had a good season last year, going 16-12 overall and 10-6 in conference. 
The team has had a good start to this season, going 5-5 overall before conference play started. UNCA's volleyball team started conference play at home on Saturday as they defeated USC Upstate by a score of 3 sets to 1. The bulldogs continue to play at home for their next two conference games. 
"Playing at home is our favorite thing, just because our gym is pretty hard to play in. Everyone hates playing in our gym because it's so hot and tight and the crowd is on your back entire time but we're used to that, that gives us more confidence. We are used to playing here, we love our fans and they're so supportive so that gives us a lot more confidence going into the weekend," said Rooks before their home conference opener. 
Coach Santos also spoke before Saturday's home opener on the team's start of conference play at home.
"Going into the season we really want to establish who we are because now the record starts 0-0 again and every match counts because we definitely want to make postseason play. A goal of ours is to be regular season champions so it starts here at home, which is awesome, and then we got to take the team on the road and we got to prove and assert ourselves on the road as well. But there will be three tough matches here at home no doubt about it because what you did out of conference really doesn't matter because in conference there's some parity and then it's an all out fight," Santos said.
UNCA's volleyball team play at home this week as they take on Winthrop on Friday at 6:00 p.m. and Gardner-Webb on Saturday at 2:00 p.m.