Local rap group DirtyBoys turns trap into trip
Ezra Maille 
Arts & Features writer
[email protected]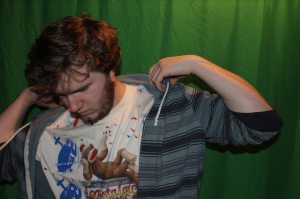 Local hip-hop group DirtyBoys joined the Asheville music scene just this year but already aim to establish themselves as a staple of uniqueness in the rap as well as fashion communities. 
Lincoln Payne, a vocalist in the group who goes by the name idontchangeshoes, said the name DirtyBoys was a reflection of the three members growing up in the same neighborhood. 
"We made it on some neighborhood gang stuff," Payne said. "We weren't doing music or clothes or anything. Then back in 2017 we started branding stuff and putting our names on stuff and making tracks under DirtyBoys." 
In addition to making music, DirtyBoys makes their own clothing line. Payne said all the clothing is handmade mainly by the group's third member, Jacob Bordeaux, also known as dogfoodkid. 
"It's all handsewn, it's all organic. Real hours put into each piece," Payne said. 
Nick Davis, better known by his stage name saz, said the friends have been making music together for the past six years. He said they started rapping over Mac Miller beats in high school but it wasn't until their first show that they decided to really begin their music career. 
"It was clothes before it was even music," Davis said. "They came up to me about making it a music thing after they had already been making clothes for a bit."
Davis said the first show under the name DirtyBoys wasn't until January. He said the group primarily does shows in Asheville and Boone but are looking to go out to Los Angeles. 
"We're looking into doing some touring soon," Davis said. "We'll probably start in the Carolinas." 
With a background in music, Davis makes the beats for the group. He said he plays seven instruments in total and has a recording studio set up in his room. 
"We've been working on finding our sound for a while but we've kind of been experimenting a lot with it," Davis said. "Really trippy, psychedelic, maybe grungy. Really wacked out trap-pop."
Bryce Wallace, a local hip-hop producer and fan of DirtyBoys, said he really enjoys the different sounds the group brings to the table. He said their energy and overall concept plays differently than most hip-hop. 
"I like the energy they bring to their songs and the different eclectic sounds their voices make," Wallace said. 
Wallace, who produces beats under the alias Bryce Westin, tries to make his beats sound alternative while still maintaining a classic hip-hop rhythm. He said what he likes about DirtyBoys is their ability to make conventional hip -hop sound strange.
"They sound like trippy hip-hop," Wallace said. 
Payne said a lot of their influences come from artists such as Mac Miller and ILoveMakonnen. 
"All the dudes that do really weird fashion, really weird music," Davis agreed. 
Payne said the song creation process is very open and honest. He said the group will typically try to figure out what they want for the song before they record.  
"We'll spit verses before we actually go in and record on them. Figure out the vibe of the song before we actually put it onto the computer," Payne said. 
Davis said the music can be edited as much as possible to ensure it's exactly what they want. He said they don't hesitate to get rid of a verse if it's not what they're feeling. 
"We make a lot of songs," Davis said. "We've been spending a whole year on this album that we're doing right now and we've recorded fifty, sixty songs for it and we're trashing everything that we think isn't just absolutely one of the best things we've made this year." 
DirtyBoys recently dropped a single of this album, set to be released in December. Davis said the group hopes to establish their name in more parts of the country when they go out West in 2020. 
"The album has a good amount of big names on it," Payne said. "Lil Satan, Jesus the Huncho, Kudzu. So we're going to try to promote that really well when it drops."
DirtyBoys clothing can be seen on social media. Their music is available "everywhere," including Spotify, Apple Music, Amazon and Google Play.