UNCA Volleyball win impressive home games against Charleston Southern and Presbyterian
Roman Uglehus
Sports Writer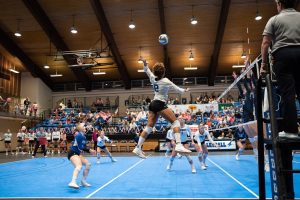 [email protected]
UNC Asheville's volleyball team registered important home wins last weekend with a 3-0 sweep against Charleston Southern and a thrilling 3-2 win against Presbyterian College. 
According to senior Julia Borges, the wins came during a critical moment in the team's season
"We were in a situation in the conference where if we lost those games we might have not been able to make it to the conference tournament, so we really needed to step up and play well, and we did," said Borges.
After the two home wins, UNCA's volleyball team now sits at fifth in the Big South conference with a conference record of 5-5 and an overall record of 11-10. The team's head coach Frederico Santos spoke on his assessment of the team at this point in the season.
"I think so far this season, what we're searching for is a level of consistency. There's been lots of ups and downs, which is normal with any team. So I think that the search for our team, and for all the other teams in the conference, is for a level of consistency. I think second, along with that, is that we're searching for peak, you know, peaking at the right time. I think that that's important. Hopefully now towards the end is when we're going to start to really peak because it's leading to the end and into the conference tournament. So that's where we want to be our best," Santos said.
The team certainly seem to be finding their end of season peak with their performances from the past weekend. Their 3-0 win against Charleston Southern was the team's eighth sweep of the season and their win against Presbyterian College was a tough and deserved win as they came back from a set down to tie the match in the fourth set and win the match in the final set. Santos said the team put in some great work last weekend.
"The matches were amazing for the team, we played really well at home. I think the performances out there player for player were very good. This is what we know our team can do and we were very happy with the performances, I think that's what we expect every time we go out there. But you know, like I said, as long as it's consistent, it doesn't have to be spectacular or over the top, I think if you peak and you do that at the right time, that's what it works best, but I think just consistent, just good play. Everybody being there every night and showing up and doing the best they can is what we're looking for," Santos said.
Junior middle blocker Cecilia Stack, who has the sixth highest hitting percentage in the conference, said the team showed up and put in some fantastic performances during these must win games.
"This past week we really came out. We had a talk with our coach about how the last couple games of the season really matter the most if we want to make the tournament. We have six seniors on the team this year so they kind of really took it to heart and stepped it up this weekend, especially Borges, Julia Loveday, Ansley and Kailey in our last matches and against Presbyterian. Nobody expected us to come out of that match so it was crazy that we were able to come out and win in five, it was super exciting," Stack said.
Stack added that the crowd played a huge role during the team's win against Presbyterian.
"Because it was on a Saturday, typically we don't get as big of a crowd as we do on Fridays but towards the end we had some people file in and they really brought energy to the gym. Our crowd just came alive when we started winning. When we started coming back in the fourth we could just feel the atmosphere and the energy in the gym and we couldn't have done it without the fans, that was awesome," Stack said.
Borges, who plays right side, recorded career highs during UNCA's comeback victory against Presbyterian College. Borges finished the match with 23 kills and 19 digs, along with two blocks. According to Borges, her team helped her to have such a special performance. 
"I really liked my performance, individually. But I don't know, I don't really want to highlight that, I think the team helped me to reach my career highs for sure. There were many times where I hit a block and they covered it for me or there were times where I couldn't pass to their block, their defense, and my other teammates were there and they helped me out. They were calling the shots, where I could go to and all of that," said the native of Brazil. 
Stack said the team's impressive comeback meant a lot for their morale as they enter a decisive period of their season.
"I think our character has grown so much after that win against PC because that was not only our first fifth game set this season, but to win it against a team who is seeded higher than us and who has been having a better season than us so far this year was crazy and it shows that our character is growing and can only go up from here," Stack said.
The volleyball team play their last regular season home games this week as they host Campbell on Friday at 6 p.m. and Hampton on Saturday at 2 p.m. at the Justice Center.