Marian Foster
Arts & Features Writer  
[email protected]
Surrounded by students who look nothing like them, many peers cannot relate to the individual experiences and struggles of minority students which can make them feel isolated.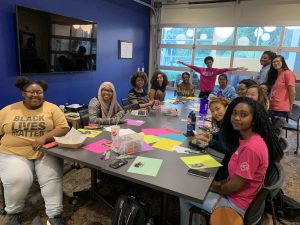 At UNC Asheville, the Sankofa living learning community was created to provide students space to connect with other students of color. 
First-year student Miah Goldsborough described wanting to feel represented as a Black student at UNCA. Goldsborough joined Sankofa in efforts to connect with other students of color.
"I wanted to find my community in order to feel like I was welcomed. Not only that, but it's a living-learning community, so I wanted to experience Asheville with people that were like me," Goldsborough said.
Goldsborough credited her Sankofa faculty and peers for her involvement on campus. She said the close-knit group allowed her to feel a sense of comfort and comradery.
PJ Jones, another first-year student, shared similar thoughts. Also feeling underrepresented, Jones credited Sankofa for helping realize his future career plans. The program offers lectures from African-American orators which sparked Jones's interest in Africana studies.
"Sankofa has given me the opportunity to be engaged and have interactions with other people of color on campus," Jones said.
Demon Thomas, the resident assistant and leader of Sankofa, recalled the moment he decided to join the learning community. During his senior year of high school, Thomas toured UNCA's campus. Preferring to attend a historically Black college, Thomas's apprehension about UNCA vanished after learning about Sankofa's minority focused program. In Sankofa Thomas experienced the sense of community he desired. 
"Tia Foster, who was the RA last year for my Sankofa group, was awesome," Thomas said. "She was like the mother. She always told me what was right or what was wrong, and she was like a mentor."
Now a sophomore, Thomas hopes to make the same impact on his own residents. 
 "We really came up with this idea of creating a living learning community that was predominantly for students of color but also was a space for students who were really interested in equity and inclusion and looking at life essentially from a non-Eurocentric lens," said Megan Pugh, assistant director of Multicultural Affairs. "One of the biggest things that we wanted to create with Sankofa is this sense of global community for our students that otherwise may not have been able to connect to things in that way because again there's sort of a deficit when we look at how the achievements of people of color are being celebrated widely." 
Pugh noted the difficulty many students of color face at predominantly white institutions. 
"We're not talking about Black historians, we're not talking about Black chemists, we're not talking about Black educators in the same way," said Pugh. "And not just black, but those folks of color who really don't get as much visibility, generally speaking, in society. So we feel that it's really important that students are connected both inside and outside of the classroom."
Sankofa residents not only live and learn together but also engage in activities outside of these spaces.
"We do three or four off-campus field trips every semester. Last week, we did a Hood Huggers tour here in Asheville. Next week we'll be going to the Civil Rights Museum in Greensboro," Pugh said.
Pugh describes this idea of co-curricular engagement as a way to fortify what students learn in the classroom.
Goldsborough said there are always events that make her more knowledgeable about African-American achievements. She enjoyed attending the poet Arthur Flowers's performance and lecture. She said every student should take advantage of the access to different public speakers on campus. 
 "The different speakers try to bring diversity and different perspectives to the university," Goldsborough said. "That's what I gain the most from being in Sankofa."  
Sankofa intends to give students of color the space to celebrate the achievements made by those in their community, according to Pugh.
"I want to encourage them to think about themselves less so in terms of  'This is my individual experience as a student of color at UNC Asheville' versus 'I am a part of a wealth of experiences of people of color in this country and globally," Pugh said.
Pugh said she hopes the students continue to get involved on campus after leaving Sankofa's learning community. Though the Sankofa groups have never been large, Pugh is proud of the residents who maintained the connections they made in the group. She said she also wanted to make sure these students involve themselves on campus in other ways.
"We want to see them in Legacy, which is a mentorship program for women on campus, we want to see them in student government as ambassadors, in Order of Pisgah, all of these different things that we know these students otherwise may not connect to because they may not see themselves represented there," Pugh said.