Asheville parkour community stunts on UNC Asheville campus
Alena Talbot
Sports Writer 
[email protected]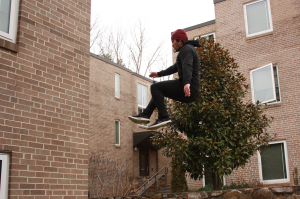 The local parkour community, Asheville Parkour, frequents the UNC Asheville campus and offers free informal training to anyone who is interested, according to Austin Ortiz, one of the group's founders.  
"A lot of UNCA students will come train with us, then graduate and then go and live wherever they get jobs. We gave them the seeds to develop their own discipline," Ortiz said.
Ortiz, 26, began volunteering for the organization a few years ago.
"The group is so transient. There's waves of people who live in the city for a couple years and train. It's changed a lot in the sense that lots of people come and go and there's only really a couple people who have been at it consistently over that time period," said Ryan Mallon, who co-founded the organization with Ortiz.
Mallon has practiced parkour for nine years. The Cleveland native taught a parkour class at Asheville gymnastics for three years. 
"When I moved to Asheville in 2011 there wasn't really anyone practicing or training parkour. Asheville gymnastics had a small class that they were trying to start up but they didn't have an instructor. When I came here, I took over that program and built a community by imparting the knowledge that I was learning.  When I started the class, it was one day a week with three or four kids and then it turned into four classes a week with each class having anywhere from 20 to 40 people and ages from eight years old to people in their 50s," Mallon said.
 Mallon trained Ortiz in parkour before the duo started the organization which now serves the Asheville area.
"It just progressed from biweekly classes to meeting up whenever possible. It organically grew into an actual community rather than a class, we were all motivated to see what we were capable of and develop ourselves, especially as men," Ortiz said.
The group practices all around the Asheville area, including Pack Square Park, Jackson Park and UNCA's campus.
"It started off as a whole bunch of us in, or fresh out of, high school really just throwing ourselves at things, trying to figure out what can and cannot be done. Each of us who have stuck with it have really stepped into this mindset of mastering what we do," Ortiz said.
The group started out undefined but matured over the years, according to Ortiz.
"Everyone's just super supportive and having a great time and pushing each other to stretch your limits and be better but in a very safe way of wanting you to improve and grow," said Joshua Lyons, a senior mechatronics major.
Lyons has practiced parkour for three and a half years.
"If I saw anyone practicing parkour I would immediately go up and introduce myself and get to know them because there's no one who trains on campus," Lyons said.
Every year, the community puts on a parkour meetup called the Fam Jam. People fly in from all over the Southeast for the event, according to Mallon.
"We have these things called parkour jams, which is basically where you just invite a bunch of people and you all train together either in a parkour gym or we've had them here in Asheville," Lyons said. "We try and incorporate camping and outdoors too."
The Fam Jam lasts two days and the organization plans a camping excursion in between.
"We have everyone follow us up to the Blue Ridge Parkway and we camp. We planned it at the height of the Leonids meteor shower," Ortiz said.
One year the jam was split one day in Asheville and one day in Greenville to bring the communities together, according to Mallon.
"A lot of people can see all the bad things that can happen but in reality, it's very unlikelyfor a bad thing to happen and if a bad thing does happen, we train ourselves to minimize the damage to our bodies, which is why I've trained for three and a half years and had nothing more serious than a banged knee," Lyons said.
Parkour is not just for extreme athletes, according to Ortiz.
"It's for anyone who wants to better themselves in any capacity. If people look at it as more of a mentality or a discipline rather than a sport, they won't feel as pressured to have to do all these big jumps or fancy flips. They'll see every day as an opportunity for just being alive," Ortiz said.