Elizabeth Ritch
News Writer 
[email protected]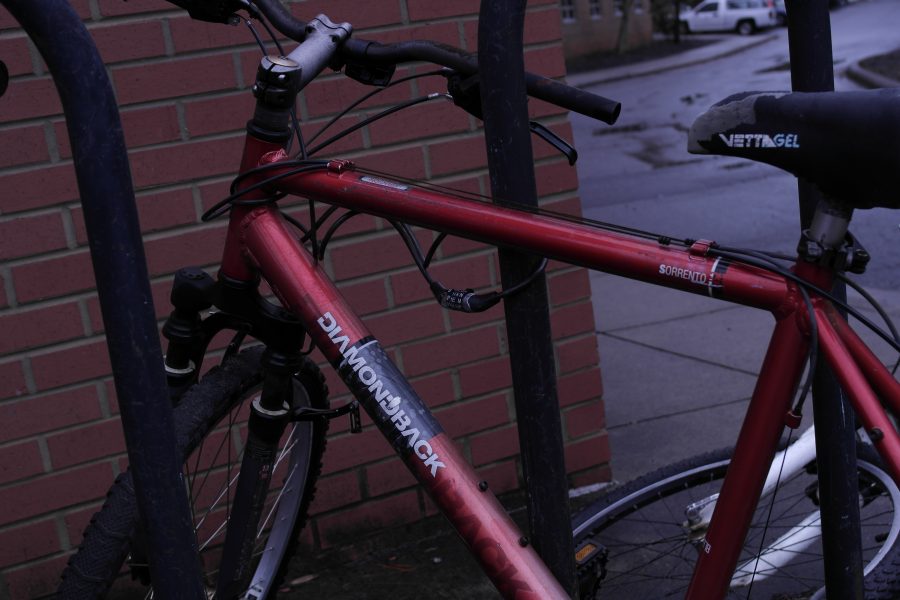 According to campus security, a bicycle has already been stolen from campus this semester. Following this incident and the string of bike thefts in the fall, Assistant Vice Chancellor for Public Safety Eric Boyce advises cyclists on campus to keep their bikes secure.
According to Boyce, campus security has not had any headway on catching the person responsible for the theft which occurred by South Ridge Hall on Jan. 17.
"We have not found out who was responsible. They often steal bikes that are left unsecure or they bring a cutting tool. Some of our bike racks or stations are in areas that folks can get to and take without being readily noticed," Boyce said.
Boyce said bike thefts are not often solved.
"The solvability is fairly low on those because they are left there for a period of time. Often students will secure the bike and not go back for weeks at a time and so there's a longer period of time from the time it may have been stolen until the time it may have been discovered and reported," he said.
The UNC Asheville Bike Shop has information and resources concerning bike safety.
"The bike shop would love to do a workshop on the quad on bike maintenance and how to securely lock your bike," said Will Lovett, a campus bike shop employee. "Don't leave your bike idle. If your bike has been staying in the same place for months on months, it's a prime suspect to get taken."
According to Lovett, campus security has taken good measures to keep people's bikes safe, such as installing a security camera over the bike rack by Brown Dining Hall. However, he said they should be involving the Bike Shop more.
"I think just asking us to help them out with stuff and educate students would be a really good step in the right direction," the bike shop employee said.
Lovett said he does not think enough students know how to secure their bikes.
According to Boyce and Lovett, the best way to secure a bike is to attach a U-bolt through the front tire and frame around an immovable object such as a bike rack.
Information from campus security and the bike shop advises students to register their bicycles. At the bike shop, students can get a UNCA registration sticker for their bikes with an ID number. Taking this precaution helps authorities track down stolen bikes, according to Boyce. Bike Shop employees will also demonstrate the proper way to secure a bike upon request.
"My advice to students is just make your bike very inconvenient to take," Lovett said.
Besides bicycles, Boyce said personal property and electronics are often stolen. According to him, theft is a crime of opportunity and most often occurs when property is left unattended.
"Often students don't secure their property or don't keep their property in their possessions. There's a chance that it may be stolen. Some things might be laptops, cellphones, different electronic devices —that's what generally gets stolen," Boyce said.
Jessica Fox, a music student at UNCA, said she feels comfortable leaving her things unattended on campus.
"I feel like a lot of students leave their instruments in the student lounge area and no one ever really messes with it," Fox said.
The music student said she does not know anyone who has ever had anything stolen on campus, and generally feels safe at UNCA.
According to the UNCA crime log data, there have only been two reported larcenies on or near campus this semester.
Consistent with advice from the Bike Shop and campus security, the best thing students can do to keep their bikes and other property safe from criminals is to register, keep an eye on and appropriately secure everything.
"So just move it around. Make sure your bike is in an easily seen spot. Don't stick it in secluded areas," Lovett said.
Any student who sees their bike is stolen should contact campus police immediately in Weizenblatt Hall or call (828) 251-6710.