Correction: A previous posting of this article left off the original date of publication. French students came to UNC Asheville in early February 2020.
Marian Foster
Arts & Features Writer 
[email protected]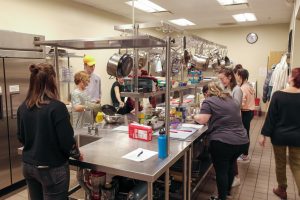 Almost 200 people gathered in UNC Asheville's Alumni Hall for the welcoming of 31 French exchange students in early February.
The students from Lycée Duplessis-Mornay in Saumur, France joined the program to experience American culture and sharpen their knowledge of English.
"I've been wanting to organize an event like this for my whole teaching career," Stephanie Hellert said. "The reason is I feel like in Europe what's called an exchange scholar or a true student exchange that doesn't last a whole year is a super common thing."
Hellert described a scenario in which students were not given the opportunity to travel independently during their exchange. She said students possess skills to interact in foreign environments. Using their school-taught knowledge of foreign language, students are able to have hands-on learning experiences, allowing them to grow linguistically.  
"I've sort of always nicknamed that situation where you get all these different groups and you throw them in the bus and you arrive at the restaurant and it's already been ordered," Hellert said. "Heaven forbid they should take public transportation or learn how to do that or interact with people or learn how to be autonomous when they travel."
She planned a week in which the students from France could fully immerse themselves in American culture.
"I thought if students are going to pay hard-earned money to travel, it should be worth their while," Hellert said. "There is no better way of learning that is experiential with their head, with their heart, and their whole selves that can be reciprocated so that the whole experience can be an enduring one that is sustainable and can be repeated year after year."
Saumur, located between France's Loire and Thouet rivers, is one of Asheville's seven designated sister cities. Hellert organized the student exchange in collaboration with Asheville's Sister Cities.
President Eisenhower created Sister Cities after WWII to promote international peace, friendship and understanding through citizen diplomacy.  
"The idea is that the French students are going to live in an American high schooler's life for the next week and a half," Alison Weems, co-chair of Asheville Sister Cities said. "They'll be here in Asheville from Feb. 9 through Feb. 19, they'll attend daily classes at the Franklin school and every student is staying with a host family in Asheville."
Participating high schools include Franklin School of Innovation, Asheville High School and Enka High School.
"They're coming here to explore American culture, to see what that really feels like and to grow interculturally and to have a better understanding of what they see in the media," Weems said. "Also to grow linguistically, to improve their English speaking abilities."
15-year-old Enka High student Sofia Szostczuk's family hosts a student from Lycée Duplessis-Mornay.
"It's an experience that's very fun," Szostczuck said. "She and I have bonded really well."
Szostczuck said she enjoyed having the exchange students come to class with her but as a non-French speaker, she said the language barrier can sometimes be difficult.
"They're very good at English, but they are still learning because they don't have French to fall back on when talking to us because we don't speak any French," Szostczuck said.
17-year-old Salomé, a student from Saumur, enjoyed seeing what the American education system was like.
She noted the way students learn is very different than in France but she really liked the choice American students are granted in their schooling.
 Weems held many extracurricular activities for the French students at UNCA. Weems said this would not only benefit the high school students, but also UNCA students who may be learning a foreign language.
"As a French teacher here, I thought it would be really neat to have our students be included in these activities because many students are learning French," Weems said. "It seems like this intangible unreal language that doesn't exist outside of our classroom."
Weems planned a cooking class which allows the French students to learn English while making Appalachian cuisine. She invited several UNCA students to lead the French high schoolers on a campus tour before the class.
The students from Saumur followed recipes written in English and used a conversion chart to change American units of measurements into metric units. They made cornbread in a cast-iron skillet, white chicken chili and brownies.
Weems shared the history behind the regional dishes while the students tasted the unfamiliar foods. Many students took copies of the recipes so they could recreate and share the new foods when they arrived back home.
In April 2020, Saumur will return Asheville's hospitality by hosting several high school students from the Franklin School of Innovation.