Roman Uglehus
Assistant Sports Editor 
[email protected]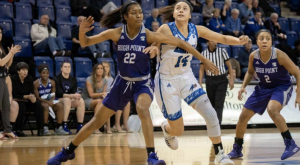 During UNC Asheville's women's basketball game against Gardner-Webb, senior center Brooke Jordan-Brown recorded her 500th career rebound for the Bulldogs.
After ending last season with a stellar 219 rebounds, Jordan-Brown's 173rd rebound of this season saw her reach the 500 mark for the Bulldogs. According to Jordan-Brown, reaching this milestone meant a lot to her.
"It was just a blessing. It was not something I was expecting, you know, that's not what I focused on playing, but it's truly amazing. I watched post players before me like KJ Weaver and Bronaza Fitzgerald reach that milestone and so of course it was a dream but I don't think I ever truly saw myself reaching that goal so just an incredible blessing and I loved having the support from all the fans, my teammates, family, everything. It was really special," Jordan-Brown said.
According to Brenae Williams, the director of operations for UNCA's women's basketball, Jordan-Brown shows tremendous character for the team.
"As a player Brooke is consistent, probably the most consistent on the team, hard working, passionate, dedicated, driven and she loves her teammates and will sacrifice anything for this program," Williams said.
Commenting on the team's performance against Gardner-Webb in a post game interview, Head Coach Brenda Kirkpatrick Brown said the team played well but had some things that needed to be worked on.
"We did some good things, not enough to win the game. I thought we improved from Charleston Southern. I think there's some things we still obviously got to work on and we'll do that and get ready to play," Brown said.
According to Brown, Jordan-Brown played well despite the 65-59 loss.
"I thought Brooke had a pretty good game at 5-6, probably should've gotten her the ball a little more, found a way to do that. I thought we got some good looks that just didn't fall," said the head coach.
After reaching her milestone 500th career rebound, Jordan-Brown became the 19th Bulldog in team history to reach 500 rebounds. According to Jordan-Brown, she felt honored to be a part of an elite history here at UNCA.
"It's amazing, like 19th that's not very many and I think it's like 33 years of basketball so I just feel really special to be a part of something bigger than myself and to be up there with so many incredible women that were before me and to know that there will be many more after me. It just makes me really happy to know I'm in a special category," said the Greenville native. 
According to Williams, Jordan-Brown's milestone rebound was a testament to her incredible work ethic.
"I am extremely happy for Brooke. She works so hard in every aspect of her life. She will be the first to tell you that she strives for perfection even though she is aware that she is human and will make mistakes. Brooke is by far one of the hardest workers on this team," Williams said.
Jordan-Brown leads the Big South conference in rebounding with 257 in total, 61 rebounds more than the next closest player. In addition, Jordan-Brown places in the top 15 for blocked shots with 17. The team's ability to rebound can be a crucial aspect during games, Jordan-Brown said.
"Rebounding has won us and lost us many games. For me, I take rebounding to heart, that's what I do. Every game I'm always striving to get as many as I can, not for me but for my team like get us more opportunities, get defensive rebounds so they don't get second chance points and things like that and literally rebounding can win or lose your game. I think Pat Summitt even said 'offense brings a crowd, defense wins games but rebounding wins tournaments,'" Jordan-Brown said.
Williams also commented on how important rebounding can be for the team and how seriously Jordan-Brown takes rebounding.
"Defense and rebounding have been our bread and butter – especially on nights where shots aren't falling. Getting second chance opportunities for us and not giving the other team those second chance points are super important. We can control how well we defend and the rebounding piece but we can't control if we will hit every shot. When we have out rebounded teams, we have won. Brooke sees every rebound as hers and has done that well for us," Williams said.
While Jordan-Brown's rebounding stands out in the Big South Conference, she also stands out nationally. Jordan-Brown currently sits at 22nd in the country in rebounds with 257. When learning for the first time about her national rank, Jordan-Brown said this stat helps to show how hard she works on the court. 
"Wow, I had no idea about that, it's just another blessing. It feels amazing to know that all the hard work I put in in the past three years, off-season, preseason, everything, it's finally showing and I've just had amazing support and love throughout to get to this place," Jordan-Brown said.
At the moment the Bulldogs are sixth in the Big South conference with three games left in the regular season. With this season being Jordan-Brown's last at UNCA, she said her senior season has been special and she will continue to enjoy her time with her teammates as the season goes by.
"It feels amazing. It kind of just puts things into perspective in like it makes you realize how important each game is and so it makes every game just that much more special and important like every play. I'm having a blast with my team and with my other seniors and we're doing everything we can. We're just having fun because after this it's over so just being happy and enjoying these moments," Jordan-Brown said.