Alumni and faculty disagree on Asheville being a college city
Abigail Grindstaff
Contributor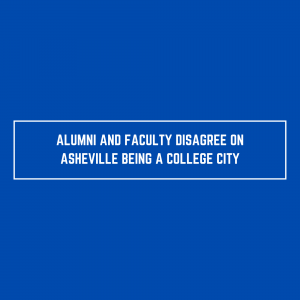 [email protected]
UNC Asheville's impact in education and economics defines the city, according to UNCA faculty, while alumni say they don't see a significant presence of the university in the community.
"It's a great school, it's a great city. Obviously we didn't grow up here, but we live here, now. We choose to live here. We could live anywhere. So we always play the game 'Where would we live if we didn't live here,' and we don't come up with anything," said Mark Schuurman, UNCA alumnus and Asheville resident. "Great school, great city, but it's not your traditional, stereotypical college city."
Mark and Leah Schuurman moved to Asheville and graduated from UNCA in the early 2000s.  Leah Schuurman came from Mount Airy, and Mark Schuurman moved from Canada to play baseball for UNCA. Neither of them considers  Asheville to be a college city. Instead, they thought of schools such as Michigan State and Chapel Hill where the city centers around the college.
"I think of App," Leah Schuurman said. "When you go to Boone, you're going to App, you know? The campus is Boone."
Aside from occasionally seeing the mascot on a fire truck, Leah Schuurman said she doesn't see much evidence of the school in the community. 
"If we didn't go to school there, I don't know that we'd ever think about it," she said.
Sarah Broberg, special assistant to the chancellor for communication and marketing, said she considers Asheville to be a college city because of the opportunities it presents to the community. Since the school began in 1927, she said it brings people to Asheville for work, education and the art scene.
"UNC Asheville serves as a comprehensive and dynamic academic, cultural, economic and social center of the Asheville region and provides a tenfold return on investment for every dollar appropriated by the state of North Carolina," Broberg said.
Broberg also said Asheville serves as a college city because UNCA ranks as one of Asheville's top 20 employers. 
"Economic activity generated by UNC Asheville supports 3,911 local jobs and adds $164.6 million in labor income within the four-county metropolitan area of Buncombe, Haywood, Henderson and Madison," Broberg said.
On top of the economic resources UNCA provides, Broberg listed extensive programs, partnerships, events and projects the school offers not only to the faculty and students but also to the public, often free of charge.
Although neither of the Schuurmans said Asheville was a college city by their definition, both said they consider it a wonderful place to live.
"I'm a pure example because I'm 800 miles from home," Mark Schuurman said. "So when I'm looking for schools, I'm looking for one, that it's a safe environment, two, is a nice environment. There is a feature when your child shows up to the campus of UNCA or shows up to Asheville you go, 'Oh nice area, nice place.'  Again the actual city gets obviously high grades and the campus is nice and it's simple and it's easy."
Broberg said Asheville offers diverse opportunities for its residents and UNCA will continue to grow as a university and as a part of the city.
"UNC Asheville partners with a broad and diverse array of community partners, organizations, businesses and institutions to share ideas, perspectives, experience, knowledge and research to support innovation and value creation – not only for our partners, but for UNC Asheville, the city, county, region and beyond," Broberg said.