Elizabeth Ritch
News Writer 
[email protected]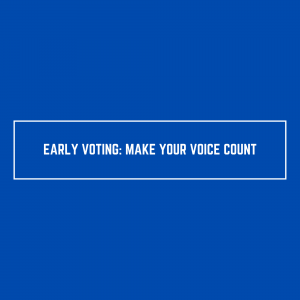 Signs advertising early voting stations line streets and sidewalks all over Buncombe and Madison counties. On a gray afternoon, the Mars Hill polling station was void of voters. Only two electioneers waved energetically at passers by.
Nancy Larkin, retired teacher and current Democratic electioneer, said the young voter turnout is low.
"Our country's future is at stake. There's just too many things that are wrong," Larkin said.
According to Larkin, attempts to get voters from nearby universities mobilized have been unsuccessful. Most of the voters she sees are older people from her own generation.
 She said the reason voter turnout is so low, especially during the primary election, is many people lost faith in the election system.
"We've been trying to get more people from the college and university out here but it's been kind of hard to get them motivated," she said, referring to nearby Mars Hill University.
Lola Benfield, a recent political science graduate from Appalachian State University, works as an organizer for NextGen America. NextGen assists young voters by helping them register to vote, as well as mobilizing the electorate on issues such as climate action and reproductive rights.
Benfield said NextGen is a youth led PAC made up of people ages 18-35, intent on helping its peers participate in elections.
According to Benfield, young people are motivated to take action. The confusing process of casting a vote is what limits voter turnout.
"Young people do care. Young people are engaged in their communities. 76 percent of young people report that they're interested in politics, and 81 percent of young people say that they intend to vote," Benfield said, citing the recently published book "Making Young Voters: Converting Civic Attitudes into Civic Action."
Benfield said the largest barrier to younger voters ages 18-35 are complex voting laws in North Carolina, especially the recently passed, controversial voter ID law.
According to the North Carolina State Board of Elections, registered voters do not need to have an ID to vote in the primary election due to the law being blocked in a federal district court. So far, there has been no update by the board on the bill's progress.
"In North Carolina the election laws have changed so rapidly and so frequently over the past 10 years that it's been really hard for people to keep up with," Benfield said.
Chase Loudermelt, a political science senior at UNC Asheville, is using homecoming to promote voter registration and education on campus. As the president of the political science club, Loudermelt said she plans on having several more voting and rights education events on campus this semester. Coming up, the club has a student rights education week planned.
"We have a 75 percent voter registration rate on this campus. It's very high, but I keep thinking about those 25 percent of students who are not registered to vote," Loudermelt said.
Loudermelt said she is working with the Key Center to be a community engaged scholar. At the moment, she is working on an informational manual on voter registration and education, as well as voting on college campuses.
"I think that people skip over voter education a lot and it's actually one of the most important things to have good citizens within this country. I just really want people to register to vote, go out and vote, and then be aware of what's around you to be a good citizen and to be a good educated voter," she said.
The window for registering to vote has now passed. Anyone who wants to vote in the primary should cast an early vote at a One-Stop polling site.
According to information from the State BOE, early voting allows registered people to vote at any polling site in their home county. Same-day registration is also available at early voting sites. There are many One-Stop early voting sites for Buncombe county residents near campus, such as at the Asheville Mall.
Larkin said the only way to fix the country's issues is to get everyone voting, especially gen z and millenials.
"Vote, vote, vote. Their vote counts, they've got to be involved," Larkin said. "They need to be involved in making it right. We've messed things up for them and it's their job to fix it."
Benfield said UNCA has a very politically active student body. She said if more of the young electorate were active in the democratic process, they could make a larger impact.
"I'm just inspired and I think that young people are politically mobilized. This year, we are the largest demographic in the electorate. We could be the largest voting block so while it may not seem like my individual vote matters if we all organize and show up at the polls and we all vote then we can essentially decide who our elected officials are," the NextGen America organizer said.
Benfield encourages anyone who would like to get involved with NextGen America, or anyone with questions about voting, to email her at
[email protected].