by Noor Al-Sibai [email protected] – Staff Writer
Booming brass, psychedelic clothes and metallic papier-mache robots — all in a night's work for dance-y, indie outfit Rubblebucket.
The band, which hails from various Brooklyn, N.Y., neighborhoods, fails to fit into a single genre, with sounds that are at once psychedelic, indie and electronic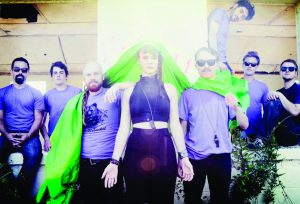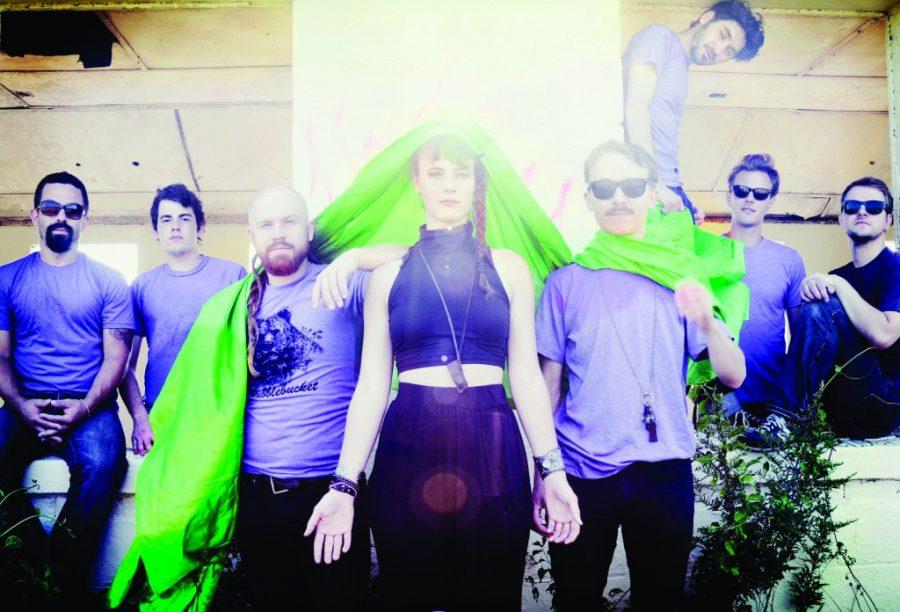 The band's core lineup consists of saxophone player and lead vocalist Calmia Traver, trumpeter and backup vocalist Alex Toth, guitar player Ian Hersey, trombone player Adam Dotson and bass player Jordan Brooks.
Rubblebucket was founded by Toth and Traver, who met at the University of Vermont, and were both members of the reggae band John Brown's Body.
"They were touring really intensely," said Toth. "It gave us the opportunity to develop material for Rubblebucket, which was a side band then."
Formerly Rubblebucket Orchestra, the band decided to change their name for multiple reasons, said Toth.
"We decided to shorten it because it's a representation of a shifting in sound for us," said Toth. "We've become more of a full-time, dedicated band since we started."
The name change has left some journalists confused after a fumbled joke by Hersey.
When asked why the band dropped the "orchestra" from their name, Hersey sarcastically said they had fired their (nonexistent) string section.
"I was way too sarcastic, and she totally believed me," said Hersey. "It was a flop of a joke."
Joke-telling and fun are a big part of Rubblebucket's tour ethic. To add to that ethic, they are touring with Athens, Ga.-based indie band Reptar, who are good friends with the band.
"Touring with them has been so awesome," said Hersey. "They're the sweetest guys ever. It's so much fun touring with your friends."
Reptar and electropop group Stepdad opened for Rubblebucket at a show at the Orange Peel last Thursday. Their Asheville stop was part of their tour of the East Coast this fall.
The tour began in the South, with the band meeting up with Reptar in Baton Rouge, La., and has left many Northern members of Rubblebucket glad to be on the opposite end of the coast.
Hersey, who grew up in Pennsylvania, said being in the South when Hurricane Sandy hit New York and New Jersey was unsettling.
"Being in the hurricane belt without experiencing the hurricane was very strange," said Hersey. "We were in Boca Raton, and we could feel it passing 100 miles to our east. It was weird being in the hurricane belt when your hometown is getting hit by this crazy storm."
Toth, who was raised in Lambertsville, N.J., said his mother's house only got power back this week.
"It's been insane," said Toth, who lives with many other members of Rubblebucket in Brooklyn. "We were really lucky we didn't get hit."
Despite worries about family back at home, most of their tour with Reptar has been fun, according to Traver.
The band partied with Reptar on election night with Reptar in Charlottesville, Va., where they were playing the next night.
"Every time a state got called for Obama, there'd be this huge cheer," said Traver. "And every time a state got called for Romney, there'd be a much smaller cheer. When the election was called, they started blasting 'We Are the Champions,' and the few Romney supporters left quietly."
Their touring schedule also brought the band a few extra days in Asheville, which Traver said is one of her favorite places to visit. A big kombucha fan, Traver said she "freaked out" when she got to taste Water, the new flavor from Asheville kombucha brewers Buchi.
Some of the band's other favorite Asheville businesses are Rosetta's and the French Broad Chocolate Lounge, who told the band they set aside treats for them for after the show, according to Hersey. Another favorite is Dobra Tea.
"I have to give a shoutout to Dobra," said Traver, a Vermont native.
"They have one in Burlington, Vt., and it's always my base when I'm at home. Asheville is one of our favorite places to come to when we're on tour."
Rubblebucket has a new record out, the Oversatured EP. They are continuing their tour northward with Reptar, but said they hope to visit Asheville again soon.