Marian Foster
Arts & Features Writer 
[email protected]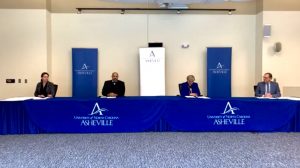 Chancellor Nancy Cable, Provost Garikai Campbell and UNC Asheville's senior staff attempt to relieve uncertainties felt by concerned students and staff as concerns regarding COVID-19 increase. 
On Mar. 24, senior staff members answered questions about housing, grades and refunds from students and faculty during a town hall streamed via Facebook Live. 
"The coronavirus pandemic and all of its uncertainties are upending our lives and very disorienting in challenging ways," Cable said. "In the midst of all of this, our UNC Asheville faculty have shown deep care for our students and for the preservation of our academic mission by moving their teaching and their labs and their learning objectives to online access."
The provost acknowledged the difficulty faced by students who cannot effectively learn through online instruction. 
Campbell announced new guidance affirming post-grade withdrawal. Two weeks after the semester ends and grades are submitted students may withdraw from their courses. Due to extenuating circumstances, these withdrawals will not count toward UNCA's three-course withdrawal policy. 
On Friday, an email from Campbell confirmed a satisfactory/withdrawal grading option for students. If students choose to opt into this grading option, a satisfactory grade will count toward course credit but not their GPAs. A withdrawal does not count toward earned credits or GPA.
"We have approved a Satisfactory/Withdrawal grading option which will be available to all students in all courses. The selection of this grading option will take place from May 11 to May 22, the two-week period after final grades have been submitted and is only applicable to the Spring 2020 semester," Campbell said via email. 
Sophomore Zoran Nastasic appreciated the provost's explanation of the grading process for this unusual semester. He said he thinks the proposed grading options could be helpful for a lot of students.
"I'm sure some people are dealing with pretty difficult circumstances and it kinda gives them a way out," Nastasic said. "A lot of people are going to be affected by this pandemic and we shouldn't have to worry about grades when people are dying."
Along with academics, many students and parents are interested in the topic of partial refunds. They feel they should be reimbursed for fees such as tuition, housing, dining and parking.
"If we're paying for a full year, we should be reimbursed for the months we didn't get to yet," Nastasic said.
The UNC system determines the decision regarding refunds. According to Cable, UNC System Interim President Bill Roper told UNCA's senior staff they would come to this decision after addressing health and safety concerns. She said the UNC System will consider refunds in April and students will be notified soon after.
Though academic buildings are closed, the campus remains open and students can still access Highsmith Student Union. The mail center is now open from 10 a.m. to 6 p.m. on weekdays for those who need to retrieve their mail. 
Vice Chancellor of Student Affairs Bill Haggard said if someone wanted to get their mail on the weekend, they should check in at Highsmith Union's information desk between 1 p.m. and 5 p.m. He also urges students to forward their mail to a different address and to pick up their mail during residential check-out.
The cancellation of commencement stands as a large concern for final-year students. Some wonder if they may walk in future graduation ceremonies, if they will receive their cap and gown or if their degrees will be mailed. Cable asks students to give faculty the time to consider all possible options before giving a definitive answer. She said graduation will still happen, but due to current circumstances, a time has yet to be determined.
"This is a time that we believe we should come together even more closely as an academic community though we are physically further apart," Cable said at the town hall's conclusion. "Our university traditions of kindness, empathy toward each other and historic collective resilience as a university will help bring us together in the spirit of shared humanity during these very difficult, very complicated and in some ways, very anxious times." 
The town hall can be viewed in full on UNCA's website. In the coming weeks, another town hall providing policy updates and additional answers will be held.