Alena Talbot
Sports Writer 
[email protected]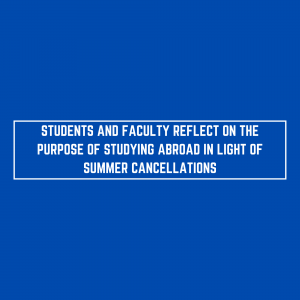 COVID-19 disrupted all study abroad programs for UNC Asheville this summer, leaving students and faculty to consider what they will be missing.
"I try to keep it in perspective. I'm disappointed that this has happened, of course, but I'm also grateful that so far myself, my friends and family are healthy and safe. There are people dealing with a lot worse than a canceled trip," said Angelica Driver, a senior.
Driver planned to go to Ecuador for her final semester. She studies psychology and Spanish.
"I feel bad for the students and sad that they won't have this experience because it's so amazing," said Alison Ormsby, an adjunct professor of environmental studies and humanities.
Ormsby planned to lead a trip to the U.S Virgin Islands and the British Virgin Islands this summer with Caroline Kennedy, a senior lecturer in biology.
"I also feel bad for our host institutions in the U.S. and Virgin Islands because these areas have been hit by hurricanes and they're already suffering economically from that. Now, to not have ecotourism is a double economic burden. We've spent a year planning the trip and we've developed all these relationships," Ormsby said.
Many of the areas students had planned to travel abroad to have been particularly hurt by the COVID outbreak, according to Honors Program Director and Associate Professor of mathematics Patrick Bahls. 
Bahls planned to lead a trip to Ecuador called "from the Andes to the Amazon," this summer alongside Juan Sanchez Martinez, an associate professor of Spanish.
"It's not about work right now, it's more about life. In this case, I'm concerned about people who are dying and in Ecuador, they are being affected," Martinez said.
According to Bahls, the original trip to Ecuador planned for students to visit several different indigenous communities and meet local artists
"Guayaquil is one of the global hotspots for COVID. There's thousands of people dead, bodies in the streets, it's just a nightmarish scenario for people in Southern Ecuador," Bahls said.
Many of the summer abroad programs included aspects of service-learning, with both trips to Ecuador and the British Virgin Islands including class credit for the cultivating global citizenship senior capstone.
"We were going to the island of St. John, which contains the large Virgin Islands National Park. We were going to be camping in the national park and doing environmental and community service there. That would include trail maintenance and a swim competition that we were going to help run," Ormsby said.
The trip to the British Virgin Islands also included work with the Alliance of Reef Keepers and conserving sea turtles.
"When you're in a study abroad program there are a lot of ethical dilemmas because sometimes there are power relations and privileges that can affect the traveling experience. I like to work with the community partner because they make sure that everything is approved by the communities," Martinez said.
Ormsby has led eight study abroad programs previously and three overseas research programs with students, but only one trip since her time at UNCA. Much of her research background concentrates on ecotourism and environmentalism.
"I travel a lot. I try to be really conscious about my decisions. First of all, where I'm going, what companies I'm using. I try to do local homestays so that the revenue stays locally. I do a lot of research ahead of time," Ormsby said.
According to Ormsby, more students should try to study abroad if they can. 
"I wish more students were drawn to study abroad. UNCA has a pretty low percentage of students who study abroad so I'd like to see that grow. I think the students who are attracted to study abroad are very curious and they want to get outside their comfort zone and learn about other cultures," Ormsby said.
There are lots of ways to expand your understanding of global citizenship without going abroad such as reading, watching international cinema or learning a new language,  Ormsby said.
"Traveling is one of the best ways to experience and break stereotypes and confront ourselves and understand who we are and what is the place where we are. It's amazing and I'm glad that people and the university are interested," Martinez said.
One silver lining of her trip being canceled is that the environment may get a little break from air pollution,  Driver said.
"I hope that the other students that were going to study abroad get another chance to have this experience," Driver said.
Her trip to Ecuador was her final chance to study abroad with the university, but since she already purchased her ticket, Driver is considering traveling independently after travel restrictions relax.
Martinez said travel has helped shape his worldview, offering new perspectives and experiences. 
"Travel has been my life. It's part of who I am," Martinez said.
When students travel abroad, Martinez offers two pieces of advice to get to know a town better: visit the farmer's market and a local cemetery.
"You will always find beautiful history and food and the real heart of the town where you are," Martinez said.
According to Martinez, he was born in a town in the Colombian Andes that does not experience seasons like most of the world. The first time he traveled abroad and saw seasonal differences, it changed his life.
"When I traveled abroad for the first time and I saw snow and I saw the leaves falling and growing again, that was fantastic. Sometimes people take those things for granted and don't realize that it is so unique," Martinez said.
Martinez encourages all students to travel abroad if they are given an opportunity as long as students use the right amount of precautionary measures. 
"While you're traveling, a lot of fears disappear. Before we travel, we are scared about stuff and doubt. I think that's the beauty of traveling. You fight any doubt and just go for it. You will always find beautiful places, beautiful people and beautiful teachings," Martinez said.