Brandon Buckles
News Writer
[email protected]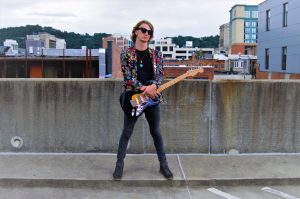 Buncombe County musicians say COVID-19 hurts them financially as they can't tour and struggle to connect with fans.
"Artist for artist, artist for venue, venue for artist, we're all trying to keep each other afloat right now," local musician and Barnaroo founder Andrew Scotchie said.
Local venues began canceling live shows in March as news of the spreading coronavirus pandemic took hold of the country. For some local artists such as The Get Right Band, touring and performing live makes up the majority of their income.
"Playing shows and the merchandise we sell at shows, I don't know the actual number, but it's 95 percent or more of the band's income," Silas Durocher of The Get Right Band said.
A few local artists said they made use of government assistance, while others sought aid from the Small Business Administration or coronavirus relief charities such as Musicares, a non-profit organization founded to give emergency financial assistance to music people struggling with financial, medical or personal crises, according to Recording Academy.
"There was a lot of filling out applications for grants and Musicares was one that came through the Grammy foundation I believe," local artist Eleanor Underhill said.
Not everyone has had to rely on financial assistance. Underhill leaned on her other sources of income beyond music to stay afloat, she said.
"I teach music part time at a private school. I also have an Airbnb cabin that I rent out," Durocher said. "We did get a small grant from the Small Business Administration."
According to Durocher, The Get Right Band increased their online presence to provide music to their fans until outside venues could accommodate live performances.
"We tried to do some online events that were kind of fun and more recently we've done a few livestreams from local venues like The Grey Eagle and The Orange Peel," he said.
"The ability to do livestreams and things like this is keeping people connected in one way shape or form," Scotchie said.
The Get Right Band and Underhill released new albums amid the pandemic, encouraging their fans to purchase the new music online. 
"I did a fairly concerted effort to get people on the presale to pre-order the 
album," Underhill said.
Scotchie said he and his band The River Rats even offer private shows to those who can pay.
"We've been offering our fans and posting on social media, 'Hey, you can book the band in your backyard for a socially distant private party. You can get the band or you can get me solo,'" he said.
Music venues such as The Orange Peel provide some limited livestream performances for fans, but musicians worry how long venues will be able to do so under the circumstances.
"Being an artist is hard enough. I can't imagine what it's like to be a small music venue, and you know, have to rely on ticket sales and alcohol sales to keep the doors open," Scotchie said.
Without knowing when the COVID-19 pandemic will end, the struggle to earn revenue continues. Musicians say they turn to their fans for emotional support.
"Financially, assistance from the government has been helpful. Emotionally or psychologically, I mean it sounds kind of cheesy, but our fans have been really communicative and expressive," Durocher said.
Musicians said fans and community are key to keeping venues open and artists performing during the coronavirus. Artists ask people to do anything they can to support artists and venues during this time.
"It's going to take a long time to come back from this, so anything that people can do to support their favorite artists or their venues that they miss going to, I urge them to do that," Scotchie said.
The long-term impact social distancing will have on the artistic culture in a small town such as Asheville remains unknown. Underhill said the music scene may not recover.
"I've been grappling with the implications of the pandemic on our music city. I'm kind of lamenting how many people are just gonna hang it up," Underhill said.