Andrew Crutchfield
News Writer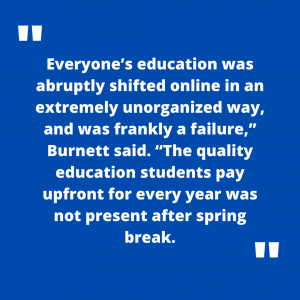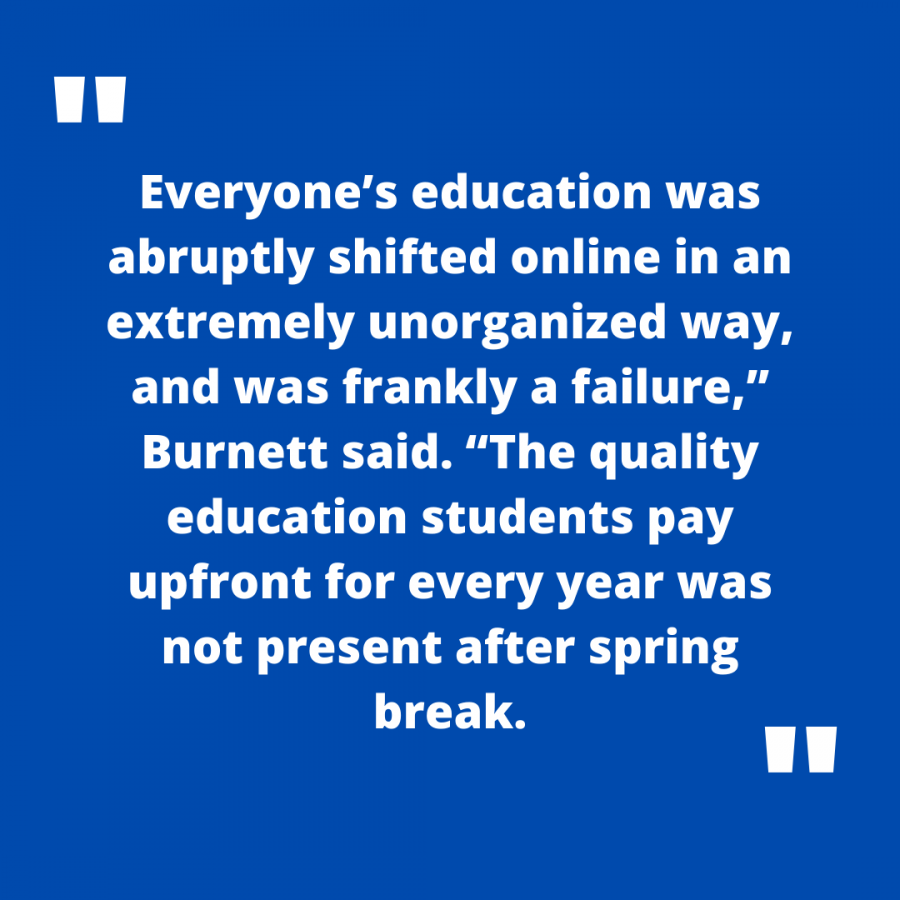 [email protected]
A UNC Asheville student, Harry Burnett, filed a class action lawsuit against UNCA last spring for a partial refund of tuition due to the university's handling of the COVID-19 shut down. The original complaint against UNCA has been dropped but a new one has been filed.  
"We did voluntarily dismiss the federal case filed only against UNCA, but it was refiled the same day in state court in Orange County against the entire UNC system and is still pending," said Eric Poulin, the director of litigation at Anastopoulo Law Firm.
The complaint alleges: "While closing campus and transitioning to online classes was the right thing for defendants to do, this decision deprived plaintiff and the other members of the class from recognizing the benefits of in-person instruction, access to campus facilities, student activities, and other benefits and services in exchange for which they had already paid fees and tuition."
Though happy with handling of the semester, Burnett said the university caused the quality of students' education to suffer and unjustly profited by not issuing reimbursement to those students.
"Everyone's education was abruptly shifted online in an extremely unorganized way, and was frankly a failure," Burnett said. "The quality education students pay upfront for every year was not present after spring break."
The university issued a refund for housing costs and discounted remote summer courses.
"Students pay for access to professors, campus resources, ones that can't be delivered remotely, such as a gym, and of course a quality education through their tuition. Students can't use any of these resources when they're not allowed to be on campus," Burnett said.
One concept emphasized by Burnett and the complaints regarding tuition refunds is students aren't simply paying for credit hours, but rather for an education, an experience and access to resources.  
The complaint alleges: "Common sense would dictate that the level and quality of instruction an educator can provide through an online format is lower than the level and quality of instruction that can be provided in person. The true college experience encompasses much more than just the credit hours and degrees."    
A class action lawsuit involves a group of people being represented collectively by a member of that group. The goal is to recover some sort of loss for every individual in the class. In this case, the class would be made of all UNCA students enrolled during spring 2020 and the recover would go to each of them. Burnett felt this was the appropriate lawsuit to take on.  
"I chose to pursue a class action lawsuit simply because it was the right thing to do. I'm fortunate enough to not have to worry about this sort of reimbursement, but I pursued anyway because I know most students aren't as privileged as I," Burnett said.
Burnett dropped the lawsuit in April after his name was mentioned in a Citizen-Times article and his father took issue with the situation.
"To say my father was furious was an understatement. I had never seen him blow up over something so much. The sad part is that I was proud to show him what I had done — his reaction was totally antithetical to what I expected. He gave me the ultimatum of 'withdraw the suit or get out of the house,''' Burnett said.
Burnett is currently enrolled at UNCA this fall and he's happy with the way classes are being handled.
"UNCA has done a fantastic job this time around — the hybrid situation is awesome and gives me a lot of confidence in the university's leadership, it's a great idea," Burnett said.
Several universities in North Carolina encountered similar class action suits last spring. The North Carolina state legislature passed a bill in June providing immunity to universities for legal claims related to COVID-19 closures but it hasn't had much effect on ongoing class action efforts.  
"We do not believe the bill will have any impact on our case and are moving forward," Poulin said.
Students filing class action suits against their universities is a very uncommon situation. It is also common for the state to step in and do the job of the courts by deciding what cases are worthy of a fair trial.   
"State legislation does not run indefinitely. It only stops Anastopoulos' claim to a certain point," said Catherine Ross Dunham, Professor of Law at Elon University.
Another class action complaint was filed against the UNC School System and its Board of Governors on Aug. 10 by seventeen staff and faculty members at UNC System schools.
The complaint claims "UNC and its constituent institutions cannot, in the face of this pandemic, provide conditions and places of employment safe or 'free from' recognized hazards associated with COVID-19."
The complaint also claims returning non-compliant college students to poorly ventilated dorms and classrooms creates unsafe conditions. Since the complaint was filed, several clusters of COVID-19 have caused NC State to close its dorms and UNC Chapel Hill to switch entirely to online classes. No refunds for tuition have been issued by either university.