New COVID procedures for student athletes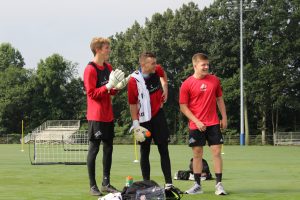 The UNC Asheville athletic department has implemented a variety of new social distancing strategies and sanitation procedures to prevent the possibility of an outbreak that could threaten the return of sports competitions. The Big South Conference postponed the start of the fall sports season indefinitely due to concerns about COVID-19 spreading through athletic departments.
"Not a lot has changed in that aspect of training mentality wise but with the pandemic going on it is very serious," said Evan Lewis, junior defender on the UNCA men's soccer team. "We always wear masks and practice social distancing all the time, making sure we're staying safe and healthy."
The men's soccer team's season has already been postponed along with all other fall sports including women's soccer and volleyball. The delay puts the players in limbo as conferences, athletic departments and health officials race to determine how teams will be able to play as the virus continues to be unpredictable.
Despite the delay of competition, student-athletes continue to train and prepare, now with many more rules and health monitoring to make sure that they have a chance to resume their season in the spring.
Despite the delay of competition, student-athletes continue to train and prepare, now with many more rules and health monitoring to make sure that they have a chance to resume their season in the spring.
 "The big challenge is the social distance and training. There's no such thing as safe as possible, so it takes a bit of reminding," said Ross Fitzpatrick, assistant coach of the men's soccer team.
The men's soccer team has also dealt with coaching changes in the past year, as previous head coach Mathes Mennell was replaced by interim head coach Mick Giordano. Now on top of taking over coaching responsibilities for the bulldogs, Giordano, Fitzpatrick and the new staff must maintain strict COVID precautions if they hope to play in the spring.
Coaches organized their practice schedules based on who the student athletes share a living space, said Fitzpatrick. Student athletes often are placed in dorms and apartments with their fellow team members, which have now become their training groups. Athletes that live together will now practice and train in these smaller housing groups to minimize contact between team members. 
"I'm hoping, as we start learning more and continuing to follow safety guidelines that eventually we can move back into more of a normal training setting. And it all depends on the health organizations and the department and when they see fit for us to start gradually moving into more In normal settings, so it's not something that we can put an exact timeline on. And, but something that we hope and we can get to eventually, but it's going to be a slow process and we just have to be as patient as we can with it," said Fitzpatrick.
Sports medicine has also been changed to accommodate the need to socially distance. Justin Byland, athletic trainer for men's soccer, said that student athletes must text him before going to the training room which has always been the policy, but must also schedule through his google calendar to keep track of the student going in for injury treatment.
All athletes will receive free virus testing on a bi-weekly basis, said Byland. All teams test 25 percent of their team every two weeks, ensuring that no clusters of the virus sidelines the whole athletic department. If an athlete tests positive or comes into contact with a positive case the trainer has procedures in place.
"There's kind of two different procedures. But if you come into contact, you just have to do the quarantine for 14 days. And as long as you are not present with any symptoms or test positive during that time, you just do the 14 days and you're done. If you test positive, then you go through the isolation, which is typically 10 days on average. And then you also have to be cleared medically per our team," said Byland.
UNCA's positive test results as of Aug. 28 have only found that 11 total students and faculty have tested positive for the coronavirus and only 17 students quarantined, less than one percent of about 3,600 enrolled students, an early sign that strict COVID precautions have slowed that spread.
"It's new for us as coaches, as well as for the players since they have never had to do anything like this before, but it's becoming the new normal now," Fitzpatrick said.