UNCA Sports focus on student health during COVID-19 pandemic
Jennifer Guardado
Sports Writer 
[email protected]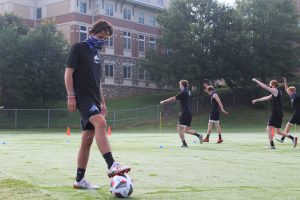 Conservation of student health during COVID-19 persists through sports and recreational centers. 
The consequences of the coronavirus pandemic  reached a gloom-ridden crescendo for this year's student athletes at UNC Asheville. The Big South Conference delayed the start of all fall sports amid concerns COVID-19 concerns on Aug. 12 continuing the postponement of sporting events beginning in March when the spring sports season ws abruptly halted.
"I honestly didn't really process it then, and I'm still not sure I have yet. I think part of me knew it was going to happen, I worked with the Buncombe County Health Department as a contact tracer this summer, so I had an idea of how contagious it was and what the concern level was. It was heartbreaking to hear that your senior seasons have been cancelled though," said Grace Kwiatkowski, UNCA's women's soccer captain.
 A staff of dedicated coaches, athletic directors and student athletes awaited decisions from the NCAA and Big South Conference as to how the virus would affect the athletic department and when competition will resume. 
After many sports conferences across the country began delaying the start of fall seasons as students and athletes returned to campus competitive sports are postponed for the fall season until further notice. 
Kwiatkowski said she has played sports since she was 5 including soccer, volleyball, swimming, basketball and horseback riding. 
"For me, sports has always been a way for me to make friends. When I was younger I was incredibly shy so it took some of that anxiety away for me. As I got older and more competitive I began to love the competition of it, how everybody on a team is working as hard as they can for a common goal, being able to trust that the people around you have your back no matter what," Kwiatkowski said.
Training and practice routines remain a daily priority.  Clifton Bush, UNCA's women's soccer coach, said adjusting practices came with its own challenges like maintaining the safest environment possible keeps everyone within COVID boundaries while also playing a sport students love. 
"Our team is still very active, we have training sessions five days a week for about 1.5 hours, we have lifting sessions with Cam, our strength and conditioning coach, and we are starting to do individual training sessions this upcoming week. To make all that happen, our coaches have broken us up into three separate training pods based on housing and require that we wear masks during low intensity training, lifting, indoor activities, and meetings on and off the field. The coaches are extremely careful to follow CDC guidelines," Kwiatkowski said.
The outcome for next year's spring sports season is to be determined, but the soccer team's motivation and strength keeps an accelerated momentum. 
"You can't predict anything really in these times so we're remaining consciously optimistic but we're training every day learning how to practice under these conditions," Bush said.
While coaches and student athletes do their best to thrive and prepare for the upcoming spring season, Bush said the athletic department and athletic director ensured all athletic scholarships remained intact and honored as well as making sure the staff remain employed. 
"We still have to consider the academic piece as well. They're not just athletes, they're also students," Bush said. "We recognize that they are students and they are here and they need that support whether that support means mentally emotionally or financially so I think we've really strived to participating in campus recreation programs helps students manage anxiety and stress, acquire better sleep, develop skills in working with people of different backgrounds and form a sense of community with others. We also know through research conducted nationally, that students who utilize campus recreation perform better academically, are more likely to stay here at their university, and more likely to persist through to graduation," said Wendy Motch-Ellis, director of campus recreation at UNCA. 
The center offers a variety of recreational programs such as team building, group exercise classes, personal training, bike safety education and leisure activities. The center also recently expanded into new class options including martial arts, beginner guitar, stand-up, improv and skateboarding opportunities.
 "We are constantly evaluating our programs to ensure we are meeting the needs and interests of students, and this fall we launched an app to make it easy to reserve a space in a campus recreation class or program," Motch-Ellis said. 
Motch-Ellis said to meet COVID-19 safety procedures, the recreation center made several changes including block scheduling, set times for activities, set closure times for additional cleaning and disinfecting throughout the day, individual disposable disinfectant wipes instead of just spray bottles and reusable towels and the reiteration of all patrons understanding to wipe down equipment before and after each use. "Our staff plays an important role in reminding folks to complete a self-symptom check and we offer temperature screenings at various times throughout the day," Motch-Ellis said.
Although COVID-19 continues to create an uneasiness within staff and students, the athletic department continues to strive and remain focused on the well being of students. The idea is to follow safety guidelines as best as possible hopefully resulting in a post-pandemic world.
 "We're really looking forward to getting to the spring and showing what our roster of players can do," Bush said.