Jennifer Guardado
Sports Writer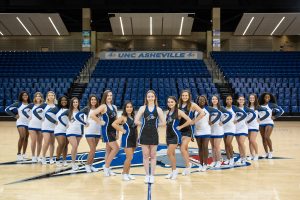 Due to COVID-19, the UNC Asheville spirit team, one of the many athletic programs, falls under the heavy burdens and consequences students continue to experience because of COVID-19. Despite new protocols, they keep their spirits up and keep a strong, positive attitude around campus.
Along with the entirety of campus sports, the NCAA canceled all spirit programs for the fall semester.
The spirit team's practices, budgets, jobs and experiences completely shifted this year. With an already limited budget, operational budget cuts for equipment and uniforms were minimized. There are no in-person meetings and try-outs were held virtually.
"Like many other college teams, we posted material for potential members to learn. Prospecting members had about a month and a half to learn the material before the due date on June 1. Prospecting members had to send in their tryout through submitting a video to our coaches. The results were released virtually," Baye Samodal said, co-captain of the spirit team.
Derrick Everhart, head coach of UNCA's spirit team, said virtual try-outs consisted of a chant, cadence dance, the fight song, judged jumps, turns and interview questions.
Practices are led by spirit captains on both Zoom and Google meetings and all team bonding experiences turned into virtual highlights.
"Myself and my other captain Baye, we've been doing a lot of things virtually like team bonding, team virtual workouts to keep the team environment and energy out. I definitely can see how, especially maybe some of the freshman, being so excited to be part of our cheer family and not getting that, might be a little sad," said Shelley Garzon, co-captain of the spirit team.
Another massive change and factor due to COVID-19 is the change in stability for the team's coaches.
"Unfortunately, the onset of COVID has changed not only my coaching position but also my assistant spirit coach Andrea Wade and our responsibilities with the team. Right now we are relying on our captains for the majority of the responsibilities. Our coaching positions are temporary part time positions, as I work a full time position in higher education financial aid at another local institution. However, this has not changed my leadership role with the team. Myself and Andrea are staying as active as we can during the fall season with our positions not being active until later in the semester, or even until the spring semester," Everhart said.
Garzon said this is her first year as a spirit captain at UNCA. While excited to lead the rest of the team forward, her execution of leadership is limited to that of the virtual media world. Garzon and Samodal continue to communicate with their coaches through their Band app. Their social media engagement stays active with updates and community support.
Garzon said virtual practices definitely don't feel the same. A large part of the spirit team is to engage in a number of group stunts which aren't possible in a virtual setting. Dancing is limited as well. Without the availability of an open space, movement is limited.
"We are all one team consisting of both cheer and dance. I think this allows us to be a very diverse team as every member has different talents to bring to the team. Compared to many other university teams where cheer and dance are separated, we have to work twice as hard. Dancers have to learn completely new skills in cheer and cheerleaders have to learn completely new skills in dance. I think this definitely allows us to have stronger bonds with each other as we are all constantly learning new skills," Samodal said.
Garzon and Samodal come from two different backgrounds, Garzon mainly participating in cheerleading since she was 8 years old and Samodal dancing since high school. "Right now we have some great talented cheerleaders and dancers in which they all do sideline cheers and chants to get the crowd to yell for our Bulldog teams. Everyone on the team will stunt in which they lift the flyers or top girls in the air and complete skills that might contain twisting or flipping rotations to and from the bases which hold them in the air.  Then we like to utilize those who have a stronger background in dance for halftime dances, and those with a more extensive cheerleading background to do more elite stunts for timeouts, or halftime routines. This way we can utilize everyone's talents and experience they bring to the team," Everhart said.
The spirit team prides themselves on supporting their Bulldog athletics, promoting school spirit among the community and enhancing the game day experience for supporters of UNCA.
"This focus is accomplished by being a strong visible presence at sporting events and community functions. The spirit team members are one of the top ambassadors for the university.  It's important for spirit team members to always  maintain a positive attitude and set a good example at all times," Everhart said.
Everhart said there are high expectations for the team not only for themselves but for each other.
"I like to think as a coach I am not only preparing my athletes to perform for game day, but also preparing  them to take the skills and knowledge with them into the world after they graduate and move into the workforce," Everhart said.
The team is excited to see what the springtime holds. The safety of students is necessary and is always the priority but in due time, UNCA's strong efforts will pay off for not only the athletic department but also for the student affairs department.
"We do much more than just stand on the sidelines and yell for our athletes, which I think is a common misconception. Spirit team members work just as hard as any other athletic team on campus even though at UNC Asheville we are under the Student Affairs department and not under Athletics," Everhart said, "To us there is no better feeling than a child getting excited about cheering on our teams in Kimmel Arena, or even our student section yelling with us at games to pull ahead for the win.  This is our job, and we love it.  I love my job and being able to be a part of something bigger than myself, is the true love for me."