Nora Donovan
Contributor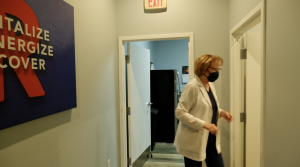 [email protected]
Kara Nash has found the cure for her depression— and it's known to make some people hallucinate, according to Dr. Linda Dula of Hydrate Medical in Asheville.
Nash, who had struggled with depression since childhood, now takes ketamine to cope.
Ketamine nasal spray was cleared by the U.S. Food and Drug Administration in 2019 to treat depression, according to Dula. Currently, there are three medical centers in Asheville which provide ketamine for depression or pain, with several concierge services existing as well.
Nash enjoys the simple things in life. Her auburn hair rests neatly on her shoulders, her face free from any make-up. Her brown almond shaped eyes are warm, inviting and hint at untold stories. Her frame is small yet sturdy, her words are strategic and strong.
 The 45-year-old mental health registered nurse lives in an idyllic community in Swannanoa, far removed from the hustle and bustle of downtown Asheville. Once an avid guitar player, foster mom and lover of hiking, kayaking and all things outdoors, a rough breakup turned Nash into a shell of her former self.
 "She seemed more negative, more negative thinking. She would be more tearful. She seemed a lot less hopeful," said Brenda Dempsey, a long time friend of Nash.
Nash recalled receiving a high ACEs score at a young age. ACE stands for adverse childhood experience. The quiz contains a series of questions that tally different types of abuse, neglect and other traits of a rough childhood. According to Nash, the higher your score is, the higher your risk can be for long term health problems.
"I saw my first therapist when I was 17. I was on my first antidepressant by 18," Nash said. "I have been on antidepressants on and off for most of my life."
Navigating health and hellness
Nash talked about her journey to mental health in a calm and matter of fact voice. Her history with traditional help sounds more like horror stories, than health and wellness. However, her tone never trembled when detailing the laundry list of medications she was prescribed and the hellish side effects she endured. 
Throughout her life, Nash received prescriptions such as Prozac, Zoloft, Celexa and Parnate, to name a few.
"Most of the SSRI's, most of the NSSRI's, quite a few of the MAOI inhibitors and a lot of the tricyclics," Nash said. "If you name it, I have probably been on it." 
SSRIs, Nash described, stand for selective serotonin reuptake inhibitors, NSSRIs are non-selective serotonin reuptake inhibitors, MAOI inhibitors serve as monoamine oxidase inhibitors and tricyclics are another form of antidepressant.
None of these medications proved to be effective for Nash. Each medicine comes with its own list of side effects and Nash was no stranger to experiencing them.
"When I was younger, the side effects appeared as your general type of anxiety, stomach issues. As I got older it started to become blood pressure reactions. The last antidepressant I was put on, the MAOI, landed me in the hospital for hypertensive crisis," Nash said.
Nash's previous experiences with therapy did not give her much hope either. As a nurse in the mental health field, she possesses extensive knowledge about that type of treatment.
"There are so many different kinds of therapy. There are types of therapy that are counterproductive to different types of diagnoses," Nash said. "Most people will go through so many diagnoses before they get the right diagnosis."
Nash's occupation as a mental health nurse gives her a first hand look at the problem with misdiagnoses. After a quick 20 minute session with her clients, she is forced to give them a diagnosis. She firmly believes people need more than a few minute interaction to fully understand their mental health issues. This problem hits close to home for her. You can hear the passion in her voice, as if she herself was too quickly assessed. 
Nash tried different types of therapies in her teens and early twenties. She called the system toxic, detailing how once you receive a diagnosis it's nearly impossible to shed it. She bluntly described most of her early attempts at therapy as detrimental, avoiding disclosing details. 
"Some of the side effects from therapy can be as toxic as the medication," Nash said. 
The impending sense of hopelessness slowly started to creep back into Nash's mind. The trials and tribulations of different medications started to take a toll, not only on her mental health, but her physical health as well. Casual conversations with friends would render Nash to tremor with anxiety. Her blood pressure began to skyrocket. Life for Nash was beginning to be unbearable.
Turning to medicinal psychogenics 
Nash turned to her psychiatrist for help. Described by her friends as super intelligent and a thorough researcher, Nash decided ketamine would be the next medicine to try.
However, Nash needed to navigate the stigma around trying a psychogenic drug. The lack of information regarding this medicine often leaves people questioning—is this truly for medicinal purposes, or is this person just looking to get high? 
"I knew that she probably had a good reason to do it and that she had looked into it before she even took the steps to making an appointment," Dempsey said.
With the support of her friends, Nash confidently decided to move forward on her quest for healing. Aside from quelling her depression, Nash wanted to erase the stigma of trying psychogenic drugs for medicinal purposes. 
Nash began her foray with ketamine through a prescription for the nasal spray, known on the market as Spravato. Aside from nasal spray, ketamine can be prescribed in oral form as well as intravenously. The medicine gets administered  at the doctor's office, according to Nash.
"The psychogenic properties don't happen with the nasal spray. You get the antidepressant effects, but you are not as consciously aware of it," Nash said. "You don't get the immediate effect."
The ketamine spray proved to be vastly more beneficial than her previous prescriptions. When experiencing panic attacks, the nasal spray helped relieve the symptoms just as effectively as a medicine such as a benzo without all the horrible side effects she previously suffered.
"It would pretty much knock it out," Nash said.
Nash's experience with the drug didn't end there. With a relieved smile, she proudly described the drug's low side effect profile, a fact that's rarely found with Nash's previous pharmaceutical prescriptions. However, Nash ended up developing a tolerance to the spray. After consulting her psychiatrist again, they agreed the oral form would be the next thing to try.
"You build up a tolerance to things over time as you take them, especially with mental health drugs," Nash said. 
Nash perks up as she describes the oral ketamine. She likens them to Starbursts, tiny sweet treats that give a rush of dopamine once ingested. Medically known as troche, this form is taken sublingually and enters your vascular system much quicker than the spray, according to Nash.
Eventually, Nash felt herself yet again building up a tolerance with the troche. Its fast acting results did more than instantly soothe any sadness— she found herself looking forward to taking it everyday. This raised some red flags within her, as any substance can become addicting and she started to explore other options. This led her to try ketamine intravenously.
"I had to ask myself, where are the parts of myself that are darkness, that I haven't looked at, that I can bring light into it?" Nash questioned.
According to Dula, a patient interested in receiving ketamine intravenously for depression requires a referral from a psychiatrist or primary care physician. In order to see results, the patient must receive infusions twice a week for three weeks. Nash received a referral from her psychiatrist and began the later part of her infusions at Hydrate Medical in May.
"I would say within 5 to 7 minutes I felt a feeling of euphoria and kind of a dissociation," Nash described. "It's kind of like you are watching yourself, you are experiencing yourself, it very much puts your ego besides you, to where I was able to see things from a disconnected perspective. I felt very present in the moment, which I feel is part of the brilliance of the treatment."
Nash spoke about the process animatedly. She used her hands to paint a picture of the journey each infusion took her on. Feelings of pain, calmness, fear, connectivity and safety danced through her mind each time she took her seat and received her dose. Tears were often shed during these sessions, removing old layers of Nash's inner darkness and allowing new healing to begin. Nash began to feel the long unfamiliar sense of empowerment.
"I felt like the ketamine was very good at addressing the isolation that's involved with depression, as opposed to the symptoms of depression," Nash said. 
Nash, without hesitation, described the infusion results as incomparable to her experience with pharmaceutical drugs. She firmly believes in the medicinal benefits.
"Ketamine has a great track record, it's one of the few things that's really been found to work for depression," Dula said. "I prescribed antidepressants my whole practice and it never really worked. My patients would say it would take the edge off, but nobody would tell me they weren't depressed anymore."
Dula claims that ketamine really works. She likens it to a miracle drug, detailing the incredible benefits that most people don't realize. In its early days, ketamine was given to soldiers who had returned from Vietnam to treat PTSD. Almost all soldiers reported feeling better, with symptoms of depression almost nonexistent, Dula described. Aside from depression, Dula treats patients with ketamine for different pain problems. If given in the proper medical setting, ketamine provides a great alternative to opiates..
While the FDA approved the nasal spray, the ruling on the intravenous method remains to be determined. 
"The FDA has not approved it for IV, because there is really no money behind it, the drug itself is not expensive," Dr. Dula said. 
"It does not behoove Big Pharma to see how well ketamine really works," Nash concluded.
Brighter days ahead
Since receiving her series of infusions the last two weeks of May, Nash feels hope again.
"After the treatments, she was really positive. She seemed so much calmer and comfortable in her own skin, she had gotten back into doing the things she loves," recalled Dempsey.
Nash appears visibly healthier and has cut at least most or all of the pharmaceutical drugs she was previously taking, according to Dempsey.
"Simple things make me happy. Going for mushroom hunts in the woods, seeing my foster kids in their forever homes," Nash said. 
Behind Nash, a vibrant, lush green sycamore stands in the sunlight in the windowsill behind her. Branches spread wide and roots firmly planted, the sapling mirrors the growth Nash has experienced.
"This is the strongest I have been in the last three years," Nash said.