Joe Lehrman
Sports Editor
[email protected]
In the weeks leading up to the November elections, the Democratic and Republican parties filed various lawsuits across the country, questioning and defending the new COVID-19 voting procedures put in place to extend the time for counting mail-in ballots.
The Supreme Court ruled on a lawsuit in North Carolina in favor of the Democrats, pushing back the deadline on counting and receiving ballots nine days to Nov. 12. This ruling would likely increase voter turnout for the Democrats who returned 230,000 more absentee ballots than Republican voters.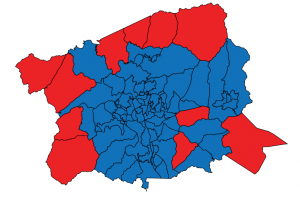 "In September, we were telling people to request an absentee ballot if you feel at all concerned about going to the polls right now," said Chair for the Buncombe County Democratic party, Jeffery Rose. 
As Election Day approached and the deadline for submitting absentee ballots passed, Rose said the party was also pushing their Democrats to vote early, which allows voters to register to vote the same day they choose their candidates. 
While Democrats emphasized absentee and early voting, Buncombe County Republican officials said they informed voters of the three main ways to vote but expected most to vote on Election Day. 
"Republicans typically like to vote on Election Day, that's usually when most of those would say they vote, even though I voted early," said chair of the Buncombe County Republican party, Jerry Green. "I think they're probably more traditional. That's when you vote, the first week of November. And that's just when we always voted."
The difference in philosophies on when and how to vote created an anticipated scenario on election day, which political analysts called "The Red Mirage." In North Carolina and other states, it appeared that Donald Trump and the Republicans led in the vote tallies on Election Day as the votes cast that day were counted first. But as the votes continued to be counted, mail-in voting allowed the Democrats to close the gaps in the voting margins and closely contested battleground states like North Carolina.
The lawsuits filed by the Republicans attempted to keep the strict rules around mail-in voting, which would allow them more easily reject ballots and prevent a Democratic comeback.
On June 11, the North Carolina House of Representatives passed House Bill 1169, the Bipartisan Elections Act of 2020, which codified suggestions made by the N.C. Board of Elections to ensure a secure absentee voting process during a pandemic. The bill added two weeks to approve applications for absentees, created an online portal for absentee applications and removed a requirement for two witnesses to sign the ballots.
The Democrats, led by prominent voting rights lawyer Marc Elias, sought to defend these new rules, arguing "these restrictions on mail ballots are at best unduly burdensome and pose significant risks to voters' health and safety, and, at worst, impossible to comply with during a global pandemic."
"Now something that would normally be done by the executive branch is being left up to the Supreme Court," said Lecturer of Political Science at UNC Asheville Giovanny Pleities-Hernandez. "So you have a segment of the public and even elites that fundamentally disagree with various laws and rulings that are in place. But in the absence of getting the majorities necessary, we don't see the desired policy changes."
Despite the rulings falling in favor of the Democrats, with 98 percent of North Carolina's votes counted, Republicans still maintained a lead of more than 75,000 votes and won a majority of the down ballot races, largely due to an advantage in early and election day voting.
Based on the tallied votes and polling data created by the election, absentee ballots bolstered  some candidates in North Carolina, but it was often not enough to shift the balance in favor of the Democrats.
In the presidential contest, Joe Biden had a considerable advantage in absentee voting totals but lagged behind Donald Trump in Election Day voting and early votes totals, which were expected to favor the Democrats.
For the U.S. Senate race between incumbent Republican Thom Tillis and Democrat Cal Cunningham, the same pattern followed as Cunningham lost the election after trailing in Election Day and early votes. The U.S. District 11 Congressional between Republican Madison Cawthorn and Democrat Moe Davis also followed the same pattern.
Gov. Roy Cooper shook this trend, maintaining a slight edge in early voting totals and huge margin of absentee ballots, allowing him to win reelection as North Carolina's Democratic governor.
Buncombe County, having the largest city in Western North Carolina with Asheville, voted largely Democratic. Gov. Roy Cooper again out performed other Democrats, taking nearly 62 percent of the votes in the race. While the counting deadline for mail-in ballots ultimately did not give Democrats more victories, the amount of absentee and early votes increased the turnout in Buncombe County by 14.98 percent and North Carolina by 15.14 percent from 2016. 
Although the Republicans held their lead in North Carolina, in other states like Pennsylvania and Georgia, mail-in votes chipped away at Republican leads, eventually allowing Biden to overtake Trump and secure the nomination after he became projected to win Pennsylvania. Each state has different rules for counting ballots and states such as Pennsylvania and Georgia don't allow the counting of absentee ballots until Election Day. North Carolina allows ballots to be counted before Election Day.
"I do think that Federalism, though, in many situations, gets talked about within the like context of  alienating particular groups as it relates to the voting process." Pleities-Hernandez said. "I do think that there's a lot of good that can come out of federalism and leaving some autonomy to the States. But for me, that fundamentally goes back to the Voting Rights Act."

The lack of unified voting rules among the states can lead to problems with disenfranchising marginalized groups by having many rules that specifically target those groups Pleities-Hernandez said. The Voting Rights Act, he said, gives people the right to vote regardless of race but the Supreme Court ruled that states can make their own rules in accordance with the Tenth Amendment.
Pennsylvania's rules on counting absentee votes starting on election day brings further litigation as President Trump attacked the integrity of mail-in ballots, falsely claiming that widespread voter fraud and partisan bias during the tally of votes caused him to lose his lead in Pennsylvania. Some Democrats believe Trump may use these claims as the basis for a legal fight that could allow him to steal the election. 
"I'm not confident in the outcome of the election," said Democratic Party volunteer Deborah Morganthal. "I think that Trump and his lawyers will try to refute when Biden wins. To not accept the results. He knows what his life will look like when he's not elected."
Morganthal, 70, volunteered to hand out Democratic sample ballots on election day at Covenant Reformed Presbyterian Church alongside her two compatriots Liz Sample and Martha Marshall, both of whom echoed Morganthal's views of the president. They said Trump had brought institutional corruption to the government and did not doubt he would act illegally to steal the election.