UNCA esports takes second in Big South tournament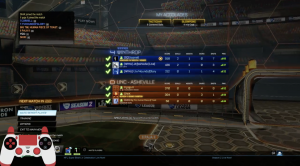 Days before the start of the first-ever Big South Collegiate Esports Invitational on Feb. 2, UNC Asheville seniors Ben Katt, Tyson Hichman and junior Paul Ikenberry wondered if they would even have the chance to play.
Leading up to the Feb. 1 registration deadline, Katt and Hichman showed great interest in representing UNCA at the event, but a problem arose: they needed one more player. Thanks to the rapid means of social media communication and a post to the UNCA Anon Instagram page — a public forum of sorts for UNCA community members to share opinions and ideas — the two managed to find Ikenberry as an eager third member of the team.
Despite coming together at the last minute, Katt, Hichman and Ikenberry did not play like a make-do trio, but instead played like a well-seasoned team.
"As a last minute, makeshift team we did a lot better than any of us thought we would, to say the least," Katt said.
In the newest Big South event showcasing esport competition, UNCA put on an impressive performance to garner second place, falling short to Winthrop in the championship round on Feb. 3.
The tournament featured play in Rocket League, a sports-based video game that simulates a soccer-like game with cars. Like soccer, the team with the most goals at the end of regulation wins (a tied game at the end of regulation goes to overtime to determine a winner).
The three found out about the event through social media, coming across a post publicizing the tournament on the Big South Instagram page in late January. Within a matter of days, Katt and Hichman managed to field a team to represent UNCA at the higher level of collegiate esports competition.
The trio played against three teams Winthrop, Radford and USC Upstate before facing another Winthrop team in the championship round. Despite losing the match 3-0, the UNCA team performed admirably throughout the tournament.
"We made it to the championship game pretty easily," Hichman said.
Though Ikenberry said the three could have played better in the league, they take pride in their performance, especially making it to the championship game where they faced a Winthrop team featuring a professional Rocket League player.
"I feel like we didn't really represent UNCA well on stream, but we did get to that point," Ikenberry said. "That says something about us."
For a team that came together on short notice over social media without any real practice play to understand each person's skills and strengths, Hichman said they competed well.
"We met Paul like a week ago and we somehow made it to the finals," Hichman said. "I think we honestly did really well."
The tournament also gained a large spectator following, coinciding with the general popularity increase in esports over the years. At one point, Hichman said around 15,000 tuned into the Twitch stream – a video streaming website – showcasing the games.
"There was at one point like 15,000 people watching the games, which is quite a lot of people for collegiate esports," Hichman said. "For us to have our name out there and be a part of it I think is really cool."
Hichman said successfully representing UNCA in a large-scale tournament at the conference level can hopefully build the school's esports program as competing in such games continues to rise in popularity.
"I'm just glad I got to represent the school in a big event like this," Hichman said. "I think especially because UNCA esports started to get a little bit of traction that it's good that we were able to actually get into a big event, get into the conference finals and just use that as an example of what the esports program could do in the future."