Young UNCA women's golf excels at Point Bay Classic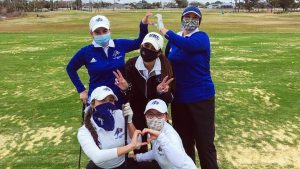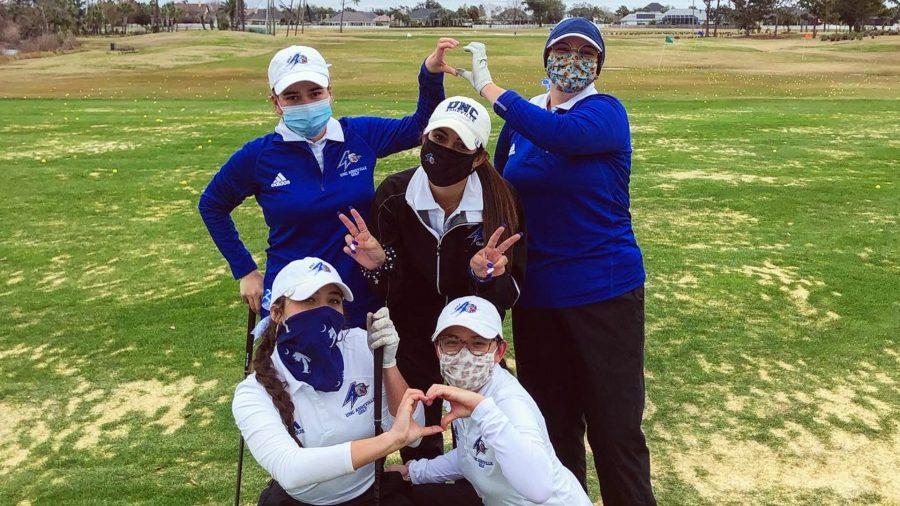 UNC Asheville women's golf Coach Ericka Schneider said she can't help but laugh when her team's young colors come out off the golf course.
A lightning delay during the third round of the Point Bay Classic in Panama City Beach, Florida, on Feb. 9 forced the five freshman golfers to pile in the team van and wait out the storm. While the players watched television on their laptops and phones on the van, Schneider received a text from one of her athletes asking for important permission – permission to leave the van and use the bathroom.
"I showed (the text) to one of my coach friends and she looked at me and she said 'tell me you have an entire team of freshmen without telling me you have an entire team of freshmen,'" Schneider said. "They texted me to ask to use the restroom."
Though the Bulldogs may still feel barely removed from high school, they showed great talent and skill down in Florida during their first collegiate competition.
UNCA finished fifth in the nine team field at the Point Bay Classic to open up the season on a high note. Freshman Phoebe Carles led the way with a ninth place finish individually, shooting 11-over-par (155) in her collegiate debut.
Madyson Gold and Anna McDonald, also freshmen, rounded out the top three for the Bulldogs, finishing tied for 26th and 29th place.
"This is their first experience, so everything is new, everything is fun," Schneider said. "It's been really, really fun for me."
For most of the team, the competition marked the first time many had played in a tournament in months. The COVID-19 pandemic forced the cancelation of various competitions within the past year, and Schneider and the players said they felt thankful to get the chance to step out on a course for the first time in what seemed like forever.
"I kind of forgot what it even felt like to compete in a tournament, so it was such a blessing that we were able to go and get back on the course," Carles said.
Players did have to follow a different playing format in order to reduce possible COVID-19 exposure. Normally, a golfer would get paired with athletes from two other teams to play with during each round, but due to COVID-19 restrictions, golfers played solely with their teammates.
Scheider said though tournament play differed from competitions before the pandemic, she enjoyed the personal coaching she could give to each of her athletes thanks to the revised playing format.
"For me, it was a great experience to be able to coach such a young team because it gave me accessibility very easily to all of them," Schneider said.
The performance of UNCA at the tournament turned heads of those within the Big South conference. Carles' stellar debut earned her Big South Women's Golf Co-Freshman of the Week honors along with Campbell's Sanna Lundmark.
Carles said she felt unsure whether or not she could compete with her opponents going into the Point Bay Classic, but recognized her abilities once she began play.
"To finish and be like 'shoot, I can hang with these people and compete with these people and not feel like I even played my best' was encouraging," Carles said.
Having a team consisting of all but one freshman creates a rather unique team environment, something Schneider said she finds refreshing. Though she said coaching a young team challenges her, she loves the drive she sees in each of the athletes.
"The culture and the work ethic and the passion that they have for the team is so different from the team that I had previously," Schneider said. "There's no bad as far as before or now — it's just different."
For a team full of freshmen, return to competition gave them a sense of normalcy during an otherwise strange introduction to college life. A freshman year marked by social distancing and mask wearing doesn't always make for the fun times that many associate with their first year in college, but Carles said it's more important to her and the team to have the ability to compete safely.
"Because we're such a small team, if one of us is affected (by COVID-19), it affects everybody and it could potentially put us out for a month," Carles said. "But it's worth it for us to compete."
Looking forward, the team has goals in place to accomplish, some of which they already met at the Point Bay Classic. They hoped to open the season with a team finish in the top five – a goal they successfully achieved – and the golfers said they hope to produce similar results during the rest of the season.
UNCA looks to continue the season on March 1 at the Kiawah Island Classic in Charleston, South Carolina, as well as defend their 2019 team title at the Pinehurst Women's Intercollegiate at the end of March.
"We can only go up from here because none of us have really played our best," Gold said.
Though young and new to collegiate competition, the UNCA women's golf team will look to continue making their mark out on the golf course.
"I could not be happier and prouder of the team that I have and how respectful they are of each other's passion for wanting to compete and their willingness to stick to the protocols that we have put in place, and obviously they're working," Schneider said.