by Alex Milstein – Staff Writer – [email protected]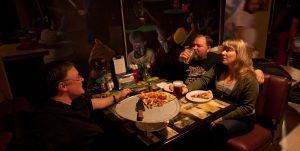 Craft beer lovers, make way for New Belgium Brewery. Asheville City Council members were unified in their decision to approve the new brewery. Expected to open in 2015, New Belgium's nationally known name contrasts with the locals-only theme in Asheville, and is creating conversation among citizens and beer lovers.
Gordon Smith, a member of Asheville's City Council, said extensive work and planning went into this approval.
"This was a big, team effort," Smith said. "As New Belgium went through their search process, they talked with leaders from the city, county, Economic Development Coalition of Asheville and Buncombe County, the N.C. Secretary of Commerce, Gov. Bev Perdue."
According to Smith, after narrowing site options and negotiations regarding incentives ensued, New Belgium decided upon a brownfield, formerly a stockyard auction, along the French Broad. Since City Council's approval, Smith said New Belgium has been working closely with neighborhood and city partners to make everything run smoothly for the opening.
Smith also said he is very excited about the opening of New Belgium Brewery. "New Belgium Brewery's decision to locate their factory here in Asheville is thrilling," Smith said. "This transformational project will accelerate the city's riverfront redevelopment goals, bring $175 million of new investment, add 150 well paying jobs and bring the city into partnership with a company that shares so many of our community values."
New Belgium will contribute $550,000 annually in property tax to Asheville, making it very beneficial the local economy, Smith said. Aside from transportation issues, Smith thinks the building of New Belgium will greatly help Asheville.
"I have the good fortune of living about one-eighth mile from the site, and I'm looking forward to having a few Ranger IPAs at their tasting room," Smith said.
Erin Canady, an employee at Jonas Gerard Studio in the River Arts District, is a fan of local beer. "As long as they don't have a negative impact on the local microbreweries, I don't have any negative feelings towards them," Canady said.
Canady suggests bringing New Belgium may even have a positive effect on microbreweries.
"The general population of Asheville that loves good beer isn't going to stop buying Highland or Pisgah just because New Belgium is in town," Canady said. "It may even bring in more of a profit to smaller breweries in the area because it's a big name, making Asheville an even larger presence as 'beer city' and, as a result, bringing in more tourists."
"I think the fact that New Belgium chose this area for their location was a good business decision on their part. They are going to make a ton of money. I think that they are making a conscious effort to address the concerns of the River Arts community, but their negative impact there is unavoidable," Canady said.
Canady also fears making the River Arts District commercial will defeat the original purpose of the area.
"The reason the River Arts District is important and has been a significant part of what attracts people to Asheville is the fact that it is based on the idea of revitalizing old buildings for affordable studio space to artists who are upcoming and trying to make a living.  If rent increases, the entire nature of the district will change."
Jack Woods, head brewer at locally owned and operated Greenman Brewery, said he is indifferent to the opening of new breweries, and feels there will be little negative impact.
"I don't care if big breweries open," Woods said. "We do what we do, and people like it, so we are really not worried."
Woods realizes it will be good for the city and create jobs.
"With the amount of breweries in the area, it's no new thing for us when another one opens. Asheville is so diverse that we know bigger names will not bring down the littler guys," Woods said.