UNCA's drama department's new take on the Three Little Pigs
Aubrie Holcomb
Contributor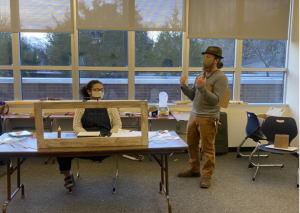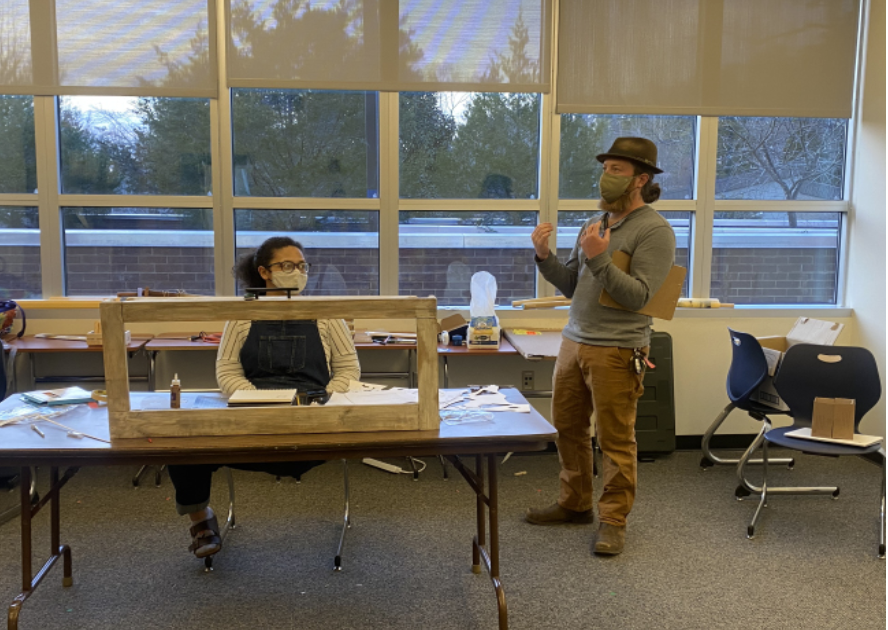 Not only is toy theater itself a form of non-traditional theater, the rehearsal process has been anything but typical. UNC Asheville's drama department takes on a non-traditional form of theater with their upcoming performance of Three Little Pigs and The Red Line.
"It's using toy theater to tell a story that we all know, but telling it in a new way inspired by the history of redlining and urban renewal in Asheville," said Aaron Snook, director of the play.
The project came to fruition after much brainstorming and scrapped ideas. Under the restraints of COVID-19, toy theater seemed like the best idea, according to Snook.
"The idea was inspired by something I do over Christmas that is usually done in person, and then we pivoted to film it and then we live watched it with an audience, curated a conversation afterwards and it was really successful. So I was inspired by that and wanted to do a project like it," Snook said.
The project was many years in the making, and lended itself perfectly to the medium, according to Snook.
"This three pigs adaptation had already been on my shelf, something that I had written four years ago with the idea that it'd be a podcast and it just kind of lent itself perfectly to toy theater. It felt very serendipitous," Snook said.
Within the restrictions of COVID-19, traditional roles and responsibilities of a typical theatre crew have had to change for this process, according to Snook.
"The roles are loosely defined for us, and it is based on our normal process, but this isn't a normal process. Even my role as director feels a little bit more like a curator. I'm curating the process. I'm going back between a puppet making team, a set making team, a film team and a sound team, and just trying to curate everybody's work right now," Snook said.
Bronagh O'Shea stage manages the rehearsal process.
"I'm a stage manager but it is completely different from usual stage management. I'm downstairs most of the time making the set. I'm not having a pencil with me most of the time. It's just a very different approach. This is my first time stage managing so my first time is not traditional," O'Shea said.
Due to audience restrictions, the play will be pre-recorded over Zoom. This brings its own set of challenges, according to Snook.
"This phase of the process is going to end in a week, and we are going to go to the theater and start filming. It'll be a completely new ballgame. This is very atypical, very non traditional, in that way both exciting and hard," Snook said.
According to O'Shea, the pandemic affected the rehearsal process, making its assembly different from previous theater experiences.
"The whole thing about theater is being in the room with people, and we can't be in the room with people, so that lack of that has been a challenge," O'Shea said.
Jada Smith, a member of the puppet crew, said although the pandemic brings uncertainty, the process remains enjoyable.
"Overall, we have been conquering the pandemic as far as rehearsals. The main thing that has been stressing us out was with the cases increasing and how school must respond. Everybody nowadays is so uncertain about what could happen and a haunting feeling that school could be canceled at any minute," Smith said.
Regardless of pandemic related restrictions, actors and crew remain hardworking, according to Smith.
"During the first couple of weeks, it was just digging into the story, getting to know the characters, the setting and how we thought the puppets should exist, how we wanted them to look and the set. It wasn't until the third week where we got in-person and started to do hands-on things. The best thing is everyone's broken up into their own crews and everyone has their own role and job. Everyone has done a good job maintaining a good work ethic," Smith said.
As for the performance itself, it will be a 30-minute Zoom performance with a guided conversation afterward, according to Snook.
"The live part will be a conversation afterward and we are hoping to have some special guests from the community to respond to the piece who know the history very well and are working in the community now dealing with the ripple effects of the history," Snook said. "This piece is meant to spark a conversation around the deeply complicated history of our town and of the Black community during redlining and urban renewal and the serious effects it still has today."
The Three Pigs and the Red Line performances will occur on Zoom on April 16 and 18. Tickets are donation-based and can be found on the TheatreUNCA website, according to O'Shea.
"There will be a link you can sign up and register on Zoom," O'Shea said.
The show should be enjoyable to audiences of all ages, according to Smith.
"Everyone will like the show because it's a classic story and a children's toy theater piece. Everyone will enjoy the childlike nature of what is going on. It's like adults watching cartoons or animation. It's something nice to look at, very colorful," Smith said.