Avant-garde filmmaker pushes the limits of creativity
Marisol Melchor
Arts and Features Writer
[email protected]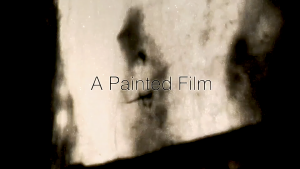 Tristan Turner's experimental avant-garde film, "A Painted Film" has no script and no actors. The experience lies simply in the act of watching, giving the audience absolute freedom to interpret the film.
Turner's film premiered on Aug. 27, the opening night of the Cat Fly Film Fest, an annual indie film festival held at the Funkatorium in Asheville, in the after dark living gallery.  Receiving recognition at film festivals is not new for Turner, although this is the first festival where he utilizes a narrative focus in his film.
"This was the first film festival that I've been in that I have been able to be a part of in-person, which was significant that was a cool experience. The other film festivals I typically made it into are international film makers. I've been in festivals in Colombia, Mexico, Prague, Croatia and Italy," Turner said.
Originally intended to be practice on painting film for an upcoming project, "A Painted Film" is a short, three-minute experimental film made from bleached and hand painted frames from footage of people eating at a restaurant. Turner, a master's degree seeking student at the University of North Carolina at Wilmington, does all the editing, directing, painting, and film manipulation himself. Turner said he enjoys experimenting with the physical manipulation of the film itself.
"There's a lot of ways you can manipulate the film, you can pretty much do anything as long as it doesn't stop the film from going through the projector and running. You can paint it and bleach like I did of course with 'A Painted Film,' you can poke holes through the film, burn parts of it, add dirt, fluids, all sorts of things," Turner said.
During Turner's artistic process, he bleaches the film until the celluloid turns transparent. Once it's ready, he hand paints every shot of film. According to Turner, this was his first time working with paint, as he had no background in painting. Part of Turner's creative process is trusting his instinct and going for it, especially when it comes to his more experimental work.
"I have another film series lined up where it's going to be a series where I'm photographing different bodily fluids and making film out of them. Every single one of them that I can imagine, so I'm talking obviously like blood, saliva, plasma, snot, anything I can feasibly get. I have a microscope and I plan on photographing the fluids and then transferring them over to film so I can paint on them," Turner said.
According to Turner, the inspiration for the film as well as the ambient music in the background originates in his multifaceted approach to media appreciation. Turner does not limit himself to any one place when it comes to inspiration. When something catches his attention he writes it down to use for later.
"I learned a valuable piece of advice, which is to always write any idea down. It might not even be the film itself in particular. I might be watching a film and I might just see two seconds of something that inspires me, maybe there's a shot of water and the way the light catches it is really high contrast, so I get inspired by little pieces of film that I see," Turner said.
Although Turner doesn't necessarily use emotion as a point of view in films or as a way to provoke the audience, he does acknowledge that interpretation of emotion or feelings can be a part of the viewing experience. Turner said lately the emotion that has found its way into his work is anxiety.
Ivan Alexander, a Cat Fly Film Festival attendee who saw Turner's screening, said he interpreted Turner's film as an experimental form of sensory activation rather than an emotional or visual experience.
"It did not trigger any memory or association with identity, no relatable theme or morals or life experiences. I wonder if the speed of sound was meant to alter the way the visual was perceived as the video progressed,"Alexander said.
Rachel Leslie, a local novelist who attended the film festival and viewed Turner's screening. A big part of her experience as an audience member was psychological sensations rather than sensory detail.
"There was a sense of stagnation, maybe. It made me think of that feeling when you want to say something or have something to say, but the words don't come out, or like when you have a creative block, like when I have an idea of what I want to write but I just can't get the sentences out. Something about it just made me feel anxious," Leslie said.
In past, present and future works, Turner hopes to stimulate people and their minds about the different types of mediums and experimental aesthetics. He wants his films to merge different mediums of film technology in hopes to create an impactful combination of different mediums so he can create a new singular experience for his audience.