by Shanee Simhoni – Staff Writer – [email protected]
A liberal arts education develops skills that help students prepare for graduate school and employment, but students need to learn to market those skills, according to UNC Asheville Career Center staff.
"As a college student, you get to do research, you get to write papers, you get to do internships and take coursework that's going to translate into skills you're going to use on the job," said Katherine McGee, a career counselor at the UNCA Career Center.  "I think the key is knowing how to market that experience and market yourself to employers and graduate schools."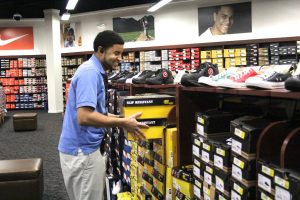 Counselors at the Career Center focus on teaching students to present their experiences and skills by telling their stories, a method that puts students' specialized knowledge into context for employers, McGee said.
"Having had to take so many different classes in subjects I wouldn't have normally explored, I was exposed to a variety of different ways to see and explain the world," said Caitlin Barrett, a senior religious studies student at UNCA.
Skills and knowledge accumulated in the classroom holds just as much relevance as internships and paid jobs, said McGee, an Asheville resident.  Students need to understand how to transfer those skills onto a resume, including talents acquired from attending a liberal arts institution.
"It will provide a much more diverse education with actual experience in other studies to help students succeed in their future careers," said Mindy Aiken, a senior accounting student at UNCA.
Studies show CEOs prefer liberal arts graduates to others because of the skills they acquire at school, but any college degree is helpful in a job search, McGee said.
"Approximately 20 percent of our job-seeker customers have a bachelor's or post-graduate degree, and approximately 20 percent have a one-year diploma or two-year associate degree from a community college," said Ellen Westbrook, the coordinator at Mountain Area JobLink located in Asheville.
Eighty percent of UNCA students looking for a full-time job after graduation found one within six months of graduating, with more than a quarter reporting jobs in the same field as their major, and almost a third reporting a job in a related field, according to a 2011 UNCA alumni survey.
"Some students value stability and benefits over other things, so it might be that they choose to take a job that might not be directly related to their major, because their values are they want an 8 to 5 position they know is going to be there with great benefits," said McGee, a Raleigh native.  "There are a lot of different ways to be happy in terms of career development."
At the time of the 2011 alumni survey, almost three-quarters of UNCA graduates worked paid, full-time jobs. Less than 17 percent worked part-time for pay and about 10 percent had no paid job, according to the survey, which focused on students who graduated in 2000-2001, 2005-2006 and 2007-2008.
"I honestly will not accept just any job upon graduation.  I am looking for the right job for me.  I think too many college students give up too easily on finding what they are looking for," said Aiken, who was born and raised in Asheville.  "I am also flexible with where I live, and that makes a big difference when finding the perfect job."
Values play a crucial role in finding the perfect job because different areas provide different job opportunities, McGee said.
"There are occupations that are in demand in Raleigh or Boston or Atlanta that aren't in demand in Asheville and vice versa," said Westbrook, who manages employment and training programs.  "It depends on the types of industries in each area, the number of companies in each industry and the number of employees they have in various positions."
In Buncombe County, the top employers are Memorial Mission Hospital, Ingles Markets, Buncombe County Board of Education and the Veterans Administration, according to Workforce In-Depth, a 2013 study conducted by the Employment Security Commission of North Carolina.
"Some students will come in, and they just want to make a lot of money, and they don't care where they live and they don't care what they do or if it's related to their passion," McGee said.
While a liberal arts education develops critical thinking skills, creativity and the ability to see the big picture, any college degree is mandatory in today's competitive job market, Westbrook said.
"There are some fields that absolutely require a specific college degree.  It could be a two-year degree from a community college, or it could be a four-year degree, and often, these are the degrees that are more likely to land you a job more quickly," Wesbrook said.