By Cailey McGinn
Contributor
[email protected]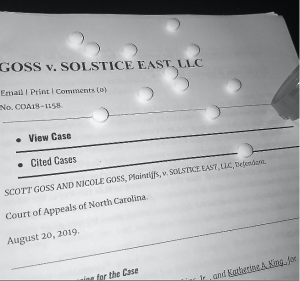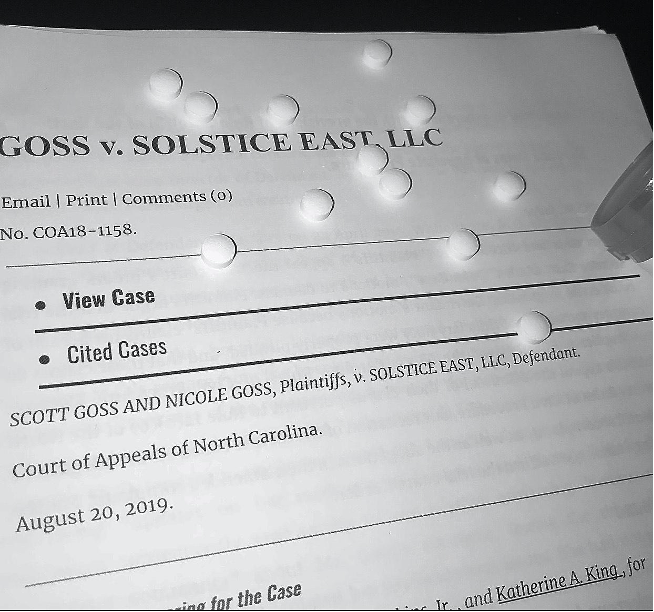 A former resident at a local reform school overdosed on prescription drugs, prompting the Goss family to file a lawsuit against the school, Solstice East. 
The lawsuit involved a former student of Solstice East being over-prescribed medication. The lawsuit alleges Solstice East prescribed the resident five times the appropriate dose of the prescription drug Lamictal.
"I know a lot of moms and family members who have sued rehabs and things like rehabs because they send their kids there and when they come back home they find out their kids have been way over-medicated, just like everything they don't need but times 10. It's kids, it's just not right," said Andrew Cook, housing specialist for Homeward Bound.
Cook, a 25-year-old and lifelong Asheville resident, works for Homeward Bound, a resource for chronically homeless people. Cook said he interacts with people on drugs and people abusing prescription medication on a daily basis.
Cook said he had a positive experience in alternative education in high school but knows about a former classmate and friend that has a negative experience. Cook said his friend was woken up in the middle of the night by two strangers taking him to a reform school. 
"When he was in high school he started doing drugs. His parents caught on. They sent him to this crazy wilderness camp out in the middle of nowhere. In the middle of the night, two big dudes packed him a bag and made him get into a car," Cook said. 
Solstice East, a residential treatment center for young women of ages 14-18, opened in 2012. The school, located near Weaverville, specializes in gender-specific treatment for female adolescents who struggle with a variety of presenting problems. 
Solstice East, located at 530 Upper Flat Creek Road, Weaverville, North Carolina, began as an expansion of Solstice West, which opened in Utah in 2008. 
Solstice East officials said they specialize in treating girls struggling with trauma, attachment, loss and addictions. They also treat girls with depression, anxiety, addiction and substance abuse, eating disorders, self-harm, suicidal ideation, ADD/ADHD, adoption and attachment issues, family conflict, academic problems, processing difficulties, social anxieties and emotional distress.
The former resident filed a lawsuit against Solstice East, claiming medical malpractice, breach of contract, unfair and deceptive practices and breach of fiduciary duty. The lawsuit alleged that Solstice East prescribed the resident five times the appropriate dose of the prescription drug Lamictal for two consecutive days during the second month of her treatment. 
47-year-old Dr. Laura Fish studied at Duke University and finished her doctorate in 2007 specializing in medical research. Her main area of focus is the long-term effects of smoking. 
Fish said Lamical can be used as a mood-stabilizing drug, often prescribed to people with mood disorders. 
"Drugs such as Lamical and other mood-stabilizing drugs are often used to treat bipolar disorder and certain kinds of seizures," Dr. Fish said.
Dr. Fish said these medications, when prescribed in excess, can make people disoriented and not themselves. She said mixing these medications with others can also deeply affect childrens' and adults' well being. 
"Poly-pharmacy is when people take multiple medications. They are taking medicine that may influence the other medications they are taking. This idea of kids in reform school is a great example of this. Their parents are not monitoring the medicine given to them every morning or night. They might get one thing from one provider and something else from another. No one is cross-checking," Fish said. 
In the lawsuit, Solstice East said they became aware of the initial overdose two days prior to the girl's hospitalization. After she was admitted to the hospital, the defendant informed the plaintiffs of the overdose. At the time of the overdose, the then 13-year-old resident was diagnosed with major depressive disorder, attention deficit disorder and attention deficit/hyperactivity disorder. 
After the resident returned from the hospital, Solstice East continued to administer a dose of Lamictal in excess of the recommended amount for two months. The 13-year-old exhibited bizarre and irrational behavior and hallucinated.
Legal Assistant Ivan Melchor from Charlotte conducts legal research, interprets for Spanish-speaking clients and helps provide resources to clients. He works primarily with Medical-Legal Partnerships, which work at the intersection of health care and law to identify how legal aid can affect how circumstances such as unsafe housing or access to benefits programs can improve social determinants of health for patients. 
Melchor said this lawsuit pertains to medical treatment and the plaintiff could seek damages.
"The plaintiffs seek damages solely on the basis of the medical treatment. While the point remains that the breach of contract stems from medical malpractice, I do feel that breach of fiduciary contract could be interpreted as independent of medical malpractice if a more liberal or loose interpretation was applied, particularly E & F," Melchor said.
The legal assistant said the case concerns a minor, so it's more complicated in a few ways. The reason being a lack of cases to provide a context in the legal sense.
"It's difficult to say without other cases to provide a context. Certainly, the circumstances that led to this case were heavily influenced by the age of the minor," Melchor said. 
Cook said parents should do ample research before sending children to places like Solstice. He said he understands that parents, most of the time, want what's best for their children. 
"I can understand why parents would be drawn to this school, it promises a better life for their daughters. They should not be fooled by the serene farm fairy-tale setting. I have heard horror stories about this place. One quick Google search can tell you pretty much anything you need to know," Cook said. 
The Homeward Bound staff member said there is an epidemic of reform schools abusing teens in this country.
"These places are private and don't let the public see inside. They make boatloads of money by lying to parents about what really goes on. That's not to say every single school or program is abusing people, but more of them are than you can imagine," the 25-year-old said. 
The case was dismissed due to the plaintiff's argument for damages suffered arising from the breach of contract Solstice required them to sign.
Melchor said he's not surprised by the outcome but disappointed by it. According to him, justice has not been properly served.
"Within the confines of the case and the North Carolina laws pertaining to medical malpractice, it would seem difficult to make an argument overturning the decision that was reached in this case. However, that indicates to me that the law must be modified, not that justice has been achieved for this family," the legal assistant said. 
Melchor said he got into his line of work to help people like the Goss family. He said he is often disappointed and upset when ordinary people and families do not get what is owed to them.
"Disappointing that a clear mechanism does not exist to differentiate between medical malpractice and breach of contract within the realm of health care. My immediate fear is that it creates a gap in protections for cases where it is unclear if the benchmark of medical malpractice has been met but where something has clearly gone wrong," Melchor said.