Snow Day Invites Students To Bring Out Their Inner Child
The first snowfall of the spring semester at UNC Asheville brought happy memories and joy to campus after snowing almost 6 inches over the Martin Luther King Jr. holiday weekend right before the start of in-person classes. Laughter cut through the crisp air while people were outside enjoying the winter wonderland. 
"On the first day of the snow we walked around and looked at all of the snow, and today we are going to make snow cream with some friends." said Sarah Ofsonka, a current student at UNCA, on Monday Jan. 17. 
Many students were enjoying the day on Sunday, Jan. 16, being seen around campus sledding and making statues, making snow cream and other snow delicacies as well as walking around to take in the sights of a beautiful snow-covered mountain campus. 
People on campus bundled up with scarves, hats and mittens while outside in the snow to stay warm and do activities without getting frostbite.  
Students said the fresh blanket over the campus was a fun sight to see for all.
"The snow was really cute, and I have seen snow before, just not this much," Ofsanka said.
Some students, like Abigail Sgan, a UNCA sophomore and environmental studies major, went outside with roommates and friends in the early morning during the first day of snow and played. The following day, with a small fraction of snow melted, Sgan said she decided to focus on her education and study for classes. 
"I kind of took a chill day on Sunday because it was a long week and so I went outside with my roommates and we played some," Sgan said.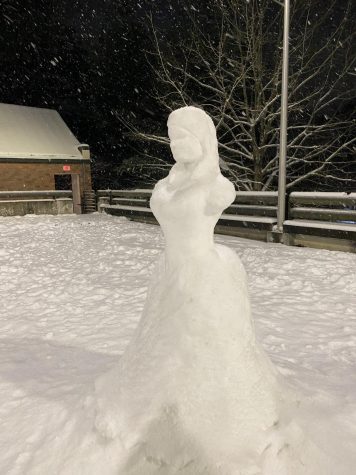 The snow from Winter Storm Izzy was the most that the school had seen in quite a while, only getting a few inches last year. In 2020, with the switch to remote learning during the pandemic that forced students off campus, students could not enjoy any snow on campus. 
"I have not seen snow like this in a really long time, and I remember it snowing last year here a couple of times, but it was not nearly as cool as this," Sgan said. "This isn't my first snow, but it definitely one of the biggest snows I have seen."
Much of the untouched snow took the longest to melt with some areas remaining on the ground for most of the week.
"We went to the back quad area because it had untouched snow and no one was there and it was really nice," Sgan said.
The snow also caused some issues with traveling and coming back for in-person classes with many students seen returning all throughout the day before the winter storm.
The large amount of ice and black ice that formed on Campus Drive froze over on Monday night into Tuesday morning.
According to an email sent by Student Academic Affairs, classes and campus operations continued to operate on a regular schedule starting Jan. 18, even though much ice and snow remained on campus well past the weather event. 
The heavy snowfall from the winter storm was the talk of the campus and surrounding areas after it covered the campus and brought on tons of fun activities for people to enjoy. Plenty of students were seen with sleds and snowboards while others had to get creative and used different items like trash bags, garbage can lids and empty tubs to play in the snow. 
"So far we have been sledding for a couple hours, did a snowball fight earlier, and then because of that, I came and met all of these new people." said Luna Little, a senior at UNCA who was outside playing with a group of people in the snow. 
Remy Bifeild, a UNCA student, also participated in the sledding group and said going down UNCA's hills made for a fun experience, including the hill behind Ponder Hall and Mills Hall. UNCA has many inclines and hills spread out throughout the campus. Perfect for sledding and amazing scenic photos. 
"I am a senior, and freshman year we had at least 5 inches of snow, but nothing compared to this, plus I wasn't on campus so I didn't really get to play in it that much," Little said.
The atmosphere on the UNCA campus was friendly, warm and inviting on the snowy holiday weekend, bringing out the inner child in some and the very artistic side in others. Art is a skill students brought with them into the snow with captivating sculptures, flawless snowmen and igloos to hide in during snowball fights. 
"The snow is really nice," Little said. "It really brings everyone together under good circumstances. Mainly it really brings out everyone's inner child."