Blowers Gallery exhibition displays Harry Malesovas and Samuel Joyner's juxtaposing artistry
UNC Asheville's library serves as both a resource and an asset to the campus. Apart from housing an abundance of literature and research material and providing the necessary study space to students, it also curates opportunities for UNCA artists to share their talents with the community. 
"Exhibits at the library are selected by a standing committee of library employees, aiming to represent the whole campus community by selecting art from students, faculty, staff, alumni and community members," said Jhierry Lewis, a library technician at UNCA with a background in ceramic arts. 
The current exhibition gracing the shelves and podiums of Ramsey Library's Blowers Gallery, which will be displayed through Jan. 31, features clay work by alumni Harry Malesovas and current Bachelor of Fine Arts student Samuel Joyner. 
Malesovas said his life has always circulated around art. From a young age, pen, paper and paint were his mediums of choice. As he began his college career at UNCA, he said his first art class, 3D design, altered his creative path. 
"During this time, my 2D and 3D work began to take on a symbiotic relationship in which I would transform my drawings and paintings into sculptures," Malesovas said. "This only continued to blossom over the years as I now constantly alter between painting and ceramics, bringing similar themes and style through both mediums." 
Malesovas said much of the style and technique he continues to use in his current work is credited to his experiences as a student and meaningful interactions with faculty.
"I was encouraged to make large works fueled by my unique vision. I think some people would not have approved of my style and snuffed out my passion. The art department at UNCA instead cradled it and let it grow," Malesovas said. 
Joyner said he grew up in a family who dabbled in a multitude of creative fields, but he  didn't begin ceramics until his first year at Warren Wilson College. After taking time off from school and exploring other higher education options, Joyner found his way to UNCA. 
"I have a very close relationship with the art department here, going through the BFA program. It's pretty rigorous and it's frustrating and stressful, but they really push you here. It's one of those things that can be very overwhelming, but I know I'm going to leave this school way more prepared for whatever else I do with my art," he said.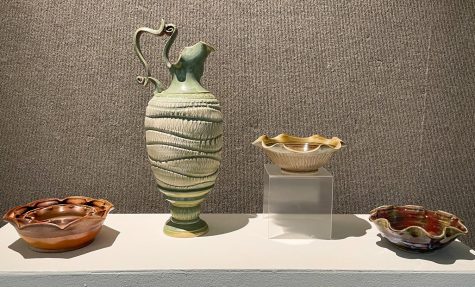 Lewis, who knows both Malesovas and Joyner, said after members of the library's exhibit committee viewed the works of both artists, they inquired about a collaborative show between the two.
"I thought this show was a great idea because the work contrasts so much," Joyner said. "The reason I think it goes so well together is because it shows just how much you can do with the material. Our work is vastly on opposite sides of the spectrum." 
Both artists chose to include works previously featured in their BFA shows. The exhibition unifies the ornate functional pieces created by Joyner with the colorfully surreal sculptures produced by Malesovas through their composing material alone: clay. 
"My current body of work focuses on specific events which have shaped who I am today. Each sculpture, drawing and painting serves as a portrait of the inner me at influential moments in my life," Malesovas said. "The imagery composing these works are drawn by retrospectively observing periods from my life that I want to further understand."
While Malesovas draws from internal conflicts and past experiences to create his monstrous sculptures, Joyner said he searches for inspiration through his own work and the works of others. Outside of pottery, he said his experience with furniture building and antiques dealing has influenced many of the forms utilized in his pieces. 
"I utilize social media a lot for inspiration from other artists and I have albums with ideas to try. When I'm getting ready to make something, I'll often scroll through and see what I've been wanting to make but haven't tried yet," he said. "I like making things that are really fancy, things my own lifestyle doesn't really fit. It's kind of paradoxical, but I really like making items I'm afraid to use."
Both artists have been featured in the art department's ceramic studio and Owen Hall's S. Tucker Cooke gallery. In addition to campus exhibits, more information can be found through their social media platforms and websites. 
"Displaying students' art gives students a chance to show off their hard work and garner experience for their burgeoning professional careers," Lewis said. 
The two vastly different and independent styles shown at the Blowers Gallery are rooted in self-discovery and faculty support, but Joyner said an intrinsic aspect of the process is to always be creating. 
"It's so important to make work. Just keep making work. And they'll tell you this a million times because it's really the only way to hone in and start creating something that will set you apart from other artists," Joyner said. "The way to make unique work is to make so much stuff to where you finally start to find the things that make your work yours, where someone can pick up a piece and know it's yours without looking at the bottom of it." 
For more information on Samuel's work, you can find him on Instagram @Samueljoyner or through his website, http://www.samueljoyner.com. 
For more information on Harry's work, you can find him on Instagram @Chum_art or through his website, https://www.chumart.online