Craig Gorton digs himself out of an intoxicating past
Seeking refuge in temples to escape the looming threat of wild dogs, Craig Gorton found himself in a state of moral decay in the heart of Bangkok.
According to the Addiction Center around 554,000 people are homeless in the United States and around 38% of people experiencing homelessness are alcohol dependent. Craig Gorton, 34 and owner of Found 'Em Fishing, found himself trapped in this staggering statistic, but with the push of family and friends Craig is nearing five years without alcohol, recently purchased his own house and is enjoying life with his new business.
"It turns out I was a strong person this whole time and I was sick. I had issues mentally that I had suppressed, and I was unmedicated. So, I self-medicated because I couldn't handle my problems like a man," Gorton said.
Growing up as an only child in the rural mountains of Vermont, Gorton said he was an extroverted child and lived a seemingly normal adolescence. Although, with an addict mother and a father who came out as gay when Gorton was 12, he said he didn't grow up in a healthy family home.
"I grew up in a polite household meaning I never heard my parents argue, but I knew they were very unhappy," Gorton said.
As Gorton's family split between neighboring towns, he said he spent his high school years hanging out with friends and coping with his now distant relationship with his father.
"Until that point, I was completely normal. I would drink a couple beers and smoke some blunts," Gorton said.
One summer after high school Gorton said he met a girl named Ying from Thailand, who was in America on a work visa. The two developed a romantic relationship as her visa's expiration approached, and she was forced to move back to Thailand. Wanting to continue this new relationship, Gorton said he saved all his money for the next three months and purchased a plane ticket to Thailand to visit her.
"I jetted out there for 90 days and it changed my entire life. The food, culture, traveling and language opened my eyes and I realized I needed to get the hell out of Vermont," Gorton said.
After Gorton's three-month escapade in Thailand, he said his love for Ying only grew as well as his initiative to get out of his rural town in Vermont. Gorton returned to his hometown and spent the next 15 months working and saving every dime, until he finally purchased yet another plane ticket to Thailand.
"I bought a six-month ticket to Thailand and I didn't come back. I stayed there for six years," Gorton said.
Four short months went by and the relationship between Ying and Gorton came to an end. Gorton said the U.S. dollar goes a long way in Thailand, so he spent the next year traveling, partying, drinking and learning the language.
"When I found myself in Thailand, I was held completely irresponsible for my actions," Gorton said.  "I was in vacation mode. I was away from the real world as I knew it. I started to drink more. It was a social lubricant because I felt so awkward all the time with people speaking a different language."
After two years lapsed and Gorton was nearing 24, he said his drinking and partying worsened and he was almost out of money. Gorton said he took his last $1000 to get a certificate to teach English as a foreign language. Gorton's teaching experience was short lived, but he said he managed to get by.
"At that point my drinking was out of control. I was losing jobs, going to school drunk from the night before, drinking at school and a slow steady decrease of me not being able to manage my life because of alcohol," Gorton said.
Trying to keep himself off the streets of Bangkok, Gorton said he turned on his charm as he saw an older Thai lady, Nuse, depositing a large amount of cash at the bank. To Gorton's surprise, Nuse agreed to meet with him for dinner later. Gorton said he came to find out Nuse was married to a British man with the agreement she would care for him until he died.
"From that point on, my last two years in Thailand I was kept. I had my rent paid, outfits bought for me, taken on vacations and given allowances," Gorton said.
Besides supporting Gorton financially, Nuse was also trying to help him get his visa to continue living in Thailand as his was nearing its expiration, but Gorton said the exchange between the two ended up not working out.
"Things tragically ended with Nuse and I was found homeless again. I was homeless for two months until I got to reapply for citizenship in America," Gorton said.
For the remainder of Gorton's stay in Bangkok he said he spent his nights trying to get free drinks at local pubs, climbing buildings to get away from relentless stray dogs and sleeping in temples, where he was given bowls of rice from the monks. Gorton said the only downside about the temples was that you couldn't come in intoxicated.
"That last year I spent in Thailand, I spent it trying to quite literally drink myself to death," Gorton said.
Gorton finally touched down in the U.S. after his six-year journey came to an end. Gorton said he had difficulty adjusting to being back in the states and only left his room for a trip to the liquor store.
"I went from 105 degrees and 100 percent humidity in Thailand to -15 degrees on Jan. 15. I was heartbroken, miserable, failed and fall-down-drunk," Gorton said.
Unable to stop drinking, Gorton said he reached out to his father, who he had lost contact with since he left for Thailand. Gorton's father was living in Asheville and offered to help him get sober, so Gorton packed a backpack and headed to detox in Asheville.
"I went to detox and rehab for the first time. I was there for three months, got out and went right to the liquor store," Gorton said.
Not understanding the severity of Gorton's addiction, Gorton said his father didn't know how to help him since he did not want to receive help.
"For the next year I lived in Asheville it was homelessness, jail, detox, rehab– four times in a year," Gorton said.
Finally, after the fourth time in jail and the judge threatening to sentence Gorton to 90 days, Gorton said he decided to get sober and stick with it.
"I did the right things. I stayed in the sober living house and went to meetings every day for 100 days, three times a day," Gorton said.
Getting sober was no easy feat Gorton said, once you don't have the crutch of alcohol to mask your thoughts, you're left with all the memories of what you've done and how you've treated people.
"That's one of the hardest reasons to stay sober for people new in recovery because they can't handle those thoughts by themselves and they just need to escape it," Gorton said.
Gorton spent his first three months sober working on himself and attending meetings. Gorton said he didn't want to risk his sobriety, so he waited until after his three-month mark to get his first job, which was Isa's French Bistro.
"Fast forward two-to-three years,I realized when I was sober I was really good with money. It was one of the things I promised myself with sobriety that I would never be financially unstable again," Gorton said.
Trying to make up for lost time, Gorton said he learned how to pay his phone bill for the first time, fixed his credit score and saved all the money he could.
"I lost all those years when you're supposed to be an adult off being a child on the other side of the world," Gorton said.
April 5 marks Gorton's fifth year sober. Gorton said the past four years he has worked on making sure he doesn't stay complacent and continues to strive for what he wants. In the past two years Gorton bought his first house and started a kayaking and fishing guide service, Found 'Em Fishing.
"I hope my story is a testimonial for people who feel like they're worthless and helpless. If you continue to do the right thing every day and be a good person and surround yourself with like minded individuals, that's everything," Gorton said.
Lauren Hines, Gorton's partner, ran into him a year into his sobriety and they have been together since. Hines and Gorton lived in neighboring towns in Vermont and knew of each other since high school, but didn't reconnect until 2018.
"Craig was more of a loner then, so the person everyone knows now is a very different Craig that I knew and know now," Hines said.
Hines and Gorton started dating when he was heavily involved in the sober community. Hines said his sobriety was a big driving factor for him and he found a lot of pride and purpose from being so involved.
"The Craig I see now after years of him being dedicated to his sobriety and setting hard boundaries with long time family and friends is really cool, he has really grown," Hines said.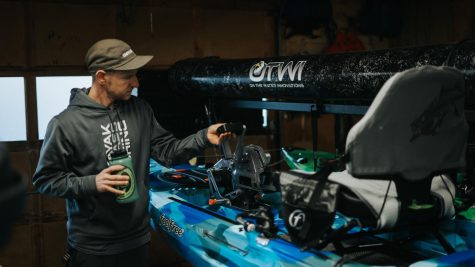 After starting Gorton's own Alcoholics Anonymous group to take a backseat approach to his advocacy, Hines said she noticed Gorton struggling with his identity due to wrapping so much of himself in the sober community. This is when Gorton began looking into starting a kayak and fishing guide service after finding community in the fishing world and wanting to continue being able to guide people in a different way.
"He didn't have a strong mentor growing up, so I think that's why he wants to be a strong mentor for someone in some way," Hines said.
Elaina Busch, a former employee at Isa's French Bistro and coworker of Gorton's, recalled her first interaction with him as he stretched out his hand and said, "Hi my name's Craig and I'm an alcoholic."
Busch said she has had her own struggles with alcohol abuse and tends to be embarrassed and reluctant to tell people about her past. Upon meeting Gorton, who is open about his past made a remarkable impact on her.
"I've never heard anyone talk so openly about their alcohol addiction and it made me more comfortable with my own past," Busch said.
During their time working together Busch said she was a hot mess at times and Gorton would acknowledge where she was at but never in a judgmental or malicious way, he would always be supportive of her.
"When I picked him up one day this past summer, he looked at me and said he was proud of me for how far I've come since working at Isa's and it meant a lot to me," Busch said.
Hearing about Gorton's story and seeing how much he has accomplished in such a short amount of time, Busch said he inspired her to not let her past define her future.
"It really helped me remember what I want out of my life and no matter what my past is I can still go after it, it's never too late," Busch said.