Underage drinking, partying, substance abuse isn't a problem at UNC Asheville, officials say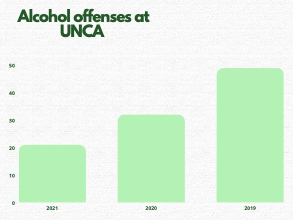 Underage drinking and partying at UNC Asheville aren't a huge problem, but officials and students say it still happens.
"Underage drinking is not as prevalent as you would think, we do have some, but for a college campus I think it is pretty low," Danny Moss, the assistant chief of police at UNCA said. 
Moss has worked at UNCA for nine years and at East Carolina University for 10 years before coming to the campus. 
"Statistically our marijuana calls are our highest response calls. Alcohol has been our second and then larceny is our third," Moss said.
Every October, UNCA puts out the annual security and fire safety report. This report is required by law due to the Clery Act which is a law that requires all colleges and universities to report crime on and near their respective campuses. 
 Moss said there are different plans of action in place if students are caught underage drinking or using drugs. 
"With cooperative students in the case of our marijuana charges and alcohol offenses, we try to handle it in-house," he said. "We have an agreement with the district attorney to handle our cases like that through student conduct, instead of giving them a criminal charge that can follow them through their life." 
According to UNCA officials, in 2021 the school had a total of 21 liquor law violations and 10 drug law violations that resulted in disciplinary referrals. In 2020 there were 32 total liquor law violations and 12 drug law violations that resulted in disciplinary referrals. In 2019 there were a total of 49 liquor law violations and 45 drug law violations that resulted in disciplinary referrals.
The officer said there are other things to worry about besides getting in trouble when using drugs. 
"If you're going to use drugs, you don't even know what's in it. People are adding fentanyl to pills and marijuana now, and you may wind up having an overdose that you don't come back from," Moss said.
According to campus officials, campus police jurisdiction consists of university-owned property and adjacent streets and doesn't extend to off-campus student housing. 
"We don't often get calls about off-campus parties because we have no jurisdiction there. However, when the city calls for assistance, we would go as assisting officers," said the assistant chief of police. 
He said they would only be able to respond to off-campus parties if mutual aid or assistance was requested from another agency. 
The Verge Apartments, University Place, and Northside at Hawthorne are UNCA's three most popular off-campus student housing options, students say. 
"There are parties almost every weekend and sometimes even during the week or on Sunday nights," Anastasia Tuttle, a 22-year-old UNCA student and resident at the Verge Asheville Apartments, said.
According to information from Verge officials, parties of 10 or more have the right to be broken up by staff. 
"The office says we can report parties to the verge police officer, and then they usually stop the party, and then nothing else happens after that," Tuttle said.
According to information from Verge officials, these offenses in excess of three days shall be deemed a breach of one's lease. 
"They do not pick up after themselves after the parties. There is a constant mess of beer cans all over the lawn at the Verge, and there's also often throw-up," the 22-year-old said.
According to information from Verge officials, all trash must be placed in the dumpsters. 
"I do go to parties at UNCA. Maybe a couple of times a month," said Hannah Price, a 22-year-old senior at UNCA.
Price said she doesn't know for certain if people are underage drinking at parties. 
"Honestly, I don't know because I don't know their age. When I'm out partying, I typically just kind of assume the people that are consuming recreational substances are doing so legally," the 22-year-old senior said. 
Price said she never goes alone to parties. 
"I always recommend going with people that you know and that you trust. Never go anywhere alone or with people that you don't know and always make sure that you have a secure ride because we do not want drinking and driving," Price said. 
Jay Cutspec, director of health and counseling at UNCA, said he deals with underage drinking and drug use in his job.
"We certainly see students who use drugs and alcohol. We don't see a lot of students that have significant drug and alcohol problems. And I think part of that is because our average age of our students is relatively young, 18 to 23," Cutspec said.
According to UNCA officials, seven drug law violations led to arrests in 2021.
"If we felt like it was significantly interfering with their life we would refer them to the appropriate level of treatment," the director said.
Cutspec said this semester the health and counseling center has started a support group for students with drug or alcohol issues. 
"I would say if students do use drugs or alcohol, that they do so responsibly and that they understand the risks that are associated with those substances," Custpec said.